Ariana Grande needs little introduction. This award-winning singer, actress has been performing since the age of 15. But as of 2022, her fragrance sales have exceeded $1 billion dollars, so she's not only a performer but an entrepreneur as well.
Sweet notes thread all of Grande's fragrances together. But each perfume holds its own, and she continues to connect with her customers by releasing fragrances that they enjoy wearing.
As you read through my list of favorites, you'll notice a shift in her scent choices. Keep reading to understand which ones might work for you.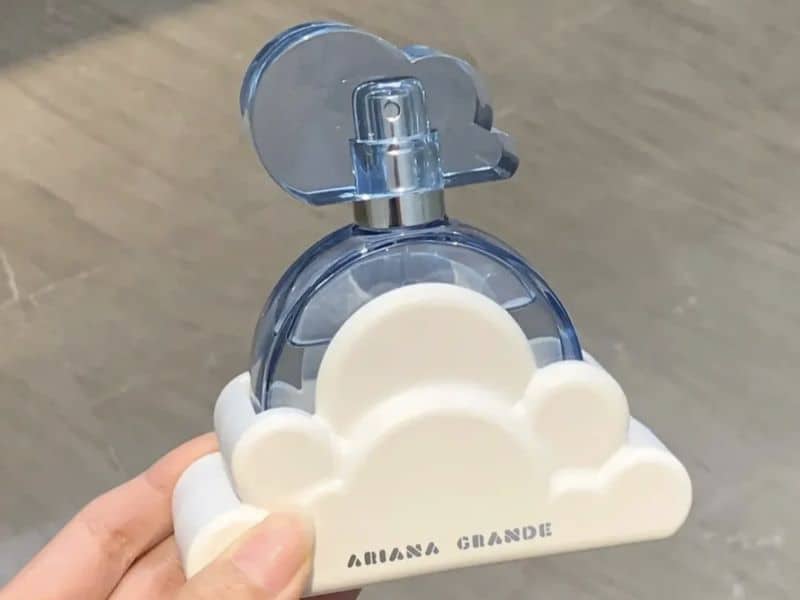 All About the Ariana Grande Brand
The multi-talented Ariana Grande began her career acting on Broadway, but she was performing on stages, cruise ships, and sports events for years before that. By age 15, she was cast in the Broadway musical, 13.
Following her theater performance, she was cast in the Nickelodeon sitcom, Victorious, in 2009, which aired for three seasons.
Although she'd made several attempts to release a music album, it wasn't until a music executive shared her vocal covers from YouTube that she was signed to a deal with Republic Records. She continued to act for television and Broadway, taking three years to record her first album.
It's amazing what Ariana has accomplished over the past 14 years. In addition to performing, she's invested in, partnered with, and released collections through many different companies ranging from luxury handbags to beverage companies to luxury apparel, and more.
She's expanded her brand into these industries all while continuing to record music and tour.
Ariana Grande Fragrance Brand Story
It was after her third album that Ariana began to release fragrances through Luxe Brands.
Although she collaborates with Luxe, Ariana has a hand in choosing how she wants each of her fragrances to smell. Each fragrance reflects her approach to and engagement with life. Her aim is to inspire her customers with delightful scents that help them live an authentic life as well.
Her fragrances are not only sweet and fun, but each scent except Frankie (a unisex scent inspired by her brother) is very feminine. They're also highly reflective. You'll notice that many of her scents are not only named for her songs but have fragrance notes that connect with the theme of each piece of music.
She's won numerous awards for her scents, including multiple Fragrance of the Year awards. For instance, Sweet Like Candy was FIFI US Fragrance of the Year in the Women's Popular category back in 2017. The same award was won in 2019 for her Cloud fragrance.
In 2021, her scent R.E.M. won the FIF US Fragrance of the Year but this time in the general Popular Award category. Click the link above to read the full list on the Luxe Brands website.
Ariana Grande's success in the fragrance industry alone has been beyond exceptional.
Ariana Grande Fragrance Product Line
Ariana Grande released her first personal fragrance in 2015 and has continued to release at least one scent each subsequent year. But some years, as in 2022, she released two fragrances at once.
In total, 13 fragrances are connected to her brand, and they are:
Ari
Cloud
Cloud Intense
Frankie
God is a Woman
Mod Blush
Mod Vanilla
Moonlight
R.E.M.
Sweet Like Candy
Sweet Like Candy Limited Edition
Thank U, Next
Thank U, Next 2.0
Each perfume is housed inside well thought out packaging, reflective of the collection as a whole. Her flacons are as addictive as the fragrances themselves.
My Top 7 Favorite Ariana Grande Perfumes
In seven short years, Ariana Grande has launched 13 perfumes for her fans to enjoy. These are my top 7 favorite Ariana Grande perfume picks, listed in the order of their release.
All of the bottles I'm sharing here are 3.4 fl oz (100 mL) but in most cases, there are smaller bottles available as well for travel, gifting, or sampling.
1. Ari Eau de Parfum Spray by Ariana Grande
Ari was Ariana Grande's inaugural fragrance release. A highly feminine perfume bottle, she chose round, pink, and multifaceted with a matte pink top with a fluffy white pom-pom off to the side.
More of a day fragrance, you might be able to sport this scent in the early evening hours. It's a fragrance that best fits spring and summer but can also be worn during early fall or winter. Fragrance accords are overall sweet and fruity.
They include:
Top notes: raspberry, pear, grapefruit
Middle notes: lily-of-the-valley, rose, vanilla orchid
Base notes: blonde woods, marshmallow, musk
As a first fragrance, Ari spoke directly to Ariana's fan base – teens and young women who enjoy wearing spritely yet sweet scents that have a little bit of an edge.
An invigoratingly sweet start evolves into floral sophistication as middle notes playfully dance with your senses.
Woody base notes aid in creating a more lasting fragrance. But the powdery musk and sweet marshmallow are far more dominant.
Even mothers who give this scent to their teens enjoy the fragrance as well. Ari has to be included on a list of favorites because it was a nice introduction to Ariana's fragrance brand, giving it a strong start.
It also adds a bit of sparkle to any vanity table.
2. Sweet Like Candy Eau de Parfum Spray by Ariana Grande
For her third fragrance release, they kept the same bottle shape and color, but its hue is a pastel pink without the shine. Instead, the bottle top has a shiny metal band around it with Ariana's name etched around it. Instead of a white pom-pom, you'll notice a soft pink one.
Sweet Like Candy was released in 2016. As the name indicates, it's a gourmand scent with fruit and floral notes.
Light enough for day, this scent isn't likely to last into the night. At longest, the scent will last four to five hours.
It's also a better fit for spring and summer. But the wood and vanilla base notes leave room for Sweet Like Candy to also be worn during fall and spring.
Another citrusy-sweet start, top notes include bergamot, blackberry, and pear. At the heart of this scent you'll experience jasmine sambac, frangipani, and honeysuckle – all sweet yet complex floral notes.
As it dries down, Sweet Like Candy settles into Crème de cassis, which is a blackcurrant liqueur. There are also marshmallow, vanilla, and cashmere wood notes.
Although floral notes are the heart of this fragrance, it's the sweet ones you'll smell the most. At the same time, the sweetness isn't too overpowering. Sweet Like Candy is light, fruity, and sweet, but the fragrance is still balanced enough to be worn by those who are a little older.
3. Moonlight Eau de Parfum Spray by Ariana Grande
In the same vein as previous bottles, Moonlight has the same shape and texture but in iridescent white with a white pom-pom.
Released in 2017, the fragrance is more fruity and floral but still threads in those sweet notes.
Created to exude seductive confidence, Moonlight is a year-round fragrance, but you might have to reapply it throughout the day. Expect it to last about four hours.
Top notes include juicy plum with tart and earthy black currant. Peonies and marshmallows dominate the heart of this scent. It dries down with rich vanilla, black amber, and creamy sandalwood.
As her fourth fragrance release, Moonlight is a bit more subdued and mature. It's a scent that seems to have grown with the artist. It's a pleasant fragrance that had to be included on this list.
4. Cloud Eau de Parfum Spray by Ariana Grande
Ariana Grande Cloud Eau de Parfum Spray ,clear ,3.4 Fl oz
Ariana Grande fragrance Cloud is the uplifting new scent that imbues a thoughtful, artistic expression of positivity and happiness from Ariana to her fans.
This addictive scent opens with a dreamy blend of alluring lavender blossom, forbidden juicy Pear and mouth-watering bergamot.
The heart of the fragrance is a whipped touch of creme de coconut, indulgent praline and exotic, vanilla orchid. Sensual musk's and creamy woods add cashmere like feel that seduces the senses.
Top: lavender blossom juicy Pear bergamot
Heart: creme de coconut indulgent praline vanilla orchid
On to 2018, transitioning from the exosphere to the atmosphere, we have Cloud, which might be one of Ariana's sweetest scents to this point.
In this release, they veered away from the spherical, multifaceted bottles and designed a clear, light blue half-circle bottle placed inside a white cloud-shaped base. The bottle top is also light blue and clear, shaped like a cloud.
This is a day or evening fragrance, but you might have to reapply the scent before going out for the night. 
With a subtle twist, an herbal top note takes the place of her historically fruity head notes. So, the scent starts off with fragrant lavender blossom, sweet pear, and zesty bergamot.  This layer is most similar to Sweet Like Candy with the blackberry being replaced by lavender.
At the heart of Cloud is the fluffy sweetness of whipped cream, praline, coconut, and vanilla orchid. It's a combination of sweet, nutty, caramel nuance but somehow this combination doesn't come off as sickly sweet or annoying.
A rich gourmand, Cloud is more balanced and inviting than unstable and flighty.  
Dry down notes are musky and woody, so you have a long-lasting finish to this sweet love affair.
Cloud projects well, has moderate sillage, and is one of Ariana's longest lasting scents. You can actually get a full day's fragrance out of this perfume without the need to reapply. 
Even more refined than Ariana's previous scents, Cloud is a versatile fragrance for young adult women who are becoming increasingly independent.
5. Thank U, Next Eau de Parfum Spray by Ariana Grande
Ariana Grande Thank U Next Women EDP Spray 3.4 oz
Launched by the design house of ariana grande
This floral fruity gourmand fragrance has a blend of raspberry, pear, coconut, pink rose, macarons, and musk
It's a recommended for casual wear
Keeps you refreshing all day
Increase attraction and skin friendly fregrance.
This bottle is shaped like a broken heart with a translucent square pink top.SImilar to Cloud, you can remove the outer broken heart shell, leaving a smooth, round light pink glass bottle.
In keeping with her penchant for gourmand fragrances, sweet notes carry this scent as well.
Named after her 2018 song, the Thank U, Next eau de parfum was released in 2019. It has fewer notes than previous scents but with no less impact because this scent is all about growing and thriving beyond heartbreak and disappointments.
You're greeted with tartly rich raspberry and sweet, juicy pear. Heart notes blend coconut and rose. It dries down to the smell of powdery musk and sugary French macarons.
This fragrance is best worn by older teens and young adult women primarily during the day in spring and summer months. You won't experience much projection during the fall or winter months.
6. R.E.M. Eau de Parfum Spray by Ariana Grande
Ariana Grande R.E.M for Women 3.4 oz Eau de Parfum Spray
𝐂𝐇𝐀𝐑𝐈𝐌𝐀𝐓𝐈𝐂 𝐄𝐋𝐄𝐆𝐀𝐍𝐓 𝐒𝐄𝐃𝐔𝐂𝐓𝐈𝐕𝐄: A timeless elixir of seduction shaped by the blend of natural sensuality with elegance and refinement; The solar and distinguished exudes freshness, power, and refinement at the moment
𝐆𝐈𝐅𝐓 𝐅𝐎𝐑 𝐘𝐎𝐔𝐑 𝐋𝐎𝐕𝐄𝐃 𝐎𝐍𝐄'𝐒: An exquisite and meaningful gift for your girlfriend, wife or loved ones, grab the Perfect combo gift for your women
𝐖𝐎𝐌𝐄𝐍'𝐒 𝐅𝐑𝐀𝐆𝐑𝐀𝐍𝐂𝐄: A perfume for women which is timeless, feminine, elegant, fresh, and romantic dew of white flowers that contribute to the charm and beauty of women; The perfect body mist perfume for a day-to-life fresh parfum for femme
𝐋𝐎𝐕𝐄 𝐘𝐎𝐔𝐑 𝐎𝐖𝐍 𝐒𝐌𝐄𝐋𝐋: Our fragrance perfume concentration offers an impressively wearing balm projection that is sure to endure even your most daring adventures
English (Publication Language)
This is one of Ariana's more complex fragrances. Released in 2020, sweet accords dominate this fragrance as well. It's also named for another one of her songs.
R.E.M. makes reference to rapid eye movement – your dream state of sleep. So as you can imagine, this is a light and dreamy fragrance.
Its bottle is designed on a bedrock of crystals. In keeping with the previous two bottle styles, you can separate your round perfume bottle from the outer crystal casing. Even the cap is shaped like a crystal.
Now to the scent, R.E.M. smells similar to Cloud but the lavender in R.E.M. is more noticeable. R.E.M. has a fresher, more subdued scent.
Here are its layers:
Top notes: zefir confectionary, salt, caramel, quince, fig
Middle notes: pear blossom, lavender
Base notes: tonka bean, musk, sandalwood
Based on these scent notes alone, you can tell that this is one of her most adult-like fragrances. It can take a moment to process your initial spritz of R.E.M. – sort of like being in a dream state, your mind might be in a fog.
This top layer is deliciously complex. You have the syrupy sweetness of fig, sugary zefir, pungent salt, sour, quince, and sweet, buttery caramel. That's a lot to process.
Sharp pear blossoms mingle with fresh, herbaceous lavender at the heart of this scent, and then R.E.M. transitions into complex and lasting base notes.
Tonka bean is all at once sweet, spicy, nutty, tart, and herbaceous. Add to that powdery musk and balsamic sandalwood, and you have a deeply complex fragrance in R.E.M.
Likely due to the base layer, this fragrance lasts throughout the day. It's best worn during fall, winter, and spring.
7. God is a Woman Eau de Parfum Spray by Ariana Grande
No products found.
Another fragrance named after one of her hit songs, God is a Woman eau de parfum was released in 2021 and is considered an amber floral scent.
After the first spray, you're greeted with pear and musk mallow – which is also called ambrette plant. It's often used for medicinal purposes, such as alleviating muscle cramps and nausea.
Orris and Turkish rose make up the middle floral notes. Orris is also medicinal; it's the root of the iris plant and smells bittersweet.
Lastly, sandalwood and Madagascar vanilla close out this scent experience.
This is the most evolved scent that Ariana has released thus far, but once I get my hands on her two newest fragrances, released in 2022, Mod Vanilla and Mod Blush, I'll be sure to share that review with you.
A lighter scent, God is a Woman eau de parfum is more of a day than evening fragrance. It's also best worn during spring, summer, and early fall months.
Packaged in a stately light purple bottle with a reflective center, God is a Woman is all about reflecting on your power and potential.
No products found.
Customer Opinions about Ariana Grande Perfumes
I was hard pressed to find any negative reviews about Ariana Grande's perfumes. Her fragrances receive overwhelmingly positive reviews, which could be reflective of the kind of people who listen to her music.
What Customers Enjoy about Ariana Grande Perfumes
Customers profess to feel really good wearing Ariana's perfumes. The fragrances are uplifting and sometimes even comforting.
It doesn't hurt that her perfume prices are reasonable.
Ariana's fragrances are reflective of transitioning through life's journey, authentically and unashamed. Wearing her scents helps build confidence and resolve.
All of the bottles are designed to be collected and showcased. And the way that they're designed and packaged makes them an obvious gift option.
Things Customers Dislike about Ariana Grande Perfumes
It seems that as Ariana's fragrance sense evolves with her growth as a woman and artist, she might be losing the initial fans of her fragrances and capturing new ones.
Fans seem to like her sweeter scents over the ones that are increasingly fresh, earthy, or complex.
But not all of her earlier fragrances last very long. A scent that only lasts four to five hours can be a letdown. Later scents, like God is a Woman and R.E.M. will last longer.
Final Thoughts
It's no doubt that Ariana's perfumes are widely loved in the fragrance and cosmetics market. She's constantly breaking sales records for her fragrances.
I think that Ariana's earlier scents are more appropriate for a younger audience but as she's grown, so have her scent preferences. Her more recent perfumes seem to be marketed towards women in their late 20s and/or early 30s.
Ariana Grande's perfumes are moderately priced, and there are multiple bottle sizes available for every budget.
Due to its fragrant nuances, if I were buying a new bottle of her perfume, I'd choose R.E.M. Scent is so subjective, so you have to choose one that you think you'd love, and then give it a try.