Hello! Welcome to my best Axe cologne and body spray review for 2023.
After hours of researching and testing I found five of the most popular Axe deodorant body spray fragrances. I've included a range of fragrance accords to help you find one that you might enjoy wearing.
These are by far the best smelling sprays of the group.
You don't have to spend hundreds of dollars to find a personal fragrance that you like. Choose one of these body sprays, and you'll get a masculine fragrance that effectively reduces body odor while helping you smell nice without overspending your male grooming budget.
Ready to get fresh without going broke?
On to the list!
The 5 Best Axe Deodorant Body Sprays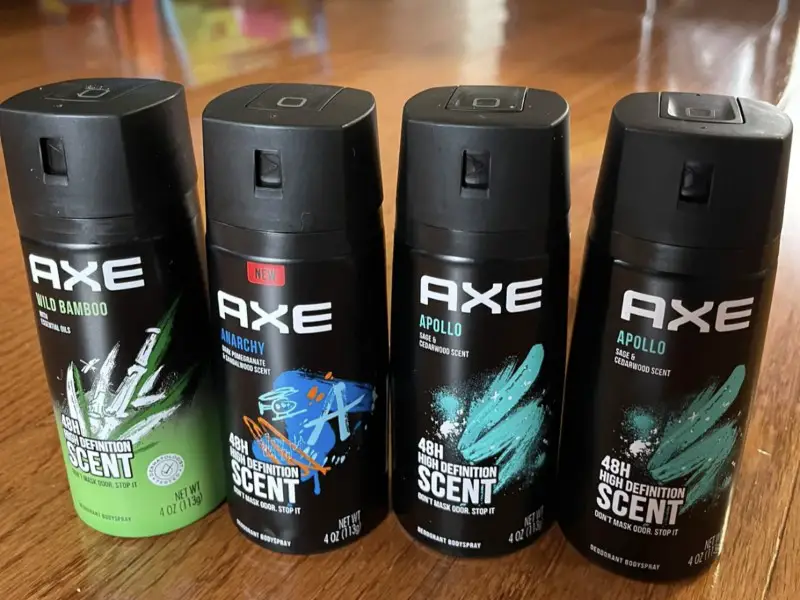 Axe daily fragrances for men, also known as, deodorant body sprays have a reputation for being obnoxiously bold. People either love them or hate them, but the company releases new fragrances each year and some are quite toned down in comparison to decades ago.
The difference between these body sprays and their dry spray antiperspirants is that the body sprays protect against odor only, not wetness.
Also, Axe dry spray antiperspirants can only be sprayed in the armpit area, but these deodorant body sprays can literally be sprayed onto various parts of the body. But…just don't do this.
Here are the top five scents.
1. Most Sought Fragrance: Axe Phoenix Deodorant Body Spray (Pack of 6)
Sale
AXE Body Spray for Men, Phoenix 4 oz (Pack of 6)
Pack of 6 body sprays, 4-ounce, total of 24-ounce
Also available in shower gel and deodorant stick
Classic, fruity, fresh fragrance
Features lavender, geranium, and citrus notes
Smells great with effective deodorant protection
According to Axe, Phoenix is their best-selling fragrance. What is it about this scent that makes customers return to purchase it over and over again?
Somebow, Phoenix is the perfect blend of fresh, masculine, and sophisticated. This particular scent was released in 2000, and originally included the following layers:
Top layer
Citrus blend
Geranium
Lavender
Middle layer
Base layer
At first glance, you might see "soil tincture" and wonder why anyone would want to spray this fragrance on their body as a deodorizer or fragrance spray. But somehow, it works.
I suppose it's like smelling the earth after a fresh rain or grassy soil notes after drying laundry on a clothesline outdoors. Somehow, you smell freshness even though there's dirt involved.
Phoenix is floral, herbal, and fresh at the start, and then you smell the fresh soil and powdery violet notes. Musk is a common base note but leather adds depth to the dry down.
You might expect an Axe product to be a linear fragrance but many of them are quite complex. And for more than 20 years, the scents have been composed by perfumer Ann Gottlieb.
There seems to have been a change in its formula because mint and rosemary notes have become the dominant scent accords.
I should also note that this is a fairly small bottle – 4 oz (113 g), but that makes it highly portable. Six are included in this set, so you can keep bottles wherever you need them. And the price makes it easy to replace once you're finished.
Pros
Affordable, yet effective
Well-liked fragrance
Long-lasting protection
Eliminates odors
Cons
Very common scent
Small bottle size
2. Best Low-Key Unisex Scent: Axe Apollo Deodorant Body Spray (Set of 2)
Reportedly the second most popular Axe fragrance, primary scent accords for Apollo deodorant body spray are sage and cedarwood.
This is a refreshing scent that's more subtle than Phoenix. It's so much softer, as a matter of fact, women share that they enjoy wearing this scent as well. Many of them do so on the sly and some even avoid wearing it in public for fear that others will tell them that they smell masculine.
Seriously, Apollo is such an attractive scent that you might find your siblings, girlfriend, or others using your supply.
Depending on which batch you receive, additional fragrance notes might include:
Possible top notes: quince, mandarin orange, and sage
Possible middle notes: lavender, violet leaf, geranium, iris
Possible base notes: amber, vetiver, cashmere wood, sandalwood, moss
The company doesn't veer too far from its original scent accords, but you might notice subtle differences between bottles until the older version has been completely phased out.
These bottles are small as well, 4 oz (113 g), but two are included.
Pros
Nice unisex fragrance
Less pungent than Phoenix
Herbal and wood notes are dominant
Portable bottle size
Cons
Dozens of people wear the same scent
Scent formula has changed
3. Most Sophisticated Notes: Axe Black Daily Fragrance Deodorant Body Spray (Pack of 2)
Rounding out the top three scents sold by Axe, Black is slightly fruity. Primary fragrance accords include frozen pear and cedarwood.
The creaminess of cedarwood is joined by the sweet but tangy juiciness of pear. As with all the Axe fragrances, their scents narrowly evolve over time, so the bottle you receive might smell a little different.
Nevertheless, here are some scents you may encounter on each layer:
Potential top accords: watermelon, bergamot, mandarin, and pear
Potential middle accords: freesia and cardamom
Potential base accords: musk, patchouli, and cedarwood
Axe Black is marketed as one of their subtle but sophisticated fragrances. Although it's a top three contender, more and more men have expressed disappointments with the direction this fragrance is going. To them, it's increasingly subtle, meaning less and less masculine.
All of the Axe deodorant spray bottles are encased in black containers with colorful graphics. Black's sleek bottles hold 4 oz (113g) of liquid; two are included.
Pros
Cuts down on body odor
Fruit notes add sweetness and playfulness
Sophisticated scent combination
Possibly a unisex scent
Cons
Another fairly common scent others have
Not as strong a scent as some men would like
4. Most Refreshing Citrus Scent: Axe Gold Citron Body Spray (Set of 2)
Through Gold Citron, Axe did a great job of combining refreshingly sweet citrus notes with earthy white woods for a clean but grounding effect.
Although this fragrance incorporates sweeter notes, it's still very masculine. At the same time, it's a light fragrance that is just strong enough to make a difference without being overpowering.
Since this fragrance is somewhat less common, it's an Axe scent you can try if you'd prefer not to smell like others. Standing out with Gold Citron is a possibility.
As formulas have evolved, finding the exact notes included in Gold Citron proved difficult. It's also more difficult to find this fragrance out in the world. So, if you come across it in stores or online, you might want to purchase it right away because it might be a while before you come across it again.
Pros
Citrusy sweet
Also earthy and sophisticated
Scent isn't a strong put-off
Effectively kills bacteria
Cons
Harder to find in stores
Online supply is become scarce
5. The Freshest Fragrance: Axe Cool Ocean Deodorant Body Spray
For an even lighter, fresher deodorant body spray, there's Axe Cool Ocean.
Since Cool Ocean isn't one of the top three best selling fragrances, it's quite possible that you can enjoy the odor-fighting properties of an Axe spray without smelling like most other men you come in contact with.
This is hands-down Axe's freshest fragrance. Aquatic notes are so precise that spraying on this deodorant spray truly reminds you of the scent of ocean waters.
Even though it's light and crisp, Cool Ocean still blasts odor molecules. If you don't want to have a very specific smell, like vanilla and oud, then Cool Ocean lends a somewhat neutral solution.
Spraying this over your chest and maybe even your clothes before a meeting after having been outdoors can neutralize your odors and freshen you up without causing you to smell as though you've dipped yourself in cologne.
Pros
Light and refreshing fragrance
One of the less common, unique Axe scents
Incorporates essential oils
Great scent neutralizer
Cons
Not as easy to find
Fresh but not fragrant enough for some people
Advantages of Using Axe Deodorant Body Spray
Founded in 1983, some of the older Axe advertisements used to include the taglines like, "The Axe Effect" and "Love at first sniff."
These phrases were used to describe the reaction guys could expect to receive from girls while wearing Axe body spray.
Of course, these commercials exaggerated the romantic possibilities, and the company got a lot of flak about it so modern taglines have been toned down to, "Smell irresistible…all day." This tagline has been referred to as "The New Axe Effect."
The company has been doing a lot of work to correct prior messaging, and they seem to be making sincere efforts to communicate more positive phrasing through newer marketing campaigns.
Still, with each of their fragrances the company aims to help you feel attractive and desirable to others. It may or may not work, but if you're the kind of person who wants to fade into the background, that's unlikely to happen while wearing an Axe product.
If the product may or may not make you appealing to others, you might wonder what the advantages of wearing Axe deodorant body spray are.
A Cleaner Refresh
One of the primary functions of Axe's deodorant body spray is that it helps support your grooming routine.
From body wash to hair care products to antiperspirant deodorant and body spray, incorporating Axe products into your daily use helps you to not only smell great, but prevent foul odors from developing.
That's where the deodorant body spray does its best work. Using zinc technology, Axe deodorant body sprays are formulated to eliminate the bad odors instead of simply covering them up with a nice smell.
You might already be wearing Axe antiperspirant deodorant and not have time or access to take a shower after a short workout. In such cases, Axe deodorant body spray can tide you over until you're able to properly clean your body. Some of the formulations continue to fight bacteria for 48-hours.
Either way, the body spray is a refresh. It doesn't simply cover up the funk, it fights those odor molecules, which prevents you from smelling sweaty and gross.
Fragrance Boost
Simply killing odorous bacteria isn't enough, though. You'll want to smell nice as well. Some deodorizers can cause you to smell worse instead of better, though, and that's something that helps Axe deodorant body sprays stand out.
More than just a drugstore personal fragrance, Axe fragrances are fresh and modern. Some of them are even more mature than what you might be familiar with from past Axe fragrances.
For example, there are two fragrances that didn't make the top five list but are perfect runner ups, especially for the older Axe customer. Those two scents are Axe Gold and Axe Essence.
Axe Gold deodorant body spray is a more refined fragrance combination of oud wood and dark vanilla.
This scent is masculine but also subtle. It's no Tom Ford, but Axe Gold is warm and creamy, though best worn in cold climates.
The second example is Axe Essence deodorant body spray. This one has fresh green, leafy notes but it's also aromatic due to the addition of herbaceous thyme. Subtle sweetness is present due to top green apple notes.
Of the top five scents listed above, Phoenix is the most popular Axe fragrance. Its fragrance notes are surprising but clearly a fan favorite.
You might be amazed to encounter more complex and mature Axe scents that leave you smelling more like a designer fragrance than a cheap, nauseating teenage fragrance.
High Performance that's Affordable
And you get to experience these more developed scents with odor-fighting power without digging too deep into your pockets.
The average cost for a 5.1 oz bottle of Axe deodorant body spray is about $7 USD. That's highly inexpensive in comparison to designer fragrances, especially when you consider its odor busting feature.
Designer fragrances don't kill odors, they simply make you smell nice. Granted, designer fragrances last longer and are made with even better ingredients, but you can't sweat, and then spray on a designer fragrance and expect to smell nice. That simply won't work. You'll end up smelling even worse, actually.
But when using Axe deodorant body spray, you'll get more value for your money if you're in a bind and need to quickly eliminate body odor.
You can purchase multiple bottles for home, work, your gym bag, and so forth. And it's easy to replace these bottles once they've been used. Instead of dropping $100 USD or more on a well performing designer fragrance, you can kill two birds with one stone by purchasing a bottle of Axe.
Instead of dropping $50-$100 USD or more on a well performing designer fragrance (or $200+ USD on a niche fragrance), you can kill two birds with one stone by purchasing a bottle of Axe.
Axe deodorant body sprays can't replace designer or niche fragrances. The longevity, sillage, and projection of more expensive fragrances can't be matched by Axe.
But Axe simply serves a different purpose. Its performance is in its odor elimination capabilities; scent is secondary, and a nice bonus.
Conclusion
The clear winner for the best Axe deodorant body spray is the ever-popular Phoenix scent.
It's got that traditional Axe forcefulness, but it's still a mature fragrance that won't burn your nose hairs. Axe Cool Ocean is a refreshing alternative that's equally effective but with less forcefulness.
You may or may not smell irresistible, but as long as you feel good and fresh wearing your Axe deodorant body spray, that's all that really matters.
Read more: