If you're in a hurry and just want to know which would be the best cinnamon perfume, then I would recommend,Dolce Vita by Dior, as your best choice. 
Welcome perfume lover! In this post I'm sharing my top picks for the best cinnamon perfumes of 2023.
I spent an obscene number of hours researching and testing five of the most popular perfumes with dominant cinnamon fragrance notes. Then I selected them based on scent combinations, longevity, fragrance complexity, and primary fragrance accords.
You won't be disappointed with these spicy scent combinations.
There's no need to spend hours or days searching for that wonderful cinnamon fragrance. Choose one from my list, and you'll get a fragrant, lasting perfume that's going to last you for many fall and winter seasons to come.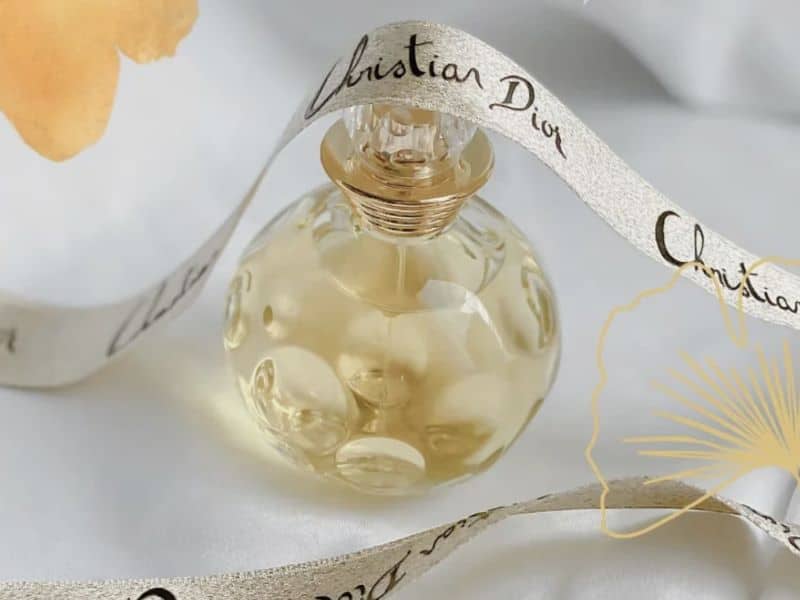 Are you ready to finally find your favorite cinnamon perfume?
Here we go!
The 5 Best Cinnamon Perfumes that You Might Enjoy
Cinnamon pairs well with many different fragrances, whether they're sweet, spicy, fresh, or woody. Its warmth adds sensuality and calm, making it an appropriate evening fragrance.
Here are five fragrances with forceful cinnamon notes for you to fall in love with.
1. Most Realistic Singular Scent: Demeter Cinnamon Toast Cologne Spray
Demeter Fragrance is known for isolating memorable, everyday scents. In the mood for straight up cinnamon? This is about as close as you can get to smelling like cinnamon without going into your spice cabinet and sprinkling ground cinnamon all over yourself.
If you've ever opened up a bottle of ground cinnamon and inhaled it, you'll notice that it's quite pungent with a tinge of sweetness. (Depending on whether it's true Ceylon cinnamon or not, but we won't even go there.)
Often, it's when we combine cinnamon with other ingredients that we really fall in love with this fragrance.
Demeter did a good job of incorporating the buttery, sugary goodness that you smell when making cinnamon toast in your kitchen. You won't be distracted by other fragrance notes, nor will you have to wait for the cinnamon notes to unfold. This is one of the most direct ways to smell like cinnamon.
Because it's a cologne, there's less fragrance oil used to make this scent. Therefore, Cinnamon Toast won't last long on your skin, likely only a couple hours.
That makes this fragrance best for those who prefer a subtle scent that they won't mind reapplying as needed throughout the day. Since it's a singular fragrance, you won't experience different layers of scent throughout the day. What you smell when you first spray it on is what you'll smell hours later.
This bottle is 30 mL (1 fl oz) and since it's a cologne spray, it's a neutral scent that's equally enjoyed by men and women.

Pros
Exact match to buttery cinnamon sugar toast
Uncomplicated scent
Unisex fragrance
Doesn't smell artificial or inexpensive
Cons
Scent only lasts 2 hours
Not for those who'd dislike smelling like food
2. Best Cinnamon Vanilla Perfume: Dolce Vita by Dior
Sale
Dolce Vita Ladies By Christian Dior - Edt Spray 3.4 Oz
Top Notes: Mandarin, Rose, Peach Middle Notes: Cinnamon, Apricot Base Notes: Vanilla, Sandalwood
Country of origin is France
The package dimension of the product is: 8.5"L x6.5"W x4.5"H
The package Weight of the product is: 1.1pounds
If you're willing to hold out for a while before reaching the cinnamon notes, then you might enjoy Dolce Vita by Dior. It was first launched in 1994, and has remained a favorite amongst those who enjoy sweet, spicy fragrances with a woody base.
As an eau de toilette, there's only 5% to 15% of scent oils added to the fragrance formula. And eau de toilettes usually last from two to four hours on the skin. But that's appropriate because these scent notes are more of a day fragrance than evening one.
This is a 100 mL (3.4 fl oz) indented glass spray bottle with a light yellow hue, symbolizing the good life.
Although Dior hasn't listed all of its fragrance notes, it does summarize the most prevalent scent on each fragrance layer.
On the top layer, creamy magnolia is dominant. Cinnamon carries the sensual heart notes of this fragrance and the essence of cedar offers an invigorating close as Dolce Vita dries down.
I was able to find hints to additional scents that comprise this fragrance.
Top notes: cardamom, magnolia, peach, grapefruit, rose, bergamot, lily
Middle notes: cinnamon, Brazilian rosewood, apricot, heliotrope, lily, magnolia
Base notes: cedarwood, vanilla, sandalwood, coconut
Since middle notes last the longest, you'll experience cinnamon for the bulk of the time when wearing Dolce Vita.
Although there are a lot of floral and sweet notes, Dolce Vita has a delicate balance to it. Spice notes are apparent, but not overbearing. And the floral and fruity notes don't crowd out the cinnamon. Vanilla and coconut offer added sweetness until the very end.
Dolce Vita is not as widely available in department stores, but you can find it through Dior and in pockets of online stores, like Amazon.
This is a timeless fragrance that you could even adopt as a signature scent.
Pros
Noticeable but also elegant and warm
It's been well-liked for decades
Cinnamon is a heart note
Can be worn most of the year
Cons
Cinnamon is one of many fragrance notes
Not long lasting
3. Best Boozy Cinnamon Perfume: Angel's Share by Kilian
Sale
Kilian Angels Share EDP Spray Unisex 1.7 oz
Launched by the design house of Kilian in the year 2020
This amber vanilla fragrance has a blend of cognac, cinnamon, tonka bean, oak, praline, vanilla, and sandalwood notes
It is provide long lasting fragrance.
You might recall that perfumer Kilian is heir to the Hennessey dynasty. All of his fragrances in The Liquors collection somehow incorporate the family's rich cognac lineage. Angel's Share is no different.
The phrase, "Angel's Share" makes reference to the portion of liquor that evaporates as it ages in wood barrels. For the family's cognac, those barrels are made of oakwood. And the part that rises out of the barrels, so to speak, is viewed as an offering.
Kilian joined forces with Benoit Lapouza to capture this fragrance.
The caramel hue of this fragrance appears to be cognac poured into a spray bottle. Housed in an elegant weighted glass design, reminiscent of a speakeasy drinking glass, you can find 50 mL (1.7 fl oz) of fragrant liquid.
Indulgent fragrance notes include cognac as the singular top note. At the heart of this offering is cinnamon, tonka bean, and oakwood. A sweet dry down includes vanilla, praline, and sandalwood, for a lasting finish.
Released in 2020, customers seem to gravitate towards it more and more each year. This fragrance combination best complements fall and winter months and evening wear.
Cinnamon notes are definitely present, but more subtle than in other fragrances on this list. The wood and vanilla notes are more dominant.
Pros
Combines cinnamon and vanilla
Very smooth and masculine fragrance
Long lasting fragrance
Has depth without being too complex
Cons
High price point
Not for those who dislike the smell of liquor
4. Best Intensely Cinnamon Perfume: 1 Million by Paco Rabanne
Sale
Described by some as intensely seductive, 1 Million by Paco Rabanne is the quintessential spicy wood fragrance.
Released in 2008, this seductive scent is bottled inside a container shaped like a brick of gold to symbolize the gravitational pull that gold has historically maintained on the human race. Its presence – and the power and prestige that comes with it – is all around us, yet not attainable by everyone.
Although 1 Million is an eau de toilette, this fragrance is relatively intense and has lasting power. This bottle is 100 mL (3.4 oz) but there's also a 200 mL and a 50 mL bottle available.
If you could bottle up audaciousness, passion, and strategic risk-taking, you would pour out 1 Million by Paco Rabanne. This luxuriously indulgent fragrance is intended to be noticed, so if you prefer more subtle spiciness, this is not the selection for you.
Best applied during fall and winter evenings, you'll enjoy a slow reveal of fresh, spicy and woody notes.
Top notes: mint, blood mandarin, grapefruit
Middle notes: cinnamon, spices, roses
Base notes: leather, patchouli, amber, wood
This fragrance composition was designed to catch you and everyone you encounter off guard.
Pros
Spicy leathery fragrance
Long lasting scent
Intensely complex
You'll definitely stand out
Cons
Moderately expensive
Not for those who prefer subtle scents
5. Masculine Cinnamon Perfume: Azzaro's Wanted by Night
Azzaro Wanted By Night Eau De Parfum — Mens Cologne — Woody, Oriental & Spicy Fragrance, 1.6 Fl Oz
Launched by the design house of Loris Azzaro in the year 2018
This woody spicy fragarnce has a blend of cinnamon, mandarinorange, lemon, red cedar, incense, cedar, leather, patchouli and vanilla
It is recommended for casual wear
Keeps you refreshing all day
Increase attraction, skin friendly fragrance.
Another fall and winter evening fragrance, Wanted by Night is also a spicy wood fragrance but this one is sweeter than 1 Million.
Released in 2018, it's been described as masculine temptation in a bottle. It's an eau de parfum that will remain on your skin for hours on end.
There are a number of fragrance notes but one scent is the star of each layer. On the top layer, cinnamon is the main accord. Red cedar is the primary heart note and tobacco is the main base accord.
This eau de parfum has been poured into a cylindrical bottle that, to me, looks like the barrel of a firearm if it were in an upright position. True to its spicy, ambery notes, the liquid has a warm amber hue.
Wanted by Night is an interesting combination of fresh, fruity, and sweet notes combined with the more intense smoky woods and spices.
More specifically, here are all the notes that you can find on each layer:
Top layer: cinnamon, lemon, lavender, mandarin orange
Middle layer: red cedar, incense, cumin, fruity notes
Base layer: tobacco, leather, vanilla, benzoin, cedar, ISO E super, cypress, patchouli
Somehow, Azzaro pulls off this somewhat odd combination of scents. Even though it's over four years old now, interest in Wanted by Night keeps trending upwards.
Pros
Complex fragrance notes
Cinnamon is still noticeable
Long lasting fragrance
Very masculine if that's your preference
Cons
Can be expensive
Wood and smoke notes compete with cinnamon
What are the Benefits of Wearing Cinnamon Perfume?
Considered the world's oldest spice, there are many benefits to consuming cinnamon.
It has anti-inflammatory properties and is filled with antioxidants. Some cultures chew on cinnamon sticks to prevent tooth decay, treat toothaches and address bad breath. In some cases, cinnamon helps prevent disease and infection.
Those are some benefits of consuming cinnamon, but are there any benefits to inhaling the essence of cinnamon?
Cinnamon perfume, is a personal fragrance that incorporates the essence of cinnamon, or cinnamon oil. This can be an essential oil or one that's made in a lab. Either way, there are a number of positive effects you can experience after smelling cinnamon.
Emotional Boost
In our heads, we know that cinnamon has a spicy fragrance to it. But there's more to it than that for many people.
We interpret what we smell differently than things we see, taste, touch, or hear. Our sense of smell is so powerful that we attach memories to the things that we smell.
When you smell something like cinnamon, signals go directly to your amygdala; it's the emotional center of your brain. The amygdala is part of your limbic system, which also includes the hippocampus and thalamus. Your hippocampus is your memory center and the thalamus is involved in your state of consciousness.
And this helps explain why smelling cinnamon is more than just a smell for most people, it's also a memory. We most often smell cinnamon during the holidays. It's a joyful time when we get to hang around people we really care about and eat foods that bring us comfort.
So, in a lot of ways, when you smell cinnamon, you're re-experiencing those positive memories. This re-experiencing can help boost your mood.
Unfortunately, the inverse can also be true. If the holiday season causes you to remember negative emotions, then it's probable that you won't even enjoy the smell of cinnamon.
But if you like cinnamon perfume, and I'm guessing you do if you're reading this article, then that can mean that your amygdala and hippocampus are encouraging that preference.
Stress Reduction
As I mentioned, it's the thalamus that impacts our state of consciousness. So if you're experiencing stress, the thalamus is influenced by that emotional state. It's also linked to sleep regulation and depression.
That said, after smelling cinnamon, you might experience more emotional shifts. Cinnamon has been known to help reduce stress. It can also help put you in a more relaxed state. Smelling cinnamon can also help improve brain function.
An Olfactory Aphrodisiac
Not only is cinnamon an age-old spice, it's also been known to bring spiciness into the bedroom. Since it is a warming spice, cinnamon literally generates warmth. Applying even the smallest amount of cinnamon oil to the groin area can help stimulate blood flow.
Since perfumes contain some percentage of cinnamon oil, it's possible to have this effect when spraying it on but it's not always possible to know whether your perfume is using natural cinnamon oil.
It turns out that it might not be necessary to apply the oil directly to the skin in order to experience the stimulating effects.
According to Dr. Alan R. Hirsch, a neurologist and psychiatrist who's studied the effects of smell on human emotions and behavior for decades, the smell of cinnamon alone might be sufficient.
He reported that men who smelled cinnamon rolls became sexually aroused. This claim has not been substantiated elsewhere but it's possible that these men connected the smell of cinnamon rolls to a positive memory that then led to arousal.
Dr. Hirsch is controversial, and his research methodology is unclear. But if you find the smell of cinnamon to be arousing, then use what works for you.
Who Shouldn't Wear Cinnamon Perfume?
Of those who've experienced an allergic reaction to cinnamon oil, they usually chewed cinnamon-flavored gum or came in direct contact with the spice from a cinnamon roll.
Once they refrained from chewing or consuming these items, the symptoms subsided.
In an extreme case, one woman spilled cinnamon oil on her seat cushion and sat on that cushion for two hours before realizing that it was burning her skin. Essential oil burns are not always immediately felt, but you never want to expose your skin to undiluted essential oils.
Because cinnamon oils are diluted in the perfumes listed here, you're unlikely to experience any adverse reactions.
But we all respond differently to perfumes and sprays, so if you begin to feel any skin irritation, stop using the perfume and monitor the area. Seek treatment if necessary.
Conclusion
Cinnamon is simply the best and wearing a perfume with dominant cinnamon notes can help you feel alive and sensuous.
The clear winner on this list for me is Dolce Vita by Dior because it's lighter and can be worn year-round, if desired. Best of all, the smell of cinnamon combined with vanilla is an irreplaceable experience.
For a more masculine cinnamon perfume, I'd choose Wanted by Night by Azzaro because I'm interested in complex notes with a smoky ending.
Remember, you can never really know how a fragrance will smell on you until you try it for yourself. So, I'd suggest that after reading through this list, you make note of what you think you might like, and then test out that fragrance.