If you're in a hurry and just want to know which cologne would be the best for older men, then I would recommend,Green Irish Tweed by Creed, as your best choice. 
As men age, their motivations for wearing cologne are altered over time. No longer do they need to assert themselves or go out of their way to attract a partner. So it's safe to say that the scents they select will change as men mature. What would be the best fragrances for older men?
Cologne for older men should be more sophisticated and less jarring. Although fragrance choices are subjective, I'm going to suggest that older men consider fragrances with earthy, smoky, leathery, or amber notes because these scents are prominent, yet refined.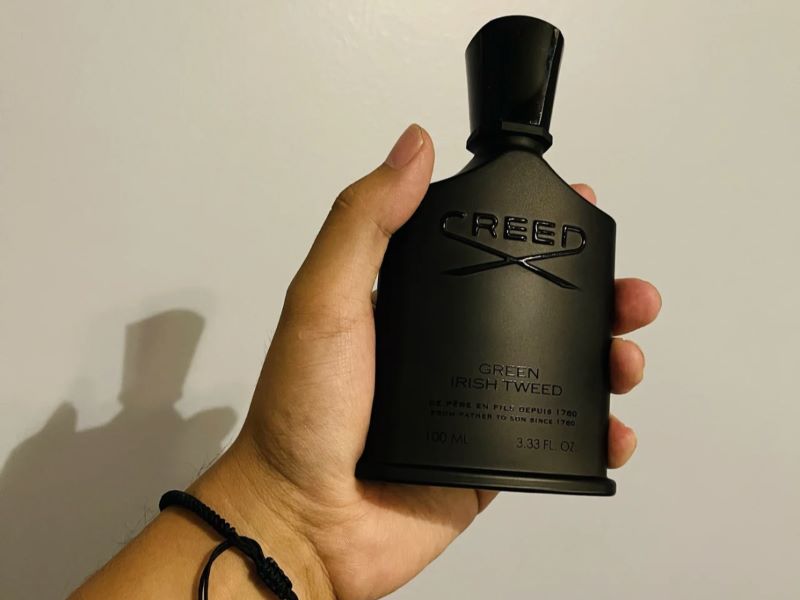 Take a moment to peruse the list below.
My Top 5 Cologne Picks for Older Men
Men's fragrances are often referred to as cologne, but they aren't limited to that category.
Parfums, eau de parfums, and eau de toilettes are just as readily made for men as they are women.
Remember, fragrances are genderless and the different categories refer to the amount of fragrance oils added to the mixture. So in the list below you'll find fragrances for older men in various concentration levels. 
For the sake of this article, we're suggesting fragrances that men aged 50 and over are more inclined to wear.
1. Most Timeless Cologne for Older Men: Green Irish Tweed by Creed
For over 250 years, Creed was a family-owned and operated French perfumer. Oliver Creed is still the master perfumer for the brand, but the family sold the company in February 2020 to Blackrock Long Term Private Capital and Spanish businessman Javier Ferrán.
This eau de parfum is lush and aromatic. Its notes are hinged on the legacy of the Creed family. As a true fougère fragrance, Green Irish Tweed belongs to a very masculine fragrance category. Fougère fragrances fall somewhere between amber and woody scents. 
So you can expect the smell of fresh cut grass, or a forest floor blanketed with ferns. 
Creed refers to Green Irish Tweed as, "the classic gentleman's fragrance."
Top notes: verbena, peppermint, lemon, bergamot, and galbanum
Middle notes: Egyptian geranium, lavender, and violet
Base notes: cedarwood, sandalwood, ambergris, and oakmoss
Imagine a vedant forest that leads out to a countryside along the sea. Green Irish Tweed starts off as a fresh, clean scent with subtle hints of spicy, moist woods. It then progresses into the scent of lovely flowers scattered across the forest floor. As it dries, Green Irish Tweed will hearken you back to the forest surrounded by soaring trees.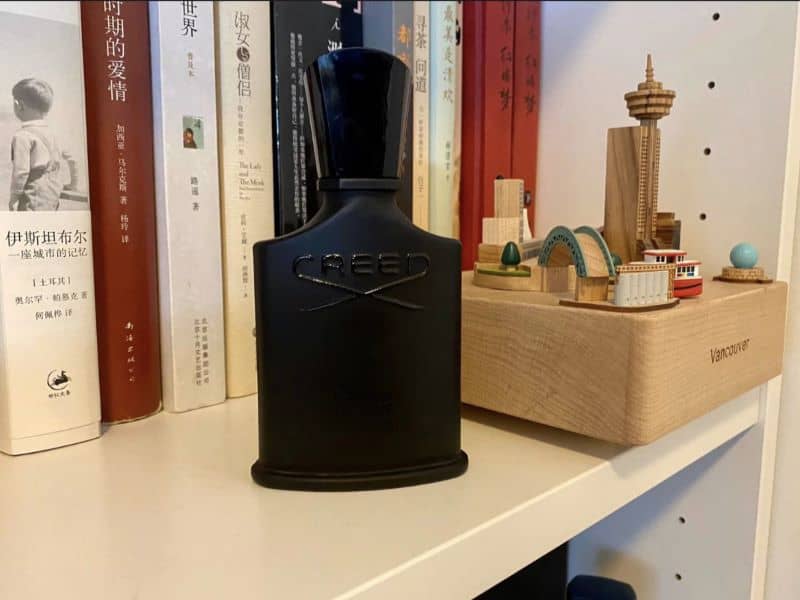 First launched in 1985, this balanced, refined, and nostalgic scent is one of Creed's best selling fragrances. It's unforgettable, yet understated.
A timeless scent, it can be worn during most months of the year, but it may not project as well during the colder winter months. You may notice that it's most prominent during the day, but its woody notes also carry into the evening. 
Pros
Refreshing green fragrance
Understated scent combination
Highly sophisticated blend
Can easily become a daily signature scent
Cons
It's an expensive fragrance
Not for those who dislike fresh, grassy scents
2. Best Woody Amber Accord for Older Men: Tom Ford Noir Extreme Eau de Parfum
First launched by Tom Ford in 2015, the primary fragrance accords for Noir Extreme are resinous amber and creamy sandalwood. It's sensual, unlike Green Irish Tweed, and is best worn during the evening.
Winter and fall would be the ideal seasons for this fragrance. It may project too far on hot days, so you might want to limit your wear to the occasional cooler days in spring or summer.
Top notes: cardamon, saffron, nutmeg, mandarin orange, neroli
Middle notes: kulfi, rose absolute, jasmine accord, mastic, orange blossom 
Base notes: woods, amber, vanilla ember, sandalwood
When it comes to scents for older men, I think it's best to stay away from citrus top notes, but I think it works here. Mandarin orange and neroli are balanced by saffron, which is leathery and earthy. In addition to spice, nutmeg adds woody hints to this top fragrance layer.
Kulfi contributes spicy, creamy, vanilla fragrance notes. Mastic is similar to fresh balsamic while orange blossom brings soapy freshness to the blend. Both rose absolute and jasmine bring light floral essence to the mix.
As Noir Extreme dries out, sweet woody amber notes come to the fore. In addition to amber's balsamic notes, it's also leathery with hints of smoke.
Although there are some softer and sweeter notes in this fragrance blend, it's still very masculine. I think that the wood notes are balanced well so as not to overtake any of the other scents.   
Pros
Ideal for evenings on the town
Very sensual and spicy
Has a warm dry down
Wood notes are tamed by other ingredients
Cons
Can only be worn for half the year
Not for those who dislike sensual scents
3. Best Leather Scent for Older Men: Bottega Veneta Pour Homme
Sale
First launched in 2013, this fragrance is no longer manufactured, but is still available through online retailers. 
It's an eau de toilette with a long sillage trail reminiscent of English leather with sugary undertones.
Top note: juniper, Siberian pine, Calabrian bergamot
Middle note: Canadian fir, clary sage, pimento
Base note: leather, patchouli, labdanum
You'll experience pine and wood notes right off the top, made more complex by fruity, spicy, floral bergamot accords.
Pimento adds more spice in the middle similar to the pie spice combination of nutmeg, cloves, and cinnamon. Additional earthy notes are shown through Canadian fir and clary sage. Clary sage is a complex accord bringing floral, herbaceous, and somewhat fruity notes as well.
Leather is the most noticeable base note in this fragrance blend – earthy and sweet. Patchouli adds more earthiness and musk, as does labdanum but with amber accords.
It's a unique fragrance because it's so masculine yet its sweet, fruity notes add depth to the overall experience.  
While it can be worn year-round, this is a scent best worn during cooler months and in the evening. 
Pros
Best reserved for formal events or special occasions
Subtle scent with great depth
Leathery, woody notes, but also sweet
Has strong sillage
Cons
Not as widely available anymore
Limited usage throughout the year
Not for those who dislike sweeter scents
4. Best Oriental Woody Cologne for Older Men: Franck Boclet Tobacco
An eau de parfum with 20% fragrance concentration, Tobacco has been part of Franck Boclet's Fragrance Collection line since 2014. It's a spicy, woody blend from top to bottom.
Top notes: ginger, tobacco, plum
Middle notes: cloves, tonka bean, cedar
Base notes: vanilla, benzoin, vetiver
This has to be one of the most interesting headnote layers that I've come across of late. Spicy ginger, woody, powdery tobacco, and sweet, jammy plum greet you at the start of this scent experience. 
Additional spice notes are carried over into the heart of this fragrance with the addition of cloves. Cloves bring woodiness with them as well, which connects with the softness of cedarwood. 
Tonka bean incorporates nearly all of the other notes combined. It's nutty and sweet, syrupy and spicy, woody and smoky.
Vetiver is an earthy scent reminiscent of moist grass and fresh dirt. There are woody notes to it as well, which pairs well with the smooth bourbon-like notes of benzoin resin. Vanilla fragrances can vary, but here it seems to marry the fresh earthiness of vetiver with benzoin.
Franck Boclet Tobacco notes carry during the day or evening, but this scent combination is best reserved for winter and fall months. 
Pros
Interestingly complex fragrance
Masculine yet subdued
Warm scent
Strong sillage
Cons
Not for those who dislike sweeter fragrances
Limited use for such a high price point
5. Most Economical Fragrance with Depth for Older Men: Lalique Encre Noire
This is a straightforward eau de toilette that was first released in 2006. It can be worn day or night but mostly during fall, winter, and spring. This scent combination would not create a positive scent experience during the summer months. 
Top note: cypress
Middle note: vetiver
Base note: cashmere and musk
Cypress introduces you to this fragrance with woody, herbaceous, spiciness that transitions into grassy soil notes of vetiver. It dries down to a soft warm musk.
Although it's the least complex fragrance blend on this list, there's still enough depth to make this scent a worthwhile try. 
With that said, this is probably not a scent that you'd want to wear daily. It's not a signature fragrance, it's more of a sophisticated date night fragrance with a lower price point.
Pros
Uncomplicated formula with depth
Very masculine scent that softens at the end
Affordable price point
Decent sillage
Cons
Not for those who dislike mossy wood scents
May only last up to 5 hours
How Do You Choose the Best Cologne for Older Men?
Some older men are comfortable knowing that their fragrance precedes them as they walk into a room. But the fragrances in this article are geared towards men who want their cologne to be noticeable without being overbearing.
If you're still trying to determine how to select a cologne for yourself or as a gift for an older man, here are some tips:
Take a Look Inside
When you understand your reasons for wearing a fragrance, then you can narrow your choices when determining which one to purchase.
You might want to think about:
How often will you wear a scent? (Daily? Only on special occasions?)
Where will you wear your cologne? (Everywhere? Only to work?)
What do you want your scent to accomplish? (Establish legacy? Accessorize your apparel?)
If you're on the fence about which scent to choose, you'll be amazed at how much clarity you'll achieve by answering these questions.)   
Be Open to Paying More
According to 2011 research, younger men have upwards of five or more scents to choose from on any given day. As men age, though, they tend to reduce the size of their fragrance collection. As a result, older men are willing to spend more on fewer bottles of fragrance.
You'll notice that a few of the bottles above cost $100 USD or more. This is because they're made using higher quality ingredients and often at higher concentration levels. That doesn't mean that the less expensive ones have no value. Sometimes lower priced fragrances can be equally effective. 
Just keep in mind that the more refined scents typically come with a higher price tag.
If you'd like to experiment with some of these scents but are disinterested in paying full price for larger bottles, then check out this article for resources on how to find fragrances at wholesale prices.
Pay Attention to Fragrance Notes
Getting an idea of how you'll experience your fragrance throughout the day can also help you decide which one to choose. 
Will you initially experience citrus notes? Herbal ones? How does the fragrance dry down? Are the base notes woody or ambery?
Knowing this not only determines how long the fragrance will last, but it also gives you an idea of how you'll be affected by the cologne throughout the day.
Scents that begin with citrus notes can be refreshing and revitalizing, but is that how you want to feel during the first 15 minutes or so of wearing your fragrance?
Your base notes will last the longest – for hours – so it's especially important that you like their combination. 
Consider the Concentration
The amount of aromatic oils added to your fragrance blend influences its intensity level. Elixirs and pure parfums are the most intense, then eau de parfums and so on. An eau fraiche will be the least intense. 
Intensity contributes to projection, but it's not the only factor. Intensity determines the strength of each fragrance note. For instance, a soft musk will smell more powdery than an intense musk, which will have powder accords but be more robust and earthy. 
So as you can see, concentration levels can drastically alter fragrance accords.
Limit Your Application
In that same study mentioned above, researchers discovered that older men apply more cologne than they did in the past, and they do so more frequently throughout the day. This is because people over age sixty begin losing their sense of smell. 
You might think that your cologne has faded over the course of the day, when in truth, it's your ability to detect that fragrance that has diminished.
So how can you address this? You can choose not to spray on so much cologne throughout the day.
In most cases, two to three sprays is sufficient; going over four might be excessive. Since you may not be able to detect how your scent is projecting, it might help to ask family or friends how they're experiencing your cologne.
Make Adjustments as Necessary
Once you understand how those around you experience your fragrance, then you can use less or more accordingly. 
And once you get a sense of how fragrances unfold, then you can begin to experiment with a different combination of scents and various intensities.
You can start small, and then make changes according to your preferences along the way.
Conclusion
Older men tend to focus less on making a good first impression and instead desire to make a lasting impression that's reflective of their whole self. Fragrances on older men can also be worn as an accessory or simply to feel good but still and all the scent is usually less gripping and more subdued.
I feel that the most classic and sophisticated fragrance on this list for older men is Green Irish Tweed by Creed.
It encapsulates every characteristic that comes to mind when I think of a mature older male. It's sustained the test of time, makes its presence known without theatrics, and won't dominate you.
But as always, scent choice is a very personal process. You'll have to test a few of these out to find the one that works best for you.