Two of Burberry's most iconic scents for women are Burberry London and Burberry Brit. Since Burberry fragrances are so well-loved, how can you know which scent is better?
One thing is for sure, they are not one in the same. Burberry Brit is sweet, light, and playful. Burberry London is a warmer, full-bodied fragrance. One scent belongs to the floral fragrance category and the other is a gourmand. Determining which one is better is a matter of preference and function.
But I've done a lot of research on them, and I'm sharing with you what I discovered while comparing the two fragrances. Keep reading to learn which one will be the better choice for you.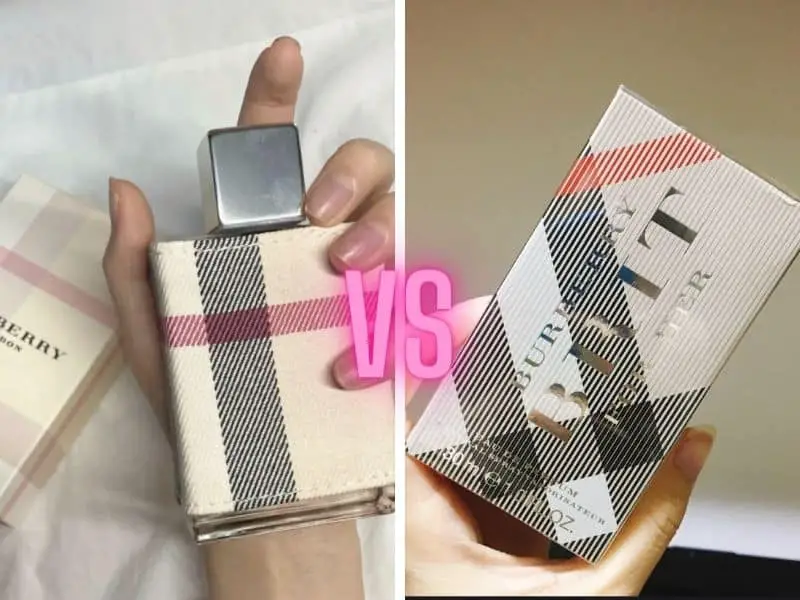 Burberry London for Women vs Burberry Brit for Women
Aside from the fact that these are two luxury fragrances, there are a number of differences in their fragrance notes and the feelings each one evokes when sprayed on. 
 All About Burberry Brit for Women
Burberry Brit was first released in 2003 and was formulated by Natalie Gracia-Cetto. While it is a sweet fragrance, there are fruity notes that make Burberry Brit a playful scent that fits well into your daytime schedule during fall, winter, or early spring. 
Top notes are a sweet and calming combination of pear, almond, and lime. On the second layer, you'll experience sweet candied almond, sugar, and peony. 
Burberry Brit slowly dries down to Tonka bean, amber, mahogany, and vanilla.
Since the mahogany added to Burberry Brit is more subtle than the floral and gourmand ingredients, I would think that this perfume would work well during the day. 
If you also want to wear this fragrance in the evening, you might need to bring it along with you to freshen up your spritz before going out. 
All About Burberry London for Women
Released in 2006, Burberry London is a highly sophisticated feminine white floral fragrance. 
You'll first notice that this fragrance is bottled in a glass container wrapped in a fabric sleeve printed with the iconic Burberry checkered pattern.
While Burberry London is more classic than Burberry Brit, it's not stuffy or stale. Burberry London has a fresh modern twist that young professionals and socialites alike would love.
Formulated by Dominique Ropion and Jean-Paul Chaillan, your initial encounter with Burberry London is a sweet and gentle combination of rose, tangerine, and honeysuckle.
Its heart notes take you on a journey through a walled garden covered with jasmine blooms, tiare flowers, peonies, and clementines.
As Burberry London dries down, you'll sink into the warm subtlety of sandalwood, musk, and patchouli.
It's a complex floral and woody fragrance with hints of fresh citrus. One or two pumps of this fragrance can last for hours on end. Its sillage is also lasting.
In terms of time of day, Burberry London can be worn day or night, but its heavier base notes might make this scent most appropriate at night. Early spring, fall and winter seasons would best complement this scent. 
This fragrance can be dressed up or down. It's only available as an eau de parfum in 50 mL or 100 mL.
Is Burberry London or Burberry Brit the Better Choice?
Both of these fragrances are worth the try. But if you have to choose one or the other, keep in mind that Burberry Brit works best as a day fragrance and Burberry London works during the day and does well transitioning into the night.
Burberry London for Women
Burberry Brit for Women
Available
concentrations
eau de Parfum
eau de toilette or
eau de parfume
Main accords
white floral
sweet floral
Top notes
rose, tangerine, honeysuckle
almond, pear, lime
Middle notes
tiare flower, jasmine, peony, clementine
candied almond, sugar, peony
Bottom notes
sandalwood, musk, patchouli
vanilla, amber, mahogany, tonka bean
Time of Day
All day and evening
All day, early evening
Seasons
fall, winter, early spring
fall, winter, early spring
Brit is innocently sweet and playful with a bit of an edge. London is more sophisticated but still fresh and modern. I guess you could say that Burberry Brit is the slightly younger sister in her last year of college or at the start of her career while Burberry London is the graduate student or young professional under the age of forty. 
Both sillage and longevity is slightly better for Burberry London, but you'd definitely get your money's worth from either fragrance.
A Brief History of Burberry the Company
When you think of the Burberry brand, it's likely that an image of their tan, red, black, and white checkered pattern comes to mind. 
The iconic Burberry check pattern was first trademarked in the 1920s – over 60 years after the company was first founded in 1856. It was during the 1920s when the company began using their Burberry check as the lining of their rainwear. 
That pattern and variations of it have since been applied to multiple Burberry product surfaces, including some of their fragrance bottles.
Since its inception, Burberry, founded by Thomas Burberry in Basingstoke, England, offered apparel solutions to help British citizens to endure their rainy weather. Durability and functionality were are the forefront of their product designs.
Burberry became so good at offering this service to customers that the British monarchy has acknowledged them with a Royal Warrant as a Weatherproofer in 1955, and a Royal Warrant as an Outfitter in 1990.
Presently, the company has been recognized as a sustainability leader in the Textiles, Apparel, and Luxury Goods sector of the Dow Jones market. Since 2017, they've worked with the Royal Academy of Art to conduct further research on designing and manufacturing even more innovative sustainable materials.
And since 2018, they've been working with the Ellen MacArthur foundation to help transform the fashion industry into a circular economy.
They currently operate in over 500 stores worldwide. 
A Brief History of Burberry Fragrances
Similar to Carolina Herrera, the fragrance branch of the Burberry brand was first licensed out to another company. From the 1980s until 2012, Inter Parfums operated this division, releasing the first fragrance, Burberry for Men, in 1981.
Burberry produced their fragrances in-house from 2013 until 2017, at which time Coty began licensing the company's fragrances.
In addition to Burberry, Coty's Luxury Brands division portfolio includes companies like Escada, Gucci, Marc Jacobs Perfume, Tiffany & Co, and Philosophy. Their aim is to create sophisticated, high-quality beauty products.
There have been close to 100 fragrances released by Burberry over the years. Some of them have been archived, but their current fragrance range for women include:
Burberry for Women Eau de Parfum
Burberry Body Tender Eau de Toilette
Burberry Brit for Her Eau de Parfum
Burberry Brit for Her Eau de Toilette
Burberry Brit Sheer Eau de Toilette
Burberry London Eau de Parfum
Burberry Touch Eau de Parfum
Burberry Weekend Eau de Parfum
Her Eau de Toilette
Her Eau de Parfum
Her Blossom Eau de Toilette
Her Elixir de Parfum
Her London Dream Eau de Parfum 
My Burberry Eau de Parfum
My Burberry Black Parfum
My Burberry Black Elixir
My Burberry Blush Eau de Parfum
Additionally, you can find a limited supply of Burberry Signatures Eau de Parfum in these scents:
Amber Heath
Garden Roses
Hawthorn Bloom
High Tea
Midnight Journey
Tudor Rose
Windsor Tonic
Most major department stores carry Burberry fragrances. You can also find their fragrances in their stores, franchised locations, through wholesale partners, and of course online retailers carry these scents as well.