With so many online commerce platforms available, it can be hard to determine which ones would make for safe and reliable purchases.
Fraudulent sites do exist and should be avoided. So I've compiled a list of my favorite places to buy wholesale perfume testers. Every source has its own list of pros and cons so take this list with a grain of salt. Consider the scents you love and which ones might lead to the best wholesaling option for you.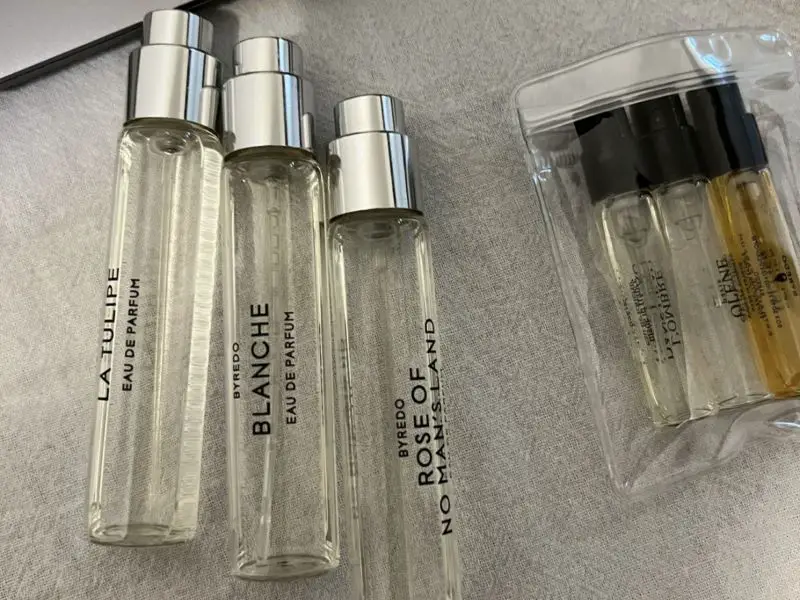 The Best 5 Places to Buy Wholesale Perfume Testers
As previously discussed, perfume testers are authentic perfumes that you can purchase at a lower price. 
Online retailers make arrangements with department stores and other suppliers to purchase testers in bulk at a wholesale rate. You can now purchase the same bottles of perfume that retailers buy but at a wholesale price because they then pass those savings on to you. 
Legitimate sellers will identify their perfumes as being authentic. Packaging might be sparse, but there won't be typos or other awkward indications of fake perfume. They should also specify that the perfume is unused. Read more about what to look out for in this post.
Where possible, I will share price examples of the same or similar scents for sake of comparison.
1. Perfume Empire
Another online resource for perfume testers is Perfume Empire. They offer high quality, authentic perfumes in all your favorite brand names.
Consider Perfume Empire's Carolina Herrera 212 Sexy eau de parfum. Its retail price is close to $100 USD for 3.4 oz (100 mL).
Its discounted wholesale tester rate on Perfume Empire is close to $45 USD. Because Perfume Empire has a strong relationship with its suppliers, their asking price is an even lower cost than what you'd find on Amazon. 
This same perfume on Amazon costs over $70 USD – that's over $25 USD more than the wholesale tester rate.
Burberry perfumes for her sell out fast on the Perfume Empire website. For comparison's sake, we can take a look at what they do have in stock.
There was a Burberry London in stock. This is the one I wrote about here, with the plaid fabric wrap.
On the Perfume Empire website, a 3.4 oz (100 mL) Burberry London eau de parfum is on sale for $35.50 USD. Its posted retail price is $80 USD. On Amazon, this same bottle of perfume costs $98 USD. You'd save over $60 USD buying the wholesale tester version of the same exact perfume.
Perfume Empire has an Excellent Trustpilot score. For orders over $69 USD, shipping costs are waived. Their platform is user-friendly and orders are processed in a timely manner. Product is appropriately packaged to avoid breakage. Most buyers are pleased with their customer service as well.
Based in Dallas, Texas, the company has been in existence for 22 years, the last 12 of which they've operated online. They purchase perfumes directly from manufacturers and established wholesalers. Because of this, customers rave about Perfume Empire offering some of the lowest luxury perfume prices online.
2. Awesome Perfumes
An online fragrance seller for 7 years, Awesome Perfumes only sells authentic perfumes and offers discounted prices close to Perfume Empire's rates.
I was able to find a tester version of Carolina Herrera's 212 Sexy for Women on this website.
Its tester price was close to $54 USD. That's only $10 more than Perfume Empire, which is pretty good, considering. 
A 3 oz tester bottle of Versace Bright Crystal would run you $58 USD on Awesome Perfumes, which is over $20 less than FragranceNet's non-coupon price. But you wouldn't need a coupon to pay only $4 more than FragranceNet's coupon price for this tester.
Burberry London for women was out of stock, but the price was still available. A 3.3 oz tester spray bottle would cost $34 USD on Awesome Perfumes, which is only a dollar less than Perfume Empire's low prices.  
Awesome Perfumes offers free shipping on orders over $59 USD. Your order is shipped within a day or two of purchase. Their website is fast and reliable, and they securely process your orders.
3. Beauty Encounter
Popular fragrances sell out fast on this website as well, so I wasn't able to get a peek at their prices for Carolina Herrera's 212 Sexy for Women or Burberry London for Her. But I was able to find Versace's Bright Crystal 3 oz eau de toilette tester bottle. Their asking price is $58 USD, which is $4 USD more than FragranceNet's coupon price, but it's $25 USD less than their non-coupon tester price. It's the same asking price as Awesome Perfumes.
I couldn't find a tester version of Burberry London for Women in stock, nor was there a Burberry Weekend for Men as a tester. But a newly packaged Burberry Weekend for Men only cost $29 USD for a 3.3 oz eau de toilette, which is only $5 more than the tester version for sale on the Perfume Empire website. So that's something to consider.
Beauty Encounter guarantees that their fragrances are authentic. They offer free shipping for orders totalling $60 USD or higher and orders are sent out a day or two after they receive payment. 
The company has been around for over 20 years. While they offer coupons and promotions, you don't have to sign up for them in order to make purchases at their lowest prices. 
4. FragranceX
This company is a reliable online perfume discounter that I've written extensively about in this post. They sell perfumes in their original packaging, as well as testers. 
Online since 2001, FragranceX offers consistently great customer service and fast shipping. You won't have problems navigating their website, either. They offer pretty low prices that are on par with Amazon's fragrance sellers. Below are some comparisons.
Carolina Herrera's 212 Sexy for Women is available in a 3.4 oz (100 mL) eau de parfum spray as a tester as well. Their price, with a coupon, is close to $63 USD.
While this price is about $5 USD lower than what you'd find on Amazon, you'd have to sign up to their newsletter to access the coupon code for this rate. For perspective, this same scent on FragranceX, fully packaged and prepared for retail, costs $69 USD with a coupon. 
A tester version of Burberry London for her wasn't available for comparison. A different Burberry tester I'll reference is Burberry Weekend for Men. It's an eau de toilette, 3.4 oz (100 mL), and the prices are somewhat similar between FragranceX and Perfume Empire.
The latter offers this tester scent for $23 USD. Its retail price is $65. A FragranceX tester of the same scent is $20 USD with a coupon. This same bottle cost $84 USD on Amazon.
Clearly, you won't find the savings on FragranceX that you would through Perfume Empire, but their testers are unused and authentic. If you're unable to find your favorite scent on a site like Perfume Empire, then FragranceX is still a reliable option.
5. FragranceNet
Another company written about in a past post, FragranceNet has been an online fragrance source for 25 years. You can either activate a coupon for discounted products or free shipping. Otherwise, shipping is free with a minimum amount of fragrance. 
But FragranceNet shipping is notoriously slower, so don't order from this company if you need for your order to arrive within a short time frame.
They offer more fragrance options than FragranceX, though, and their website is also easy to navigate.
Neither tester versions of Carolina Herrera 212 Sexy nor Burberry London for Her were available. I was able to find Burberry Weekend for Men and can use that as a comparison.
A bottle of this eau de toilette, (3.4 oz / 100 mL) tester would cost $40 USD, which is twice as much as FragranceX.
A 3 oz eau de toilette of Versace Bright Crystal tester costs $83 USD, or $54 USD with a coupon. The going retail price for this fragrance is $95.
The same tester found on the Perfume Empire empire website would cost you $40 USD – less than half of FragranceNet's asking price without a coupon. And it's even $14 USD less than their rate when you do have a coupon. But another benefit to Perfume Empire is that you don't need to activate coupons for the best rates on their website.
Higher costs and slower shipping doesn't make FragranceNet an attractive option for wholesale tester perfume. But they are a reliable company with a fairly broad selection of regular-sized perfume testers, so they earn a spot on this list as a last resort option. 
Summary Comparison Chart
Amazon
(new)**
Perfume Empire
Awesome Perfumes
Beauty Encounter
FragranceX
FragranceNet
Years in business
27 years
22 years
7 years
20+ years
21 years
25 years
Carolina Herrera 212 Sexy for Her Tester
over $70 USD*
$45 USD*
$54 USD*
N/A
$63 USD (with coupon)
N/A
Burberry London for Her Tester
$98 USD*
$35.50 USD*
$34 USD*
N/A
N/A
N/A
Versace Bright Crystal Tester
$65 USD*
$40 USD*
$58 USD*
$58 USD*
N/A
$83 USD* or $54 USD* w/coupon
Burberry Weekend for Men Tester
$84 USD*
$27 USD* (new)
$29 USD*
$29 USD* (new)
$20 USD* (with coupon)
$40 USD*
*All of these prices reflect amounts posted on the day this article was written and may not be the same as current postings.
** Please note that the Amazon versions of these fragrance are not testers. Amazon products were shared as a baseline comparison to help you see the savings involved with buying wholesale testers instead of regular retail bottles of perfume.
How to Choose the Best Place to Buy Wholesale Perfume Testers
After checking for authenticity, one of the primary ways that customers decide which platform to buy their favorite fragrances is according to price.
The whole point in buying wholesale perfume testers is to get your favorite scent at the lowest price possible. So if the price is too close to what you'd be asked to pay in a retail setting, it's hard to justify making that purchase.
Beyond price, here are some additional points to consider when buying wholesale perfume testers online:
Fragrance availability – some sites have a more limited selection
Shipping times – if you you're buying a gift, this factor becomes more important
Ease of website use – one of the hallmarks of a reliable company is the reliable and efficient functioning of their website. If it's clunky or glitchy, you might want to avoid making purchases there. 
Time in business – companies that have been around for a long time have proven to be a strong company that won't scam you or try to sell you fake products.
Customer reviews – in most cases, you can gain a good sense of how a company does business when you read customer reviews. After reading a dozen at least, you can also learn a lot about their product offerings and what you can expect from the ordering experience.
Not every scent will be available on each website when you want to buy them, so you may have to narrow your options to two or three top choices as a backup.
Some sites like Faire and Benron Perfume also sell testers, but they either have very limited stock and/or offer significantly smaller bottle sizes. 
Conclusion
Buying perfume testers at a wholesale rate is an economical solution for expanding your perfume collection. 
There are many reliable places to make such purchases online. You can smell great at a lower rate without feeling as if you've been manipulated. 
In terms of pricing and efficiency, Perfume Empire seems to be the best choice for buying wholesale perfume testers. Awesome Perfumes would be my second choice due to price and fragrance selection.
Remember not to make purchases from sketchy websites. If something feels off, there's no authenticity statement, and a lack of customer reviews, you may want to instead go to one of the sites listed above.
Lastly, if you've enjoyed this list, please share it with others!