Have you bought perfume that you dislike and feel stuck with it?
In most cases, you can return perfume. But every store has its own policy and specifications surrounding the return, so you should inquire before making the purchase.
Keep reading to learn more about the return policies for some of the most popular places to shop for perfume. 
Is it Really Possible to Return Perfume?
Whether your perfume was left unopened or has been gently used, the stores on this list have some sort of return option. Even if the perfume was a gift that didn't pan out, there might be an alternative solution to letting it sit on a shelf and collect dust.
1. Can You Return Perfume to Amazon?
Adding items to your Amazon cart is an easy (and borderline compulsive) process. But if there's a possibility that the perfume you're choosing may not work out, then you definitely want to pause before making your purchase.
As you probably know, the Amazon marketplace offers products sold and shipped by Amazon and products sold and shipped by third party sellers. There's also a subcategory for third-party sellers that store their products in Amazon warehouses, and then have their product orders fulfilled by Amazon.
This is why it's important to pay attention not only to what you're buying, but also who's selling it. Return policies will vary by seller.
This is Amazon's list of items that cannot be returned. Amazon explicitly states that third party sellers determine their own return policy.
Some descriptions are vague, like this one: "Some health and personal care orders." Is perfume a personal care item? 
Another description that brings pause is: "Items classified as hazardous materials or that use flammable liquids or gasses…" and the last one that makes me wonder if perfume can be returned on Amazon is, "Items with special shipping instructions."
Since perfume is largely made with ethyl alcohol, it is considered a flammable liquid. Perfume might also need to be shipped in a special way.
So how do you know whether or not you can return perfume to Amazon? You have to thoroughly read the listing information. Take the screenshot below of a listing that's sold and shipped by a third-party seller: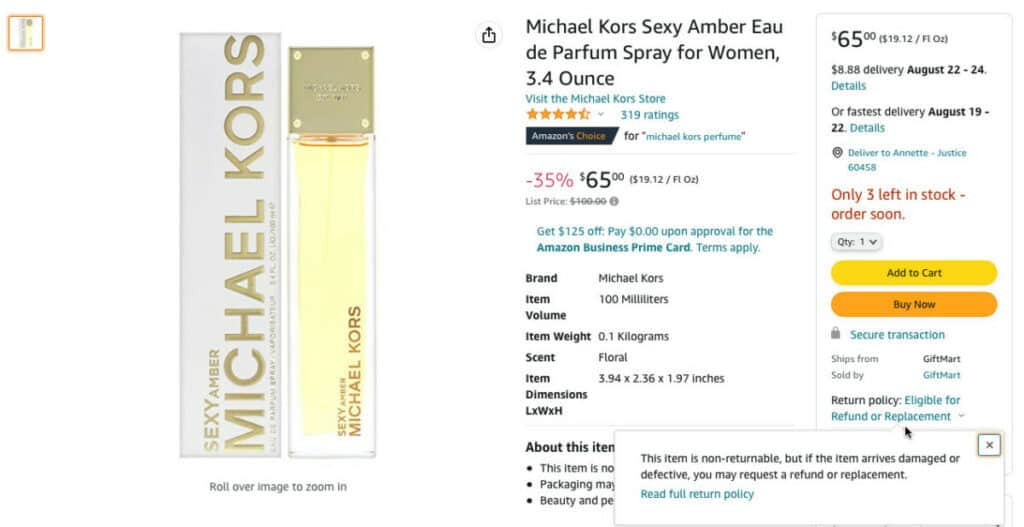 If you look at the information below the purchase buttons, you'll see where the perfume ships from, who it's sold by, and then a Return Policy description. After hovering over this policy, you can see that this item is only returnable under two conditions:
If it was damaged during shipment
If it's defective upon arrival.
This next example is shipped by Amazon, but sold by a third party. Their return policy is the same as described above.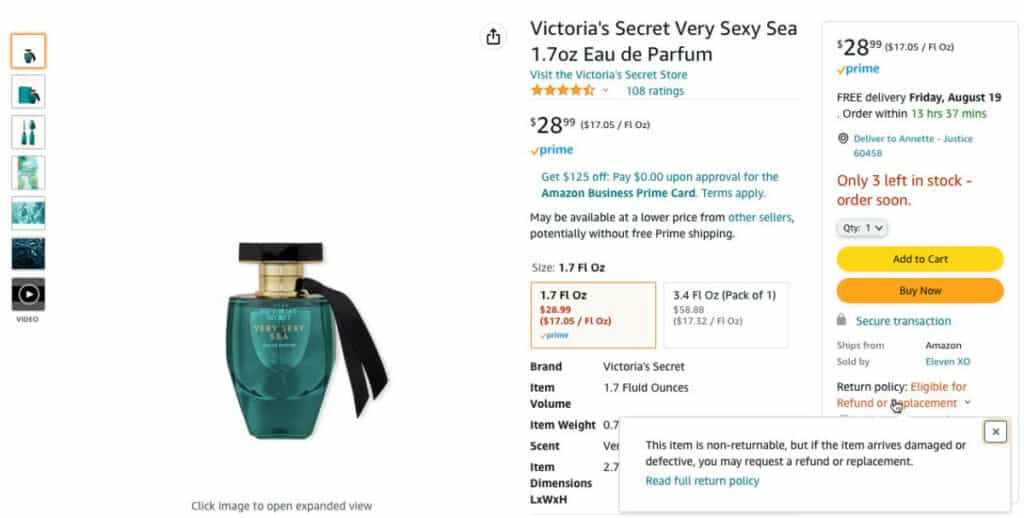 In this last example, where Amazon both sells and ships the perfume, their policy is the same.
So it seems that the only way to return perfume on Amazon – whether Amazon or a third party ships and sells it – is if it arrives damaged or defective.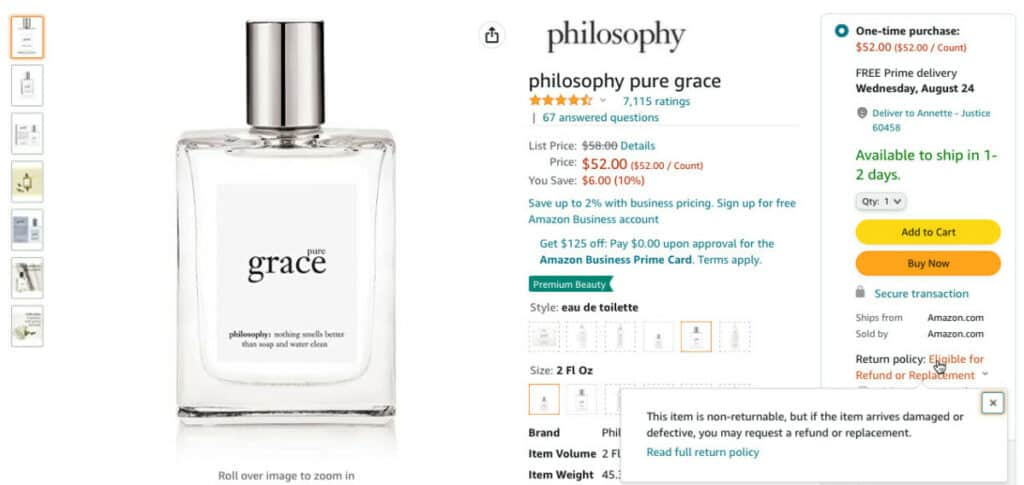 Otherwise, when buying perfume on Amazon, you'll have to keep it, decant it, sell the bottle yourself, or give it to someone.
2. Can You Return Perfume to Look Fantastic?
If you're a Look Fantastic shopper, there are some conditions where returns are accepted, but you might have to cover the cost of shipping.
Since Look Fantastic is headquartered in the UK, let's start with that policy and process.
Quick Look Fantastic Returns
Look Fantastic has a streamlined return process for returns on undamaged, unused perfume orders. The request must be made within 30 days of receiving the perfume in the mail.
You can fill out this form, providing them with your order number and email address (or postal code), and then select a postal carrier to begin the returns process. If you placed your order in a different country, there's a drop-down menu in the upper left corner for you to select the appropriate location.
You, the customer, would be responsible for postage costs and it's suggested that you select a carrier that offers insurance. 
Once Look Fantastic receives your return, you can expect a full product refund within three to five business days. 
Returns on Damaged Items
In order to return a damaged or faulty bottle or perfume, you'll need to contact Look Fantastic customer service to obtain a return authorization number before sending the item back.
When contacting them, it would help to provide photographs of the damage in your request, if possible. If they're responsible for the damage, then they'll also refund postage costs.
But note that if they test the product and find that it functions properly, you'll not be refunded for postage.
United States Look Fantastic Returns
If you're in the United States, you can read the specifics of Look Fantastic's US return policy here.
Your return window is shorter. Requests to return unopened perfume packages must be made within 14 days of receipt. Similar to the UK, postage is only refunded if the company was somehow in error, otherwise, you're responsible for return postage costs, and you'll only be refunded for the product, not the initial postage costs.
These policies might vary by country or region. Look Fantastic has separate websites for over 25 countries.  You can find your country in the drop-down menu located in the bottom left corner of their website under, "Help & Information."
3. Can You Return Perfume to Ulta?
Since you can purchase perfume from Ulta in-store, online, or in-app, you can understand why there's a different return policy for each.
For starters, you can only return perfume in its original condition. Also, you cannot return Ulta purchases to any Ulta shop that's housed inside another store, like Target.
Returning In-Store Ulta Perfume Purchases
With the original receipt, you'll receive a full refund on perfume that's returned to the store within 60 days of original purchase. If you can't find your receipt, and you used your rewards account, they can still refund you through your original purchase method.
If neither your receipt or membership information is accessible, then you can expect to receive a store credit instead.
Returning Online or Ulta Beauty App Perfume Purchases
There are two ways to return perfume that was purchased through Ulta's app or website. You can bring the item into an Ulta store, or you can mail it back to them.
But note that shipping costs are your responsibility. You will not be refunded for the original shipping charge, nor will Ulta cover the cost of shipping the item back to them. The obvious exception is if Ulta made an error or the perfume was somehow faulty.
When shipping perfume back to Ulta, place the product in its original shipment container, and only use a carrier that offers Ground shipping. Make sure you track the package as well. The return address is on your shipping slip and this page.
This should be done within 60 days of your order being processed. You can expect the refund to be credited to your account within 7 to 10 business days.
To circumvent shipping costs, you can return the perfume to an Ulta store. For a smooth transaction, remember to bring the following along with your return:
Email order confirmation
Packing slip
Original packing materials
If you return the perfume after 60 days, you'll receive a store credit. Similarly, if you can't find the packing slip or a proof of purchase by email, you'll be eligible for a store credit or an exchange, but not a refund. 
Returning Perfume Gifts to Ulta
If you have a gift receipt, you can return your perfume to an Ulta store and either exchange perfumes, or receive a store credit.
4. Can You Return Perfume to Selfridges?
This British-based company has been voted the Best Department Store in the World on multiple occasions. Their return process is easy and straight-forward.
If you're local, you have the option of returning in-store or online purchases to any of Selfridges' four locations within 28 days of your purchase. To be eligible for full refund, the perfume must be unused, in its original packaging, and with all of its tags and labels still intact.
For online order returns, fill out this form to get the process started through Selfridges' courier service for free. Complimentary returns are also accepted by Royal Mail using the same link. 
These options only apply to individuals in and around Britain. Perfumes delivered outside the UK are non-returnable.
5. Can You Return Perfume to TJ Maxx?
TJ Maxx returns are easiest if you've retained your receipt. 
Returning In-Store Perfume Purchases to TJ Maxx
Unused perfume bottles in their original packaging can be returned within 30 days with receipt for full refund.
If you've lost your receipt, have had the perfume for longer than 30 days, or you have a gift receipt, then you'll only be eligible for a store credit.
Returning Online Perfume Purchases to TJ Maxx
Online purchases can be returned to TJ Maxx within 40 days of the original order date for full refund minus the cost of shipping. Beyond the 40 days, without a receipt, or with a gift receipt, you're eligible for a store credit instead.
It's free to bring the unused perfume bought online into a TJ Maxx store along with either the packing slip or your emailed order confirmation.
Otherwise, you can mail the perfume back to TJ Maxx. To do this, print out the email confirmation of your order and place it inside the original shipping container with the item(s) you're returning. Remove any old shipping labels from the box. Locate the return label inside your shipping container, pull it out and affix it to the exterior of the shipping package. Drop the package off with the shipping carrier that's on your return label.
TJ Maxx will deduct a $10.99 shipping and handling fee from your refund or credit. 
6. Can You Return Perfume to Marshalls?
As a sister brand to TJ Maxx, Marshalls' return policy is the same. You can return in-store perfume purchases to Marshalls within 30 days with receipt for an exchange or full refund. A store credit is offered if you've passed the 30 days, have a gift receipt, or lost your receipt.
For online orders, you can follow the same steps that I outlined above about TJ Maxx in-store and shipping return options. 
7. Can You Return Perfume to Shoppers Drug Mart?
Shoppers Drug Mart has a straight-forward 30-day return policy for perfume. After filling out the return voucher, they'll process the refund to your original payment method. 
If you don't have a receipt, they'll decide how to handle your refund request on a case-by-case basis. You are more likely to receive a store credit than an original payment refund.
8. Can You Return Perfume to Dillard's?
You have 30 days from the date of purchase to return perfume to Dillard's.
As long as the products is unopened and in saleable condition, you'll receive a refund to the original form of payment – minus the cost of shipping & handling – within 7-10 business days. If the perfume arrived defective, then these fees will be waived.
If you received perfume from Dillard's as a gift, then they'll provide you with a store gift card in exchange for your return.
Unique to Dillard's, you can return in-store purchases by mail, too. There's a $9.95 fee, and you'll need to include the proof of purchase (POP) number found on your receipt in order to complete the return form. The same holds true when returning online orders.
But if you're returning an order placed by mail, you can reuse the shipping box and packaging materials. There should also be a return shipping label inside the box that you can use to send the perfume(s) back to them. To avoid fees, you can opt for in-store returns.
9. Can You Return Perfume to Bloomingdale's?
This is likely the most liberal return policy so far.
You have 90 days to return in-store purchases to Bloomingdale's. Discounted items can even be returned within 30 days. Without a receipt, you'll receive a store credit.
Bloomingdale's offers a complementary online return process. You simply start the process, with your order number, print out a confirmation page and packing slip, package the perfume, and then drop it off at the postal carrier.
Your refund is processed within 7-10 days of Bloomingdale's receiving the package. You can also return online purchases to one of their store locations within 90 days.
But this process varies slightly by location. In the United Arab Emirates, for example, you have 30 days to return items to the Bloomingdale's store that were purchased there or online. Complementary online returns can also be arranged by courier. Beyond 30 days, you're ineligible for a refund. 
10. Can You Return Perfume to Victoria's Secret?
All perfume purchases can be returned to Victoria's Secret within 30 days for full refund with the original receipt. Whether it's an original purchase price item, or sale or clearance items. 
After 30 days, you'll receive a store credit. You'll also receive a credit if you're returning a gift, or you don't have a receipt for your purchase. This policy might vary by store.
Online orders can be returned to the store or mailed back to Victoria's Secret. When mailing orders originally shipped in the United States, you can remove the original shipping label and print out a free one from their website.
Be sure to print out and place your original email order confirmation inside the box before sealing it up. They even accept multiple orders within the same box. Simply drop the box off at a USPS location.
If your order was shipped to a different country, you can select that country from this list and follow the outlined process.
11. Can You Return Perfume to Ross?
If you purchase perfume from Ross, it is best to hold on to your receipt. They've implemented a refund verification system that can potentially reject your refund request.
You have 30 days from the date of purchase to return unused, unopened perfume to Ross. If you have your receipt, you'll receive a refund in the same form of payment initially issued. Without a receipt, you may or may not receive a refund regardless of how much time has passed. 
Conclusion
I hope this article cleared up any questions you had about returning perfume to one of these popular stores.
Keep in mind that clearance and discount items are rarely eligible for returns. Also note that in most cases, a government-issued photo identification card is necessary to make in-store returns. This policy is more likely to be enforced if your return isn't accompanied by the purchase receipt.
I appreciate you sharing this article if you found it helpful!