Have a discussion with any fragrance lover and Creed Aventus will likely be mentioned. There's no doubt that Creed launches irresistible scents, but the retail price might lead you to wonder why they are so expensive.
Fragrances created by the House of Creed are justifiably expensive due to their choice of ingredients and the involved process of extracting the essence from each ingredient. Although Creed creates products that aren't accessible to everyone, it's difficult not to marvel at their legacy and standout fragrances.
Continue reading to learn more about the company and what makes Creed Aventus worth the asking price.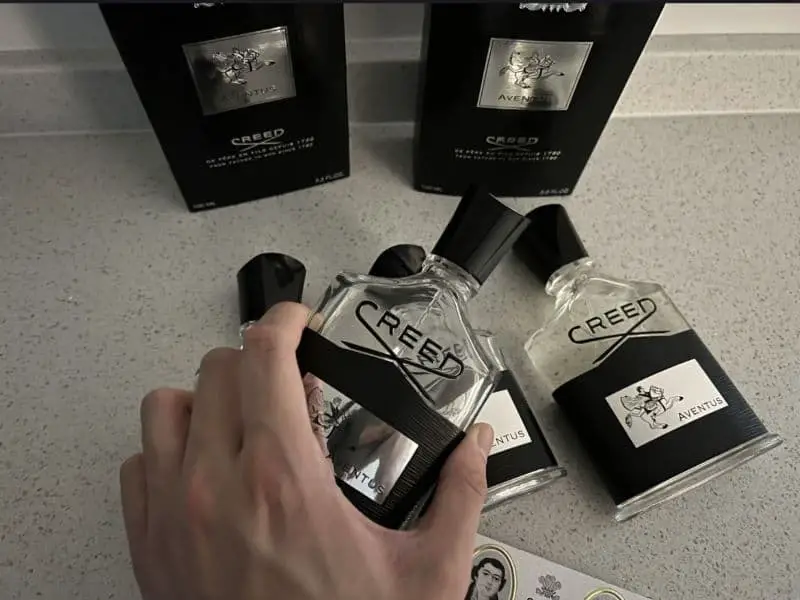 All About the House of Creed
The House of Creed is on a short list of over 5,500 companies that have consistently operated for over 200 years.
More than 5,000 might appear to be more of a long list than a short one but for perspective, over 333 million companies exist worldwide.
Of the businesses that fit into the "old company category," close to 200 of them exist in France, which is where the House of Creed is based.
It's easier than ever to start a business in today's age, but it's something operating a company generation after generation for close to three centuries is a huge feat.
Brand Story of the House of Creed
In 1760 James Henry Creed founded a Mayfair, London tailoring company. From the very beginning, Creed had its sights set on creating a royal presence. The founder sent a pair of scented leather gloves to King George III in the same year that he was crowned king.
With that gesture James Henry Creed began a legacy that even he may not have fathomed would last for close to three centuries – 262 years to be exact. Over time the tailoring business transitioned into a fragrance house.
Summoned by Empress Eugénie, wife of Napoleon III, the House of Creed relocated to Paris, France and became the official fragrance supplier to the royal household. The company perfected its process and catered to elite clientele while continuing to tailor apparel and accessories.
Since its inception, the House of Creed has released over 200 fragrances and the company has remained within the family – passed down from father to son – for seven generations.
Today, the seventh-generation Creed, Oliver, is head of the company. Oliver was the driving force behind Creed's current emphasis on being a fragrance house. His son Erwin continues the legacy with him.
House of Creed Product Lines
A niche perfume house, both Oliver and Erwin take a hands-on approach to growing, acquiring, and developing ingredients that help make unique fragrances. They travel internationally to help cultivate and retrieve premier crops for their one-of-a-kind fragrances.
Their factory is located in Fontainebleau, France, right outside of Paris. From here, they formulate fragrances using traditional, yet unconventional methods.
As a luxury fragrance artisan, the House of Creed primarily sells personal fragrances and related fragrance products and accessories.
Currently there are at least 45 perfumes and colognes offered by the company. You can also find bath and shower gels, body lotions, perfumed oils, aftershave, soaps, home sprays, and scented candles. Accessories include toiletry bags, leather goods, and atomizers.
With regards to their personal fragrances, there are three primary collections: Acqua Originale, Les Royales, and Aventus Trilogy.
Acqua Originale Collection
Scents inspired by Oliver's travels, the five fragrances include:
Creed Citrus Bigarde
Creed Green Neroli
Creed Iris Tubéreuse
Creed Vetiver Geranium
Creed Zeste Mandarine
Les Royales Exclusives
Their highest quality scents, each 75 mL (2.5 fl oz) bottle costs over $600 USD. Scents include:
Creed Jardin d'Amalfi
Creed Pure White Cologne
Creed Spice and Wood
Creed Sublime Vanille
Creed White Amber
Creed White Flowers
Aventus Trilogy
Their most popular fragrances that I'll cover in detail below.
And there are additional singular fragrances that may appeal more to men, women, or have unisex fragrance accords. Some include:
Creed Silver Mountain Water
Creed Green Irish Tweed
Creed Wind Flowers
Creed Viking
Creed Royal Oud
You can find your favorite new fragrance by searching their scents by season or by fragrance depth preferences of standard or strong.
Unique House of Creed Product Features
Regardless of which Creed fragrance you might choose, each one has been perfected with the same artistry as a bottle of expensive wine.
The process that the House of Creed uses to create superb fragrances has long since been abandoned by designer fragrance houses. It's both a costly and time-consuming process that would slow the production of many of the designer companies whose fragrances are more accessible.
And this is one of the primary reasons why the House of Creed can confidently place products on the market that caters to those with higher disposable income.
Part of the process which they use is most common in the realm of wines. Millésime, meaning "vintage" in French, is basically a high quality, aged wine.
Within the fragrance world, this term is used to describe the length of time high quality ingredients have been infused in order to draw out the highest concentration of their fragrant essence.
Ingredient sourcing is where this process begins. In order to ensure that they're working with the best ingredients, botanical elements are sourced from regions with soil and environmental conditions that lead to optimal growth.
Here are some examples:
Bulgaria, Turkey, Morocco (roses)
France (lavender, jasmine, May rose)
Haiti (vetiver)
Italy (jasmine, iris, bergamot)
Madagascar (vanilla)
Sri Lanka (sandalwood)
Both Oliver and his son Edwin travel to these places to confirm quality assurance and to continuously search for the cream of the crop. But various parts and species of iris are the "definitive signature" ingredient of many Creed fragrances.
The House of Creed doesn't stop at being heavily involved in the research and development stages of their fragrances. This level of care and attention is carried over to the bottling process.
Each bottle of a Creed fragrance is filtered into bottles by hand. Every label is also positioned on each bottle by hand. This meticulous approach to fragrance production is largely lost within the industry, which is what helps the House of Creed stand apart from other fragrance companies.
Top Creed Aventus Products
For those of you who follow the company, you know that there are three scents in the Aventus collection: Creed Aventus, Creed Aventus for Her, and Creed Aventus Cologne.
In this section, I'll share the differences between the three, and I'll include one additional Creed scent that's somewhat less expensive than the other three.
The Original Creed Aventus Fragrance
Creed Aventus, 50ML
Country of origin is France
The package dimension of the product is 4cmL x 9.2cmW x 14cmH
Material:
Eau De Parfum Spray
Considered one of Creed's breakout fragrances, Oliver spearheaded this scent development with the help of his son Edwin.
Initially launched in 2010, it was the first of the Aventus collection and has been their best selling fragrance ever since.
Aventus is a fruity chypre fragrance. Chypres are heady fragrances with citrus top notes and mossy base notes.
Bergamot is the only citrus top note found in Aventus. Additional top notes include pineapple, blackcurrant leaves, and apples.
At the heart of this timeless fragrance, you'll find birch, jasmine, patchouli, and pink peppercorn berries. This makes for a complexly sweet, spicy, and earthy fragrance layer.
Base notes include ambergris, musk, oakmoss, and vanilla. More earthy and woodsy notes close out this scent with hints of powdery sweetness.
Creed Aventus is described as "legendary and unpredictable." There are a number of reasons for this. Beyond the legacy of father and son creating this fragrance, its fragrance was inspired by the French ruler Napoleon, "celebrating strength, power, and success."
This is why a horseman sitting on a galloping horse is depicted on the bottle. He represents the act of forging ahead towards triumph with the wind at his back. "Vent" means wind in French.
Creed Aventus Eau de Parfum for Her
Another fruity chypre, Aventus for Her was released in 2016. This fragrance took almost three years to formulate and was launched for the 250th House of Creed anniversary.
"Confident and irresistible," the fragrance profile of Creed for Her was inspired by the historically powerful women that Creed has served over the centuries – queens, empresses, heads of state, and glass-shattering women of modern day.
Visually represented as a female archer on horseback, this fragrance is a reminder of women's resilience, inner strength, excellence, and radiance. The latter of which is further indicated by the bright white and gold packaging.
Another set of surprisingly harmonious ingredients, top notes introduce you to the fragrance. They include,
Egyptian green apple
Indonesian patchouli
Italian bergamot
Pink peppercorn berries
Bergamot and apples are two top note ingredients that overlap with the original Aventus. But the Aventus for Her top notes offer a fresh, sweet, and earthy introduction.
Heart notes include Indian sandalwood, Bulgarian and Turkish roses, musk, and styrax. Styrax is resinous, floral, and woody. Combined with powdery musk, and fresh, sweet, and woody sandalwood, the scents of rose rise to the top of this fragrance layer.
As it dries down, Aventus for Her boasts amber, cassis, lilac, ylang ylang, and sweet peach base notes.
Cassis is musk-like. Amber is warm, sweet, spicy, and also musk-like. Lilac releases an intensely spicy and sweet aroma and ylang ylang is a romantically sweet floral fragrance.
I'm not sure if I've ever come across a fragrance with peach as a base note, but it offers a sweet and tangy finish.
Creed Aventus Cologne
Less fruity than the previous two releases, Aventus Cologne is a woody fresh fragrance described by the company as "expressive and unconventional."
Released in 2018, Oliver Creed was the nose behind this fragrance. Top notes include: baie rose (pink pepper), ginger, and mandarin, making for a spicy, sweet introduction.
Heart notes include: Indian sandalwood, patchouli, and vetiver. Haitian vetiver has a clean and delicate earthy fragrance.
At the base of this cologne you'll experience musk, birch, styrax, and tonka bean.
Tonka bean can be grassy, earthy, sweet, and nutty. Combined with the other three ingredients, Aventus Cologne dries down to a powdery, earthy, and sweet aroma that's somewhat like the heart note of Aventus for Her.
Creed Love in White Eau de Parfum Spray
Creed Love In White, 30ML
Love In White Fragrance spray - 30ml/1oz
Unit count: 1.0
Ingredients: Creed Love in White floral fresh intimate angelic orange zest iris daffodils magnolia rose rice vanilla ambergris sandalwood fragrance perfume eau de parfum
Another Oliver and Erwin Creed creation, Love in White is not part of the Aventus lineup, but it's a slightly lower barrier to entry if the previous fragrances are beyond your financial means.
This fresh floral blend was launched November 16, 2005, as part of a special agreement between Creed, United Nations Educational, Scientific, and Cultural Organization (UNESCO), and the Empire State Building.
On that day, tower lights of the Empire State Building in New York City shined in pure white as a "statement of global unity and peace."
Creed describes Love in White as "intimate and angelic." Orange zest is the sole top note, and it was sourced from Italy.
In the middle we have Bulgarian rose, French daffodils, Florentine iris, magnolia, and Tonkin rice – which is earthy and nutty. Magnolia and iris are sweet and powdery florals.
Unlike traditional rose fragrances, Bulgarian rose has a unique scent combination of spicy cinnamon and clove, sweet honey, fresh lemon and green leaves, and even hints of raspberry. That makes this middle layer fresh, spicy, sweet, powdery, and earthy.
On the bottom layer, there's ambergris, sandalwood, and vanilla for a resinous, woody, sweet finish. This is mostly a day scent for spring and summer.
For even more affordable options, you can also consider this post about the online retailer Microperfumes, which sells reasonably priced samples of Creed fragrances.
Customer Opinions about Creed Fragrances
The House of Creed makes such exceptional products that it's hard to find critical comments about their fragrances. Most customers are pleased with the product even if the price is over the top for the average consumer.
Nonetheless, below is some of the feedback I've found.
Things That Customers Enjoy about Creed Fragrances
Creed fragrances are long lasting and are always met with compliments.
Just one pump of an Aventus fragrance can last eight hours or more.
Many of Creeds fragrances appeal to both men and women even if they aren't categorized as unisex fragrances.
While noticeable, scents from the Creed Aventus collection are more refined than the average personal fragrance.
Creed fragrances are subtle but have longevity and strong sillage.
Their fruity fragrances aren't sugary sweet, but much more developed and mellow than designer fragrances.
What Customers Dislike about Creed Fragrances
Some customers feel that while Creed fragrances are nice, the prices are unreasonably high.
And then there are those who aren't impressed by Creed scents at all. As with any other product, there will be times with a Creed fragrance simply won't resonate with everyone.
Another drawback is that everyone's skin and body chemistry is different. Therefore, even high-quality perfumes like ones made by Creed may not last as long on all skin types. If you have dryer skin, fragrances that last eight hours on some skin types may only last six hours on others.
Final Thoughts
Creed scents are definitely a luxury for most people, but you're buying more than a fragrance. You're also purchasing expertise, artistry, high quality ingredients, a refined process, and fragrances that are still bottled by hand.
Wearing the original Creed Aventus is a must have experience. You wouldn't believe how wonderfully the fruity, sweet, and mossy ingredients mingle well with one another.
For those who prefer to veer away from fruity fragrances, I'd suggest the fresh and woody, Creed Aventus Cologne.
Read more: