In this Dior Sauvage eau de parfum review, I'll answer the question, "What does it smell like?"
Inspired by the desert at twilight, primary fragrance notes are citrus and vanilla. It's spicy, but fresh, with a warm, sweet finish.
Christian Dior is an internationally renowned French fashion and beauty brand known for its emphasis on timelessness and refinement. Dior fragrances are an extension of this luxuriousness and inventiveness.
Part of a quartet of scent intensities, Dior Sauvage eau de parfum (EDP) was the second to be released, as it was launched in 2018. The original Sauvage, an eau de toilette, was introduced three years earlier, in 2015; the parfum was released in 2019, and lastly, in 2021, Dior presented the most concentrated version, an elixir. As a former in-house perfumer at Dior, François Demachy was the nose behind them all.
Christian Dior Sauvage Eau De Parfum Spray For Men, 3.4 Ounce
Launched by the design house of christian dior
The oriental fragrance has a blend of features bergamot, sichuan pepper, lavender, ambroxan, spices, warm, oriental tones of star anise, nutmeg and papua vanilla
It is recommended fpr casual wear
Keeps you refreshing all day
Increase attraction and skin friendly fregrance.
For the eau de parfum concentration, Demachy introduces you to the scent with crisp, complex Calabrian bergamot notes. It releases hints of spiciness in addition to its aromatic notes.
At the heart of this fragrance is Sichuan pepper, star anise, nutmeg, and lavender – more spicy and herbaceous notes. Sauvage EDP dries down to musky amber and sensuous vanilla.
Pros
Straightforward, yet memorable
Long-lasting fragrance
Great for daily use
Value-heavy choice
Cons
Somewhat expensive
Not a standout fragrance
Things to Consider before Buying Dior Sauvage Eau de Parfum
All of the Dior Sauvage fragrance concentrations smell nice overall, and their performance is better than what you might expect, but you should know that these are not highly unique fragrances.
That said, the fact that so many people like to wear this scent is a testament to how good it smells. Dior used high quality ingredients and combined them well to create an irresistible fragrance.
So, if your goal is to find a really solid and reliable fragrance, then this is it, but if you're looking for an uncommon fragrance that can become your unique signature scent, then you might want to try niche fragrances instead.
Next, this eau de parfum concentration is really strong. You'll either want to spray it on sparingly, or you might want to choose the eau de toilette concentration instead.
Dior Sauvage EDP is an investment. Because this is a scent you'll likely wear regularly, you'll get a lot of use out of this scent. In this case, it might be more economical to buy a larger bottle.
But if you plan to wear it occasionally, then a smaller bottle at wholesale price might be the better option.
Overall, the ideal customer for Sauvage EDP is someone who wants a common, everyday fragrance that can be worn all year long but who also doesn't mind that they'll smell like a lot of other people.
Features & Benefits of Dior Sauvage Eau de Parfum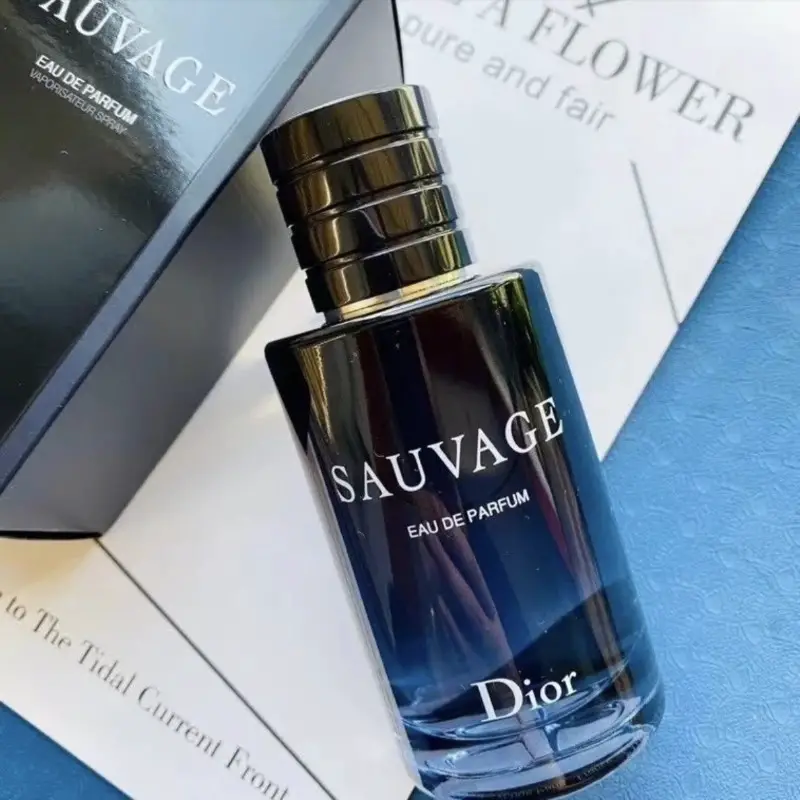 Even though it isn't a one-of-a-kind fragrance, Sauvage EDP has a wonderful scent that you and those around you will enjoy experiencing.
More importantly, its performance adds value to your purchase. Projection, sillage, and longevity – all surpass expectations.
Sauvage EDP Projection
Expect to fill the room, not only with your presence, but your fragrance as well.
This EDP is really strong, so it might be helpful to test the projection with a limited number of sprays, especially if you plan to wear the scent to a work environment.
One or two sprays on your pulse points would be enough to begin with until you get a better idea of how this scent sits on your skin and how it projects in various environments.
Sauvage EDP Sillage
The trail of this scent is long, even hours after you've sprayed it on. You can expect the scent to leave at least a 2-feet trail from you.
So, if you plan to engage in nefarious activities, then know that you can be easily found if it's known that you're wearing this EDP.
Sauvage EDP Longevity
This scent can last for at least 8 hours on your skin, although it will likely last much longer.
Depending on your skin type, it may not last as long, possibly only 6 hours. But if this is the case, you can be sure to apply an unscented moisturizer like petroleum jelly or a rich lotion to your skin prior to spraying on Sauvage EDP.
But the overwhelming majority of people who wear this fragrance report that it continues to go strong for 8+ hours.
Considering these factors, you'll be getting so much value for the price you're paying. It's difficult not to believe the asking price to be justifiable.
Sauvage EDP Benefits
The greatest benefit to wearing this scent is that you'll smell attractive. To this point, an extended benefit is that you'll definitely receive an abundance of compliments.
Finding a fragrance that you feel comfortable wearing automatically causes you to straighten your posture. You'll feel more confident and possibly even more focused or determined.
Sauvage EDP is an easy choice as a go-to fragrance. Having it in your collection can alleviate any angst you might have when trying to determine which of your fragrances to pair with a particular outfit or environment.
This scent can adapt to almost any situation. Whether you have a board meeting or want to go out dancing, this scent can be nicknamed, "Old Faithful" because it'll always come through for you (so long as you don't over-spray it).
Lastly, if you enjoy the Sauvage eau de toilette, but would prefer for it to be slightly less fresh, and warmer, spicier, and sweeter, then you'll really like Sauvage EDP.
Dior Sauvage Eau de Parfum Social Proof
Of those who have worn this fragrance, most of them have no regrets while some were unimpressed with the fragrance. Regardless of which side the wearers were one, the one thing everyone agrees with is that Sauvage EDP performance is exceptional.
Positive Feedback about Dior Sauvage Eau de Parfum
While still fresh, the eau de parfum version of Sauvage is more evolved. It lends itself to a more mature age group.
The performance and allure of this fragrance can't be matched, especially not by another scent in the designer fragrance category.
Freshness is knocked down a bit, but this is a nice shift from the EDT, and the added spiciness and sweeter notes makes the EDP more tolerable for some people.
Negative Feedback about Dior Sauvage Eau de Parfum
This EDP concentration is a lot stronger than the EDT version and some wearers prefer the less intense projection of the EDT.
Those who are loyal to the EDT prefer its freshness and dislike how the EDP has a sweeter dry down.
The fragrance is just too common.
Dior Sauvage Eau de Parfum Alternatives
You don't have to search very far beyond the Dior Sauvage collection for alternatives to this eau de parfum.
If there are some aspects of the Sauvage EDP that you like but would like for there to be subtle changes on one fragrance layer or another one, then you can consider the other fragrance concentrations in the collection.
Dior Sauvage Collection Comparison Table
Eau de Parfum
Comparision Factors
Eau de Toilette
Parfum
Elixir
2018
Year Released
2015
2019
2021
Citrus, Vanilla
Fragrance Sentiment
Fresh, Citrus, Woody
Woody, Citrus
Spicy, Fresh, Woody
Any/All
Occasion/Event
All/Most
Formal/Evenings
Formal events
Season
Spring, summer, fall, warmer winter days
Winter, spring, fall, early summer
Fall, winter, early spring
– Calabrian bergamot
Top Note/s
– Calabrian bergamot
– Pepper
– Bergamot
– Mandarin orange
– Elemi
– Cinnamon
– Nutmeg
– Cardamom
– Grapefruit
– Sichuan pepper
– Star anise
– Nutmeg
– Lavender
Middle Notes
– Sichuan pepper
– Lavender
– Pink peppercorn
– Vetiver
– Patchouli
– Geranium
– Elemi
-Sandalwood
-Lavender
– Amber
– Vanilla
Base Notes
– Amber
– Cedar
– Labdanum
– Frankincense
– Tonka bean
– Vanilla
– Licorice
– Sandalwood
– Amber
– Patchouli
– Vetiver
Strong
Projection
Moderately strong
Strong
Extremely strong
Very long lasting
Longevity
Long lasting
Very long lasting
Extremely long lasting
Long trail
Sillage
Moderately long trail
Moderately long trail
Extremely long trail
💲💲💲
Retail Price
💲💲
💲💲💲
💲💲💲💲
Dior Sauvage Eau de Toilette
For the freshest take on the Sauvage collection, you'll want to try the eau de toilette concentration. It opens up with a kicked-up bergamot fragrance due to the addition of black peppercorns.
But the heart of this scent is more complex than the eau de parfum. In addition to Sichuan pepper and lavender, rosy and fresh geranium, earthy and sweet patchouli, green and woody vetiver, and spicy resinous elemi.
As it dries down, labdanum is leathery but sweet, along with amber notes, and the soft wood notes of cedar.
Its performance is nearly identical to the eau de parfum, just a notch lower in each category.
Dior Sauvage Parfum
Sale
Dior Sauvage Parfum Spray for Men 3.4 Ounces
An aromatic fougere fragrance for modern men
Classy, crisp, spicy, clean, warm & uplifting
Top notes of Sichuan pepper & Calabrian bergamot
Heart notes of geranium, lavender, elemi, pink pepper, vetiver & patchouli
Base notes of cedar, labdanum & ambroxan
Performance-wise the parfum is very similar to the eau de parfum. This concentration stands out because it's a woody and balsamic version of the EDP.
Its opening also includes bergamot but is sweetened with mandarin orange and spiced up with elemi, which also lends citrus and piney notes.
Sandalwood is the singular heart note. It brings creaminess, and rich woody notes. As it dries down, frankincense creates a nice transition into more green, balsamic, earthy, woody, and subtly spicy notes.
Tonka bean is smoky, grassy, and nutty, while vanilla closes out with sweetness.
This is the only concentration that gives you vanilla notes as part of the dry down, like the eau de parfum. But if the EDP smells too sweet to you, then the parfum gives you a richer, more complex base layer experience.
Dior Sauvage Elixir
Christian Dior Sauvage Elixir Men EDC Spray 2 oz
Launched by the design house of christian dior
An unexpected and surprising trail that vibrates with notes of grapefruit, organic lavender, spices, and sweet, rich woods
Keeps you all day fresh
It is recommended for casual wear
It is suitable for all skin types.
This is by far the most potent concentration of the four. Its performance is even more spectacular than the eau de parfum.
Its opening is a burst of spices with citrusy grapefruit. And the heart is solely herbaceous and floral lavender. As it dries down, amber is the only note similar to the EDP. But this dry down is syrupy rich.
Biting licorice, creamy sandalwood, smoky vetiver, and piney patchouli all dance together. It's sharper, deeper, and more mysterious.
Not to be worn year-round, there's such a strong projection that wearing it on warm days would do it and you a disservice. Even then, only a couple sprays are necessary.
The elixir is more expensive, but this scent seems to last forever. It still isn't distinct enough to be worn as a unique signature scent, but's it stands out more than the EDP.
Conclusion
Dior Sauvage eau de parfum is an essential fragrance to have in your collection.
Its versatility is unsurpassed; the scent is sensually melodic. Having it on hand means that you'll always have a high-performance fragrance that you can rely upon for any occasion at any time of the day.
If you find that the EDP is too intense for you, then you'll at least need to have the eau de toilette version on hand. But if you're ready to try the eau de parfum, then you can check it out here.