Dior's Sauvage is a versatile fragrance that was first introduced to the market over five years ago. Solely in reference to fragrances, there are four different versions: elixir, parfum, eau de parfum, and eau de toilette. Sauvage daily grooming products exist as well.
Focusing on the more accessible, eau de toilette (EDT) and eau de parfum (EDP), Sauvage EDT costs about 20% less than Sauvage EDP but price isn't the only factor to consider when deciding which Sauvage composition is better. 
In terms of fragrance notes, it's somewhat surprising that these two scents even share a name.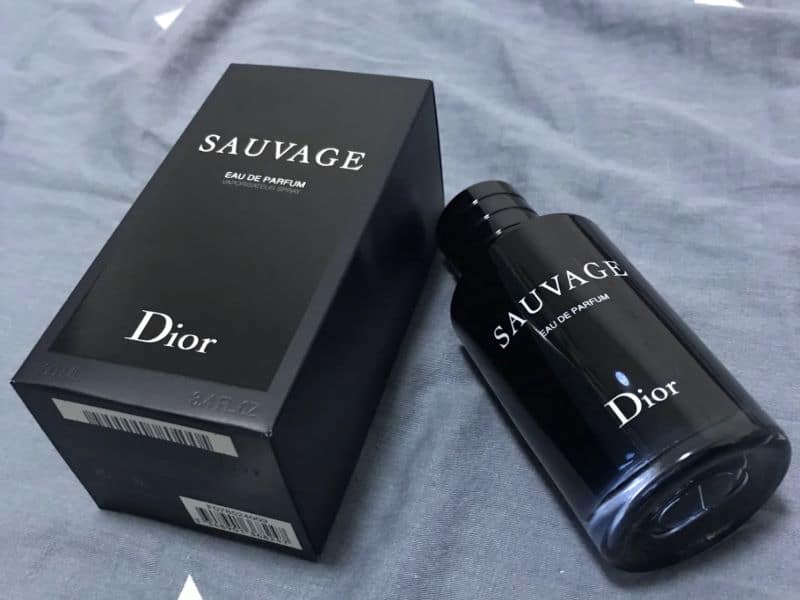 Sauvage by Dior
In addition to differences in levels of intensity, each version of Sauvage has slightly different fragrance notes as well. Therefore, deciding which one is better requires you to determine how intense you want your fragrance, which fragrance notes you prefer, and which price point best fits your budget.
Dior Sauvage Eau de Toilette
Christian Dior Sauvage Eau de Toilette for Men, 2 Ounce
This item is not a tester
Packaging may vary
Beauty product
The powerful aromatic freshness of Sauvage Parfum is illuminated by the sizzle of a plump, spicy Mandarin. Heady swirls of luscious Tonka Bean with leathery and bitter aromas are enlaced in a trail dominated by precious Sri Lankan Sandalwood
EDTs have between five and fifteen percent of aromatic compounds in their blend. [LINK TO ARTICLE] That makes this EDT the least intense of all four mixtures. For perspective, this EDT is 50% less intense than the purely parfum version.
Due to their lower concentration, EDTs usually have a lighter, fresher scent and this fragrance is no different.
This scent is housed in blue ombre glass cylindrical bottles that have a magnetic cap. Sauvage EDT is available in four bottle sizes:
1.0 oz  (30 mL)
2.0 oz (60 mL)
3.4 oz (100 mL)
6.8 oz (200 mL)
Launched in 2015, Sauvage EDT is considered an aromatic fougère fragrance for men. Fougère literally means fern in French. That makes this a scent that smells somewhat like a fresh, dewy forest. According to the Dior website, Sauvage EDT was created as an "ode to nature" in all of its rawness and scarcity.
Head notes include Calabrian bergamot and pepper for a spicy-fresh initial encounter.
Heart notes include: Sichuan pepper, patchouli, lavender, pink pepper, elemi, vetiver, and geranium.
In addition to spices, this is where a lot of the freshness lies. Vetiver has a grassy, damp soil aroma. Elemi smells like citrus tree resin. Geranium offers hints of a spicy, fruity, rose. Sichuan peppercorns are actually tree berries with an herbal citrus fragrance.  
Pink pepper is often added to enhance wood notes, so this heart note helps pave the way for the next wave of fragrances. 
Base notes include: labdanum, Ambroxan, and cedar.
Labdanum and Ambroxan are both synthetic scents. Both are similar to amber and sweet, earthy musk but Ambroxan is stronger and possibly smoother.
Earthy, citrus, and woody, Sauvage EDT has become an iconic fragrance that is well-loved by men and women alike. 
This can be a good thing unless you're looking for a unique signature scent, then you might be disappointed. If you're comfortable potentially smelling like others you come in contact with, then it's not a problem.
Pros
Most financially accessible
Strong enough scent that isn't overwhelming
Can be worn year-round
Long lasting scent for an EDT
Cons
Doesn't smell good on everyone
Maybe too accessible / scent too recognizable
Dior Sauvage Eau de Parfum
Sale
Dior Sauvage Parfum Spray for Men 3.4 Ounces
An aromatic fougere fragrance for modern men
Classy, crisp, spicy, clean, warm & uplifting
Top notes of Sichuan pepper & Calabrian bergamot
Heart notes of geranium, lavender, elemi, pink pepper, vetiver & patchouli
Base notes of cedar, labdanum & ambroxan
Of all four intensities, Sauvage EDP is Dior's best-selling version according to their website. On a scale of one to four, this version is 25% less intense than the parfum version, making it stronger than the EDT.
There are three bottle sizes available:
2.0 oz (60 mL)
3.4 oz (100 mL)
6.8 oz (200 mL)
The EDP interpretation was launched in 2018 with a more limited set of fragrance notes.
Head notes: Calabria bergamot
Heart notes: lavender, star anise, nutmeg, Sichuan pepper
Base notes: Ambroxan and Papua New Guinean vanilla
Also an "ode to nature," this EDP is still fresh and spicy on the top two layers, but this blend leans more towards sweet amber sans wood as it dries out. The vanilla extract that's used has smoky undertones.
After its peak in 2018, interest in this fragrance dropped a little but has steadily maintained its position as a moderate trend over time.
This EDP is distinct enough from the EDT that having both in your fragrance collection can help round out your scent possibilities on a given day. 
Pros
Cleaner, sweeter fragrance
Can be worn year round day or night
Projects well
Possibly for more mature customers
Cons
Not for those wanting a bespoke signature scent
Not for those seeking wood notes
Sauvage EDT vs EDP: Side by Side
Although these scents share a name, they do not offer the same scent experience. The EDT is more fresh, vibrant, and earthy while the EDT is mildly fresh, sweet, and smooth.
In comparison I view the EDT as vodka or gin and the EPD as brandy – more aged and refined.
Here's a summary of their features side by side:
Dior Sauvage EDT
Dior Sauvage EDP
Concentration
**
***
Price
**
***
Bottle Sizes
1.0 oz  (30 mL)
2.0 oz (60 mL)
3.4 oz (100 mL)
6.8 oz (200 mL)
2.0 oz (60 mL)
3.4 oz (100 mL)
6.8 oz (200 mL)
Head Notes
Calabrian bergamot
Pepper
Calabrian bergamot
Heart Notes
Sichuan pepper
Patchouli
Lavender
Pink pepper
Elemi
Vetiver
Geranium
Lavender
Star anise
Nutmeg
Sichuan pepper
Base Notes
Labdanum
Ambroxan
Cedar
Ambroxan
Papua New Guinean vanilla
Fragrance Use
Year-round; day and night
Year-round; day and night
Refillable Bottles?
Yes
Yes
Similar fragrance notes are in bold.
Offering a 1.0 oz/30 mL bottle size for the eau de toilette makes it more accessible than the eau de parfum. A smaller bottle size benefits those who want to try the fragrance out before committing to a larger bottle size.
The 1.0 oz/30 mL bottle EDT is also a more realistic option for those with limited financial resources.
Dior Sauvage Stand Out Features
Both fragrance concentrations are well made using responsibly sourced, high quality ingredients.
All of the bottles are made of recyclable glass. Eau de toilette, eau de parfum, and parfum bottles are refillable.  Exterior cardboard packaging is responsibly sourced and also recyclable.
These features are reflective of the House of Dior's sustainability initiatives. Their goal is to reduce their impact on the environment, reduce their waste, and limit their use of precious resources.
Conclusion
Johnny Depp has been the face of Dior Sauvage since its 2015 release. Many customers commend Dior for allowing him to continue to represent this fragrance while battling legal troubles. 
It was a daring stance on their part, but more and more consumers support companies that align with their values. If this is important to you, then Dior's company ethos might be a contributing factor for you when considering whether this is a scent you'd like to try. 
Here's a list of highlights from each scent.
You prefer less intense fragrances with solid projection
You don't mind wearing a popular scent
You are more price sensitive
You prefer sweeter amber and citrus fragrances
You want a masculine scent without strong wood notes
You're less concerned with the price
Dior Sauvage EDT and EDP are two distinct fragrances with a few overlapping notes.
Both start off with strong citrus notes. But the EDT is a great option for those who want to smell earthy woods as the eau de toilette dries down. On the other hand, you'll smell sweet vanilla and amber as the EDP dries down; it's more formal or mature than the EDT.
Being that they're so different, choosing between the two might be easier than you may have initially thought.
As always, it's really a matter of preference, and you won't know exactly how a scent will smell on you until you try it out on your skin to see how your body will respond.
Read more: