Whether you're a hobbyist collector, neophyte frag head, or something in between, it never hurts to try to save as much as you can on fragrances.
Not every discount fragrance site saves you money on every bottle you buy, but typically they have at least one money-saving strength. Let's get into the list.
Top 11 Money-Saving Fragrance Discount Sites
Each suggestion has its own strengths and weaknesses, so they're not ranked in any order. You can read through the list to determine which ones meet your needs.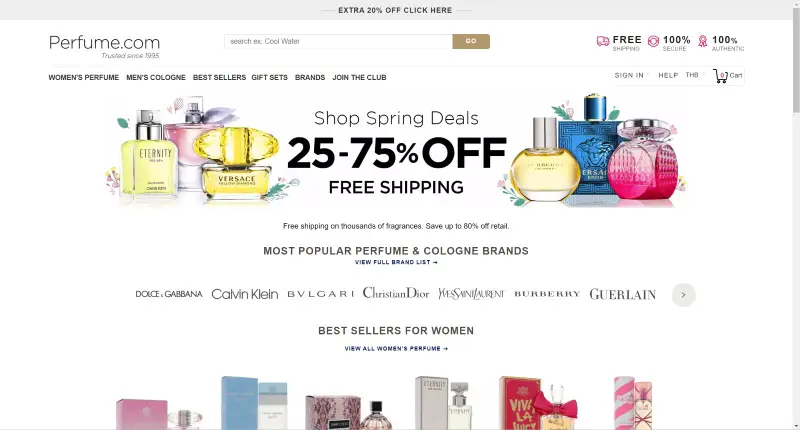 More than 10k fragrance products have been made available on this website, divided between 500 different brands.
Popular scents like Club de Nuit by Armaf, Dolce & Gabbana The One, Montblanc Explorer, and Burberry London are all ready to be shipped out to you.
For example, Burberry London for Women is offered as a 30 mL (1 fl oz) bottle for under $25 USD if you activate the coupon on their website.
In comparison, a full 100 mL bottle can cost over $100 USD. If you calculate the costs per ounce, you're paying under $1 USD per ounce on Perfume.com and you'd be paying over $1 USD per ounce when purchasing directly from Burberry.
Let's quickly look at Light Blue by Dolce & Gabbana. In this example, there are multiple bottle sizes available. Comparing the largest size, 200 mL (6.7 fl oz) would run you $106 USD if you activate their 20% off coupon. On the Dolce & Gabbana website, the same bottle size would cost over $132 USD. So, you'd save over $25 USD by purchasing Light Blue from Perfume.com.
Shipping speeds are normal and customers find that their products are authentic and smell accurate. They've been online since 1995 and ship to over 200 countries.
With the tagline, "Only the finest," it's increasingly apparent that niche fragrances are becoming MaxAroma's niche market.
This specialized fragrance discounter offers scents from hundreds of brands, but they might be the only fragrance discounter with close to 3,000 niche fragrances ready to ship out to you. They offer limited international shipping.
Just for the sake of comparison, Dolce & Gabbana's Light Blue 200 mL bottle is currently on sale for $80 USD, normally it would cost $115 USD through this website, which is still less than the D&C website.
But finding those rare gems are what sets this discounter apart. Scents like L'Homme Ideal Extreme by Guerlain, either aren't available on the other sites, have sold out, or you'll have to be added to a waiting list. MaxAroma, on the other hand, can ship it out to you right away.
If you're looking for more specialized fragrances at discounted rates, then this is your best resource.
Not every online shop ships internationally, so if you're living in Canada, you might prefer to search for discounted scents through FragranceBuy.ca. They offer bargain prices from over 300 brands.
One downfall to purchasing fragrances from discount sites is that you can rarely find new releases because it takes months or years for scents to cycle through retailers first.
Somehow FragranceBuy.ca has been able to acquire some of the newer fragrances out there. The only downfall is that they don't remain on the site for very long, so I don't even have examples to share right now because they've all sold out.
But this is a website for you to bookmark, even if you live in the United States. FraganceBuy.ca quickly ships to both countries.
If there's a new release you'd like to buy at a discounted rate, keep an eye on this website or contact them to ask when they think they might have it in stock.
One point that speaks to their authenticity is that for over two decades, this company has been a wholesale supplier to local Canadian boutiques. It's been a decade since they launched their online shop. That said, longevity is often a huge indicator of a company's trustworthiness.
And for comparison, for a 200 mL bottle of Light Blue eau de toilette for men, you'd be charged $70 USD with their automatic coupon. That's over $30 less than Perfume.com.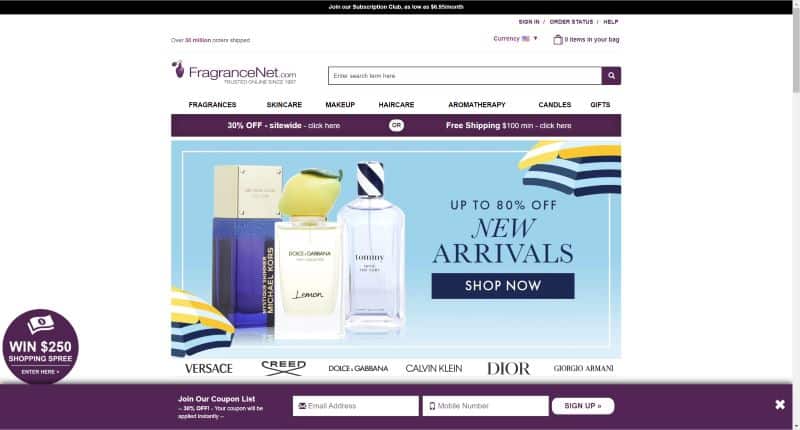 FragranceNet.com also sells makeup, skincare, aromatherapy, and hair care products. This can be convenient if you prefer to make all your personal care purchases at once.
There are over 40k products on this website, over 13k of them are fragrances. But if you're eager to receive your order by a specific date, then you might want to avoid purchasing from FragranceNet.com.
Their shipping speed is still slow, although more recently, it's more hit or miss. Some people receive their packages almost immediately, others have to wait longer than expected.
Even though they've been online since the late 90s, and they've shipped over 30 million orders from then until now, they have yet to master faster order processing and connecting with a more expedient shipping provider. That said, they do ship internationally.
With their online coupon, Dolce & Gabbana Light Blue for men costs $80 USD, which is slightly more than FragranceBuy.ca but significantly less than Perfume.com.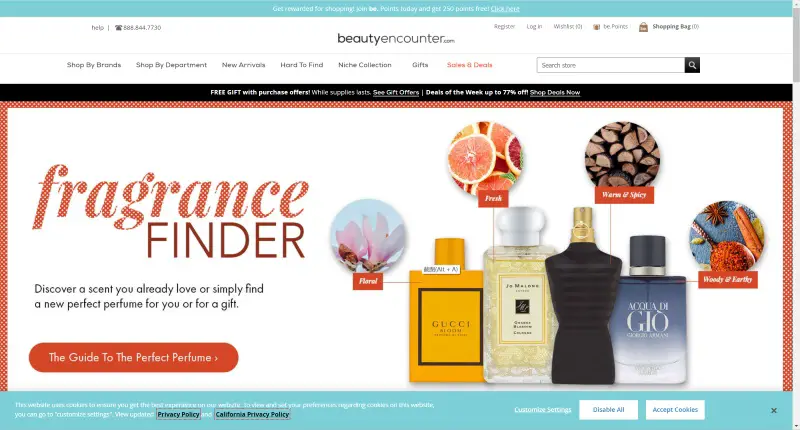 A somewhat less popular online fragrance discounter, BeautyEncounter has actually been around since 1999.
In addition to discount colognes and fragrance testers, skincare, makeup, haircare, products for home, and bath and body all come from over 1,000 brands.
BeautyEncounter.com has close to 300 products in their niche collection. Scents like Creed Royal Water, Amouage Ciel Woman, and Clive Christian L for Women have all received high ratings on the website.
As with all of the other sites, there are always coupons to activate and seasonal promotions cycling through. The same bottle of Light Blue eau de toilette costs just under $65 USD, which might be the lowest price I've seen for a 200 mL bottle.
This company ships to thirty different countries outside of the United States.
BeautyEncounter.com is a family-owned business that was featured on CNN's "How We Got Started"thirteen years ago.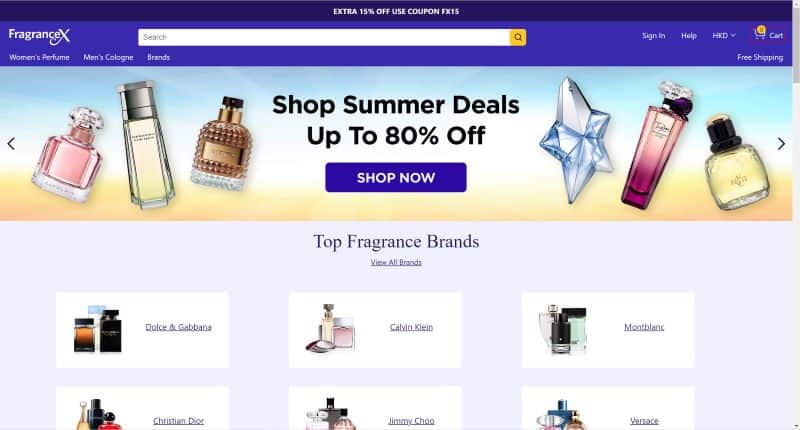 Online since 2001, FragranceX.com solely sells fragrances, and you'll have over 10k to choose from. FragranceX is a sister site to Perfume.com
FragranceX has one of the largest and most efficient fulfillment centers. This is the discounter to order from if you want to receive your fragrances in the mail within a reasonable timeframe.
But one downfall of this site is that their customer service seems to be questionable of late.
By comparison the same D&C fragrance and bottle size costs $78 USD on their website when activating their coupon. That's less than Perfume.com, on par with FragranceNet, but more expensive than FragranceBuy.com.
You can read more about FragranceX, here.
You might be sick of me mentioning this company, but when it comes to buying decanted samples and travel-sizes atomizers, California-based Microperfumes has found its niche.
75 mL (2.5 fl oz) $53 USD. That makes it more expensive per mL/oz, which is why I don't suggest purchasing full bottles from Microperfumes.com unless you know it's a great deal.
On the other hand, if you've never smelled Light Blue before and would prefer not to make a blind purchase of a full bottle, then you can't beat ordering their sample vial for a little over $2 USD. The travel atomizer is a little over $10 USD.
This site is perfect for ordering samples of all the fragrances you've been wanting to try before committing to a few full-sized bottles. You'll be paying more per mL/oz but in the long-term you're paying less if you end up disliking some of the fragrances, or if they simply don't sit well on your skin.
Microperfumes.com ships internationally as well.
Here's my review of Microperfumes.com.
Based in the Czech Republic, Notino is a preferred fragrance discounter in Europe, and they continue to expand. The company was founded in 2004, and they used to operate a website in the United States, but it has since dissolved.
Notino has over 80k fragrance and beauty products from 1,150 brands. They ship over 100k packages daily.
If you're based in Europe or a nearby country, then you might want to consider Notino.com for your discounted fragrance needs. Even their physical store locations apparently offer discount prices.
Read more about Notino, here.
Based in Brooklyn, New York, "Never pay retail" is the motto over at JomaShop.com. In addition to fragrances, you can find apparel, sunglasses, handbags, jewelry, accessories and shoes.
So it's a one-stop shop if you're wanting to buy multiple items for lower shipping costs. Everything you buy here is at a reduced cost, and they guarantee that all their products are authentic. There are international shipping options.
The 200 mL (6.7 fl oz) bottle of D&C's Light Blue EDT was on sale for $60 USD plus change. At the regular price on this website, the scent was $97, which is much lower than the retail price on the D&C website. But you won't find significantly low prices on this website.
You can find coupon codes on their website or sign up to their mailing list for more deals.
For buying items across multiple product categories at once, JomaShop is a solid choice.
Finding a scent that sits well on your skin is admittedly challenging. A fragrance can smell nice on the bottle nozzle, sprayed onto paper, or on another person, but it may not smell the same once it's been sprayed on your body.
Testing out fragrance after fragrance can get expensive over time. Enter Texas-based ScentSplit.com; this company hand decants fragrances and sells these smaller containers to you for testing.
You can spend a week or so wearing the scent to determine if it works well with your body chemistry, what times of day, with or without moisturizer, etcetera.
What's even more convenient is that they offer multiple sample sizes: 1 mL, 2 mL, 5 mL, and 9 mL. Full-sized bottles are also available. But common scents like D&C's Light Blue or brands like Chanel cannot be found on this website. Chanel has strict distribution and pricing rules, so I'm not surprised to find this brand absent from a site like ScentSplit.com.
But there are hundreds of brands available on this website, including many niche fragrances. Scents are decanted in a sterile environment after the order is placed.
The price you pay per mL or oz will be higher in the short term, but similar to Microperfumes.com, you'll be saving in the long term because testing multiple decants is less expensive than testing multiple bottles of fragrances at retail or even discounted prices.
ScentSplit.com has an extensive nice selection of niche fragrances and international shipping is an option as well. I think this discount site offers a great service.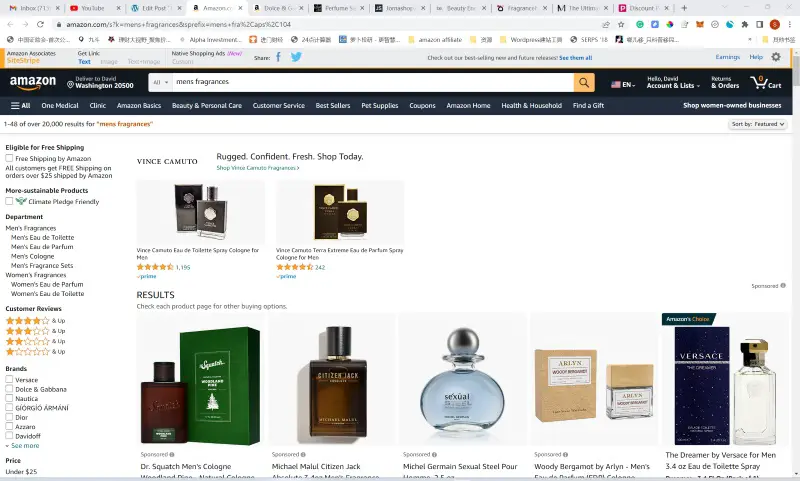 One of the most common places to find fragrances at a low rate is Amazon.com. For instance, the same bottle of Light Blue mentioned earlier was under $70 USD when I last checked.
But even its original price of $115 USD is lower than the brand website, although it's a higher price than FragranceBuy.ca, which seems to have the lowest prices out of all the sites mentioned here.
Some people suggest that Amazon sells fakes, but I haven't found that to be true. More importantly, Amazon is quick to remove any ingenuine products from their website, and you can request a refund directly from Amazon if you suspect that you received a fake product.
Final Thoughts
Whether you want to try decanted scents at a reasonable price or buy full bottles at a steep discount, there's a site out there that can save you a lot of money. No list can contain them all, but I hope you found this one helpful.
The websites mentioned here sell authentic products, so you don't have to worry about potentially buying fakes. Signing up for email lists in order to get a better deal is common practice when purchasing from fragrance discount sites.
Whichever site you choose, be sure to compare prices before making your final purchase.