Finding deals on high quality fragrances can help you feel like a smart and responsible consumer. Marketplaces like FragranceX and FragranceNet both offer such discounts, but you may wonder which one is the better choice.
Both companies solely stock and sell authentic fragrances. Their prices are similar and both companies offer additional perfumed products, like body wash and deodorant. Rewards and promotions are also plentiful. FragranceNet has more extensive product offerings but if customer service and faster shipping are selling points for you, then FragranceX might be the better option.
Continue reading to learn more about what each company has to offer and how to decide which one is better for you.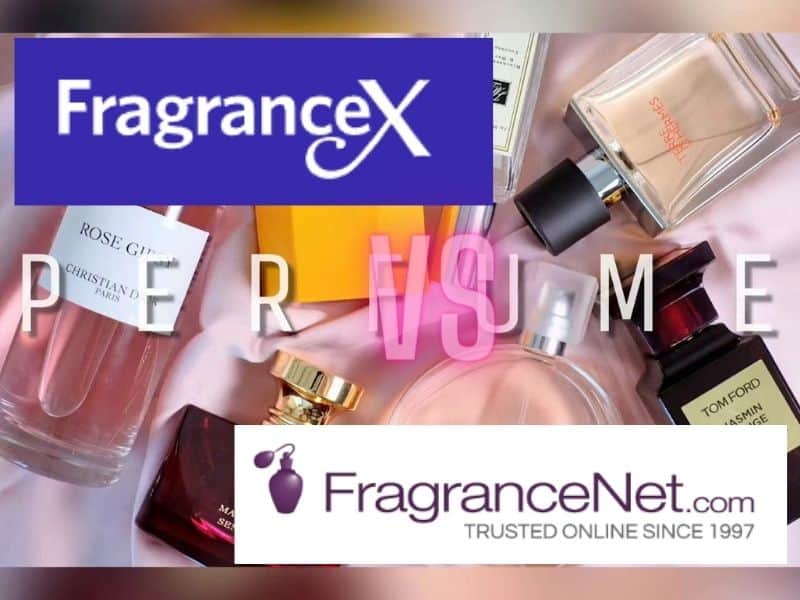 FragranceX vs FragranceNet: Company Comparison
Luxury fragrances may seem out of reach but FragranceX and FragranceNet make them more accessible to the average person. Companies such as these can make it easy for new collectors to explore personal fragrance without extremely high upfront costs. 
Here is a little background information about each company.
FragranceX Company Information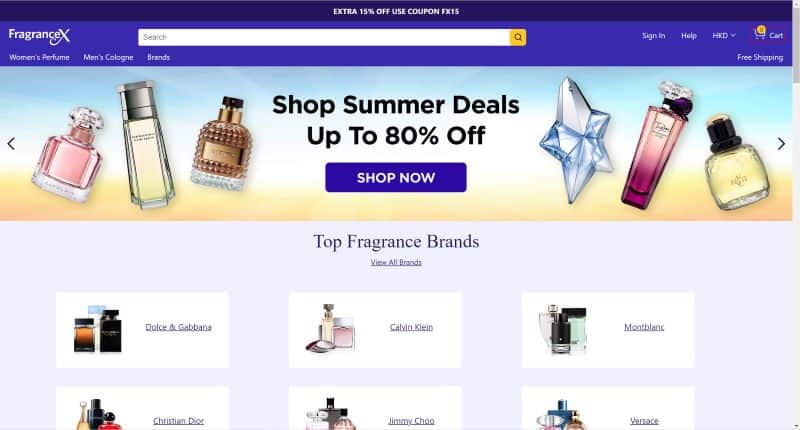 Founded in 2001, FragranceX is an online luxury fragrance discounter. The company clearly states that each scent is authentic; they do not sell imitation fragrances. Burberry London is Burberry London. Boucheron is Boucheron.
They actually refer to themselves as the world's largest fragrance retailer. Unlike some discount retailers who solely sell collections from seasons past, FragranceX offers a mix of both. You'll find both newer releases, like Burberry Hero, and the fragrance classics, like Cool Water by Davidoff.
FragranceX Order Fulfillment & Shipping
FragranceX has a state of the art fulfillment center. Their system streamlines the ordering process and allows for more expedited shipping. Orders are shipped on the same day that you place them on their website.
FragranceX is based in Hauppauge, New York, USA, but they ship internationally. Flat shipping rates are offered in the US and Canada. Internationally, there's a flat rate plus a fee per item ordered.
If your order is shipped to an address in the United States at or over a certain dollar amount, then shipping is free. FragranceX does not ship to P.O. Boxes.
US orders take no more than five business days to arrive. Shipping to addresses in Canada can take over a week. There are always more factors involved with international shipping, but FragranceX offers international tracking, which isn't always available with other companies. 
Customers have unanimously shared that FragranceX order processing and shipping is far more expeditious than FragranceNet.
FragranceX Product Offerings
If you are ever on the hunt for gag gifts, FragranceX has you covered. My cheeks are still sore from laughter after discovering that they sell Jovan Musk. My older sister wore this vintage scent when she was a teenager.
But you'll also find more recent releases like, various scents by Rhianna and iconic brands like Dolce & Gabbana, Versace, and Chanel. Hard to find fragrances, like Wind Song perfume are nice discoveries.
Best-selling men's colognes and unisex fragrances are available in abundance, along with sample vials and testers. Gift sets are also available if you want to order a modern scent to accompany a gag gift, for instance.
Beyond perfume and cologne, FragranceX also offers vintage and modern:
After Shave
Body Cream
Body Lotion
Deodorant
Shower Gel
FragranceX Customer Service
Based on reviews, customers largely enjoy interacting with FragranceX customer service representatives. They're verified with Trustpilot and have an excellent score. 
FragranceX Shopping Perks
You'll have ample opportunities to save even more than the discounted prices on FragranceX. By joining their mailing list, you'll have access to coupon codes and free shipping opportunities. There's also a rewards program. You can accumulate points with every purchase. Those points add up to discounts to be applied to future purchases. 
If you're a fan of sites like Retail Me Not and Coupon Cabin, you can also access FragranceX discounts on these sites and ones similar to them.
Read more: Is FragranceX Legit
FragranceNet Company Information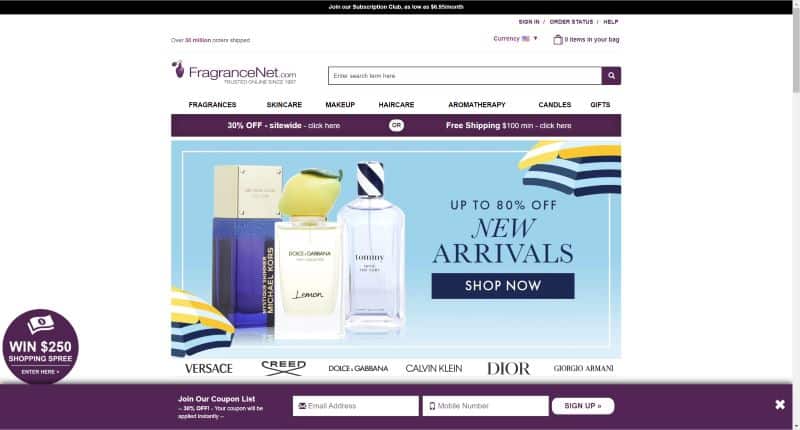 Online retailers since 1997, FragranceNet carries a wider range of personal fragrances and beauty products. Every item is an authentic brand product. 
All of the popular names, Dior, Gucci, Prada, Tom Ford, Burberry, and more are readily available for purchase at discounted prices. They also carry newer scents like Burberry Hero and vintage finds, like Jovan Musk.
FragranceNet Order Fulfillment & Shipping
Also a New York, USA-based company, FragranceNet is headquartered in Deer Park. Order fulfillment doesn't appear to be as streamlined as FragranceX. It may take a few days for FragranceNet orders to be processed prior to shipment.
Their free shipping minimum order amount is currently $14 higher than FragranceX.
International shipping is available, but unlike FragranceX, it isn't a flat rate. The fee will vary according to your location. FragranceNet also ships to fewer international locations. According to their website, orders can be sent to: 
US & Puerto Rico
Canada
Australia
New Zealand
Mexico
Delivery times are not as clear cut for this company as they were for FragranceX. Although you can pay additional fees for expedited shipping, expect longer shipping times than FragranceX for standard shipping through FragranceNet. 
FragranceNet has dedicated websites for customers in China, the Netherlands, and the Middle East. There are also local websites for Australia and Mexico.  You can visit those sites for more specific shipping information.
FragranceNet Product Offerings
In addition to full sized bottles, mini perfume bottles, testers, and samples of your favorite fragrance brands, FragranceNet offers a host of additional items by popular brands:
Candles, wax melts, and room sprays
Children's fragrances
Hair care products
Makeup and accessories
Skincare products and accessories
With over 40,000 products, FragranceNet is your one-stop online shop for fragrance-related discounted products for the home and body. This is one area in which FragranceNet soars above FragranceX.
But it could also explain why FragranceX is more efficient – they specialize in personal fragrances only, so they can more quickly process and ship those orders. It's a give or take.
FragranceNet Customer Service
This is another area where FragranceNet seems to lag behind FragranceX. FraganceNet's Trustpilot score is Great, which is a notch below FragranceX's Excellent rating.
It seems that customers are the least pleased with the amount of time it takes to process and ship orders. Reviews also indicate that communicating with FragranceNet customer service agents is a less pleasant experience than FragranceX customers reported.
FragranceNet Shopping Perks
Although a little more difficult to find, there are a number of ways to find additional savings through FragranceNet. The most accessible way is through immediate discount offers on their website. These are buttons you can push at various places on the web page for discounts that are automatically applied to your cart.
FragranceNet also has a coupon page and you can join their mailing list for additional discounts. You can also find FragranceNet online offers through third party websites.
FragranceX vs FragranceNet: Company Comparison
| | | |
| --- | --- | --- |
| | FragranceX | FragranceNet |
| Founded | 2001 | 1997 |
| Fragrance Selection | Broad | Broad |
| Additional Product Selection | Moderate | Broad |
| Shipping | Fast; Worldwide | Slow; Limited locations |
| Free US Shipping Minimum | $ | $$ |
| Customer Service | Great | Mediocre |
| Trustpilot Score | 4.4 | 4.1 |
| Perks | Abundant | Available |
FragranceX vs FragranceNet: Product Comparison
In comparing perfume prices between the two companies, I found some subtle and not so subtle differences.
Dolce & Gabbana Light Blue is the most popular women's fragrance on both websites. Both companies list their post-coupon prices and FragranceNet prices are slightly higher than FragranceX.
Here's the higher price difference you'd pay for Light Blue on FragranceNet:
0.8 oz spray: $1.15 more
1.6 oz spray: $1.61 more
3.3 oz tester: $1.84 more
3.3 oz spray: $2.30 more
6.7 oz spray: $3.00 more
6.7 oz cream: $1.36 more
In another example we have the unisex eau de toilette, Aqua Allegoria Flora Salvaggia by Guerlain (4.2 oz / 125 mL). Released in 2021, it costs $81.23 with coupon and $95.56 regularly on FragranceX.
On FragranceNet, it's $83.99 with coupon and $119.99 regularly. By comparison, its retail price on Nordstrom's website was $145 USD. With that said, prices are subject to change and coupons or discounts might not always be available.
You will pay less through either discount retailer, but it seems that FragranceX offers lower prices and/or steeper discounts. On FragranceX and FragranceNet, you have to join the company's mailing list in order to access their listing discounts.
Is FragranceX or FragranceNet Better?
Both companies have great online navigation and user-friendly search options. You can easily contact either company through multiple methods: phone, fax, email, snail mail. But you might have a better customer service experience through FragranceX.
Price, shipping, and service comparisons are always essential wherever you plan to spend your dollars. But prices on FragranceX seem to be consistently lower. 
FragranceNet offers a broader fragrance product selection, but if you need faster shipping, then definitely choose FragranceX.
If there's a vintage fragrance that you want to continue to wear, then you'll likely be able to find it on either one of these websites. 
Overall, FragranceX seems to be the better choice if what you want is luxury personal fragrance at a low price.
Read more: