When noticing duty-free shops in certain port locations, your immediate thought might be to investigate deals on duty-free perfume. But can you expect to get really good deals on perfume from these stores?
Well, it depends; prices will vary by location. Depending on where you travel, you might find lower than usual perfume prices. But when you return home, there are exemption rules that may still force you to pay customs fees.
This article will help you understand duty-free, its rules, and how you can go about determining whether it makes sense to buy perfume from these shops.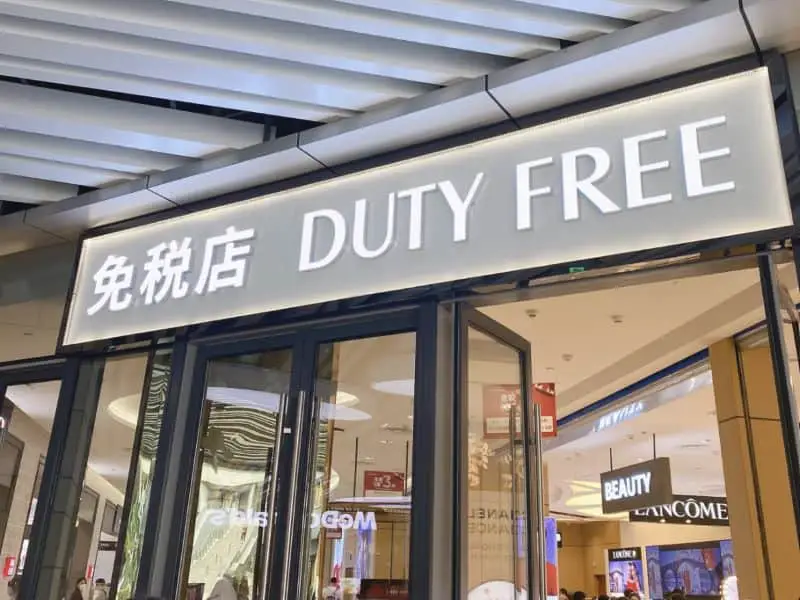 What Are Duty-Free Shops and How do They Work?
Duty-free goods are items that can be purchased in airport shops or on cruise ships. You're essentially importing goods across international borders.
Broadly speaking, the benefit of buying items in these shops is that you won't have to pay local government taxes or national customs duties and fees. But there are limitations to this exemption. 
How Do Duty-Free Purchases Work?
The first expectation is that the item(s) purchased at duty-free shops be consumed elsewhere. You're expected use the item(s) after leaving their country.
Before you stand in line to pay for your duty-free bargains, it's imperative that you understand what to expect once you reach your destination country with these goods. 
U.S. Duty-Free Rules
For United States citizens, purchasing items abroad doesn't mean you'll be exempt from paying taxes once you arrive stateside.
Upon returning, all citizens must complete a U.S. Customs and Border Protection Declaration form for all items purchased abroad. Be sure to retain your receipt and have it available for evaluation as well. 
There are tax exemption limitations based on dollar amount, amount of time spent outside of the country, and according to which country you've purchased merchandise from.
All claimed merchandise must be for personal or household use, or for gifting – no exceptions.
Less than 48-hours abroad
Up to $200 USD of goods per person (alcohol and tobacco might still require tax payment)
Over 48-hours abroad
Up to $800 USD of goods per person (including up to 1 litre of alcohol, 200 cigarettes (equivalent to 1 carton), and 100 cigars)
As long as you stay within the limitations, your duty-free purchase will actually remain duty-free. Also, the time limit does not apply if you spent less than 48 hours in Mexico or the U.S. Virgin Islands.
Canadian Duty-Free Rules
When Canadian citizens return home, their exemptions are somewhat similar to the United States.
Here are their general rules:
48 hours or less
$200 CAD of goods per person
Alcohol and tobacco still require tax payment
Over 48 hours
$800 CAD of goods per person
1.4 litres (40 oz ) of liquor OR 1 case of beer OR 1.5 litres of wine
Up to 200 cigarettes, 50 cigars, and 200 grams of tobacco
UK Duty-Free Rules
When returning home to the UK, you only need to declare your goods if you've exceeded your personal allowances.
UK limitations are structured differently. The have separate allowances for alcohol and tobacco, and then other goods, as follows:
Tobacco Allowances
200 cigarettes
100 cigarillos
50 cigars
250g tobacco
200 sticks of tobacco for electronic heated tobacco devices
Alternatively, you can split this allowance. For example, you could bring in 100 cigarettes and 25 cigars (both half of your allowance).
Alcohol Allowances
Beer – 42 liters
Wine (still) – 18 liters
You can also bring in either:
Spirits and other liquors over 22% alcohol – 4 liters
Sparkling wine, fortified wine (for example port, sherry) and other alcoholic drinks up to 22% alcohol (not including beer or still wine) – 9 litres
Similar to tobacco, you can split this last allowance, for example you could bring 4.5 litres of fortified wine and 2 litres of spirits (both half of your allowance).
Perfume and Other Allowances
You can bring in other goods worth up to £390 (or up to £270 if you arrive by private plane or boat).
As with other countries, these items must be for personal use or gift-giving; you can't be awarded these exemptions for a business or organization.  
You may still have to pay import taxes on any of these items. 
Is Duty-Free Perfume Worth It? 
Finding a great deal on perfume at duty-free stores is possible but not always a reality. In order to get your money's worth, here are some guidelines to consider:
Research First
First and foremost, do some research before walking into the duty-free shop. Remind yourself of the amount you'd typically pay for your favorite perfume.
If you want to try a new scent, do some online searches to discover the price and amount of perfume you'd get at that price point.
It helps to have this information before walking through the store to avoid distractions and overpaying. You won't know if you're getting a good price if you're unfamiliar with what you'd pay online or in stores.
Aim for Pricier Options
Since parfum and eau de parfum are more expensive than the other categories of fragrances, look for duty-free discounts on these categories for the biggest fragrance savings. 
What's Your Dollar Worth?
Another consideration is exchange rates. Consider the value of your dollar in a specific country before making your purchase.
Keep an Eye on New Fragrances
New scents are released at a higher asking price that slowly declines over time. 
If you come across a new fragrance release in a duty-free shop, then you'll get a good price on a new scent early on in its release cycle when it's usually more expensive.
Try Before You Buy
As I've written before the same perfume will smell slightly different on every person who uses it. 
In order to determine whether you're making the right choice, spray on one of the testers before making a purchase. 
After fifteen minutes your top notes will evaporate, and then you'll get a better sense of whether or not the fragrance is compatible.
Exclusive Access
There are some fragrances that are released at duty-free shops before you'll find them online or in stores. 
These are often great finds if you're someone who enjoys expanding your collection before others will be sporting the same scent.
That said, buying perfume at duty-free shops that's been released by well-established brands is almost always going to be a good deal.
The video below references exclusivity with regards to alcohol, but I think his tips might also help you select the right perfume.
Gift Buying
Duty-free attendants are often experts in their field. Associates in the fragrance department have specialized knowledge about perfumes that you might not encounter online or in department stores.
When searching for a gift, ask the attendant for suggestions on similar fragrances to ones that the gift recipient already wears.
They'll be able to give you at least three to five suggestions based on the information you provide.
Gift Sets
Often these are exclusive sets that you wouldn't find in department stores. 
The cost is similar to buy one, get one free because you'll pay an amount equivalent to one bottle of perfume, but you'll also receive another item, like roll-on perfume, body wash, or lotion practically for free.
Consider the Fluid Amount
If you plan to fly home, then there's the matter of liquid limits in your carry-on bag. In total, you can take 3.4 oz (100 mL) on board with you.
You won't have saved any money at all if you get to the screening area and discover that you have to throw out excess liquids.
Alternatively, you can place them in a checked bag or ship them home.
How to Spot Counterfeit Duty-Free Perfumes
Unfortunately there have been reports of counterfeit perfumes being sold in duty-free stores. Sometimes, the store buyers have no idea. They believe that they have legitimate merchandise. 
It's something you may want to keep an eye out for. Here are some quick tips.
Packaging – Sloppily placed shrink wrap that's lumpy and uneven might be a sign of fake perfume.
Liquid Color – Legitimate perfumes don't usually have a lot of dye in them but fake ones do. If the color looks unusually intense, then you might want to avoid making that purchase.
Bottle Defects – Does the cap not slide on properly? Is the bottle poorly made? Don't hesitate to examine the bottle.
Labeling Mishaps – Misspellings and crooked labels are a glaring indication that your perfume is inauthentic. 
Matching Serial Numbers? – There are serial numbers in the rear or bottom of perfume bottles. These numbers should match the box that the perfume was packaged in. If the numbers are off, then it's likely a fake.
Is Duty-Free Perfume Truly Less Expensive?
Hopefully this post helps you realize everything that's entailed in purchasing and claiming duty-free perfumes.
The important thing is to do your research. Before making a purchase understand your country's re-entry standards and have an idea of the general cost of any perfume you might want to purchase. 
Follow the steps a bove to keep an eye out for possible counterfeit perfumes.