It seems that every few days there's a new fragrance wholesaler online. FragranceNet is one of many options, but is it legit?
FragranceNet is a veteran online retailer that's been selling personal and home fragrances as well as beauty products since 1997. They've shipped over 30 million brand name products and assert that none of them are imitations. Ranked "great" on TrustPilot, with 20k customer reviews, over 80% of them are favorable.
As you're reading, I'll explain why a company like this can stay in business so long selling brand name fragrances at reasonable prices.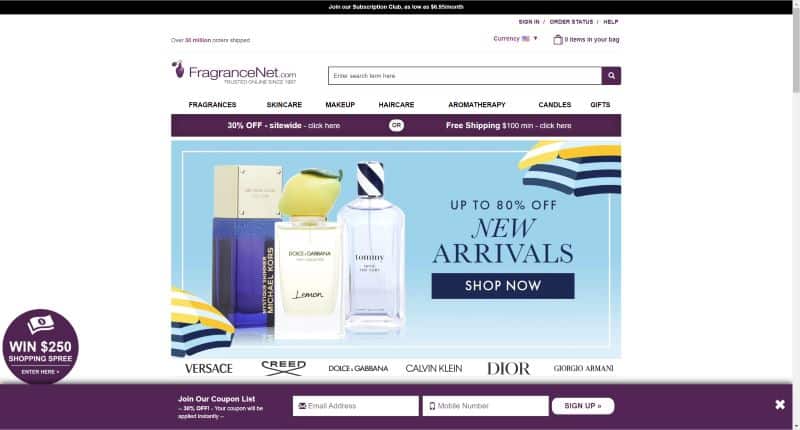 What Can You Find on FragranceNet.com?
There's no shortage of product selections on FragranceNet.com. They have more than 40,000 products in stock across six main categories.
On their website, you can find:
Scented candles and wax melts
Aromatherapy products and accessories
Over 4,000 haircare products
Makeup and accessories
Close to 9,000 face and skincare products
Close to 14,000 designer fragrances
Fragrance discounts vary but some of their scents are up to 80% less than what you would find in a department store. There are also a number of discounts, like free shipping, dollar amount reductions with minimum orders, and percentages off if you sign up for text notifications.
What Types of Fragrances are Sold on FragranceNet.com?
Similar to FragranceX, "new arrivals" to the FragranceNet website are new to their website, not new to the market.
For instance, L'Homme Parfum Intense by Yves Saint Laurent (YSL) was originally released in 2013, but FragranceNet has it listed on their "New Arrivals" page. This is not to be confused with YSL L'Homme Eau de Parfum, which was actually launched in 2022. It's a different concentration.
In addition to somewhat newer scents, you can purchase fragrance samples, discontinued fragrances (like White Diamonds), and miniature bottles for travel.
Some of the fragrances are sold in new, original packaging. Others might be slightly damaged or not sold in shrink wrap.
Burberry Brit for her is one example. On the Burberry website, Brit for Her is no longer available for sale, but the price is still listed. If you purchased this fragrance from Burberry, it would cost $110 for 100 mL (3.4 oz). The same bottle size in its original packaging costs $56.99 on FragranceNet. If you were to activate their coupon, it would cost even less, $37.04 for the eau de parfum spray.
Based on customer reviews, this scent still smells great and lasts as long as it did when purchased from Burberry directly.
While I do believe that their fragrances are authentic, if you're looking for a deal on a specific scent, I would suggest paying attention to the type of fragrance you're buying and bottle size.
Fragrance houses can release multiple concentration levels of a fragrance of the same name, like with the YSL L'Homme example. If you aren't diligent, you can think you're getting a deal when you're really buying the eau de toilette version of the eau de parfum that you love. You might think that the scent is "off" or less intense, but it might be that you simply bought the wrong version.
When it looks like you're getting a deal, it's possible to be less objective and instead make an emotional decision. So just read all the details before finalizing your order if you want to avoid feeling disappointed.
Does FragranceNet Sell Imitation Fragrances?
FragranceNet guarantees that their products are 100% genuine. They do not sell imitation colognes or perfumes.
The company doesn't specify whether they're purchasing overstock directly from the fragrance manufacturers or whether they purchase overstock from retailers or third party vendors at a wholesale price.
Another point we can't ignore is the length of time that FragranceNet has been in business. Usually, fly-by-night companies are here one day and gone the next. By the time you receive the product and realize it's a fake, the company no longer exists.
I would think that if FragranceNet had been selling fake products, customers would have caught on by now, and the company wouldn't have been able to stay in business for over 20 years.
The perfumes and colognes sold on FragranceNet are legitimately brand name products.
How Can FragranceNet Charge Low Prices?
Typically, companies like this one are able to purchase large quantities of fragrances that didn't meet sales margins. Instead of eating the costs of the loss in sales, some physical retailer stores prefer to sell off remaining stock to companies like FragranceNet.
Misprints or products with slight irregularities might also be sold to FragranceNet directly from a fragrance house.
And due to the fact that they have fewer overhead costs as a brick-and-mortar store, FragranceNet can still make a profit when selling lower priced products.
It's also possible that they're cutting costs by having a skeleton staff. It's obvious that FragranceNet's customer service department is either short-staffed or hasn't been trained well.
This is pure speculation but with fewer employees to pay, FragranceNet can keep business expenses low in order to increase profits that way as well.
The FragranceNet Return Policy
Returning products to FragranceNet is an involved process.
Firstly, you have to obtain a return authorization number from their customer service department within 30 days of receiving your delivery. There are a number of additional conditions.
It's important to understand that some products can't be returned due to health and safety concerns: makeup, haircare, and skincare products.
Items must be returned as they were received. You can't return opened or partially used products to FragranceNet.
You also must use the original packaging and include the original packing slip with your return. Your contact information and reason for the return must also be included.
Use of trackable shipping is strongly encouraged.
It can take two weeks or longer for FragranceNey to process your return. Know that the original cost of shipping won't be refunded.
FragranceNet Customer Feedback
I get the impression that there are many logistical issues that concern FragranceNet customers.
From poorly communicated shipping times to the condition of packages and little to no response from customer service, many of the customer complaints I've come across were scarcely regarding product dissatisfaction.
Order processing is another concern. Customers receive partial orders and have to jump through hoops to receive omitted items or refunds.
Although their website indicates that they're committed to "superior customer service" they appear to fall short in this area.
Some customers feel that the company is too keen to respond to Trustpilot complaints but won't communicate with the customer directly.
FragranceNet's Trustpilot score is categorized as "Great" but only 77% of their reviews resulted in five stars.
Should You Buy from FragranceNet.com?
For 25 years, FragranceNet has been serving customers as a fragrance and beauty online retailer. They've shipped millions of orders and have a decent customer feedback score.
There might be a number of areas for growth in terms of order processing time, shipping communications, and customer service, but FragranceNet is still legit.
This might not be the most reliable company, but their products are authentic, and you can find good deals on some of your favorite fragrances.
Read more: