Fragrance discounters are increasingly popular. When you find good deals on your favorite scents on websites like FragranceX, you might question whether or not they're legit.
FragranceX has been an online discounter since 2001. Every fragrance that they sell is authentic, and they've shipped millions of orders. Ranked "great" on Trustpilot, with 20k customer reviews, over 80% of them are favorable.
If you want to understand why FragranceX can exist for so long while charging low prices, keep reading.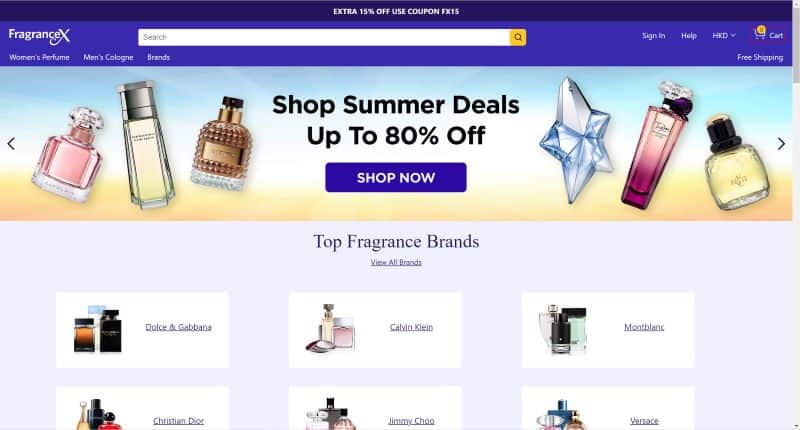 What Can You Find on FragranceX.com?
FragranceX.com is a reliable resource for designer and vintage fragrances. There are a number of scent-related products that are sold on this website.
In addition to perfumes and other personal fragrances, FragranceX sells lotions and creams, deodorant, shower gel, and aftershave. In case you missed it, you can read more about the difference between aftershave and cologne. You can also find perfume samples and testers on this website.
Along with their wide-ranging fragrance selection, this company ships worldwide. They even ship to the Philippines, a country where not many other fragrance discounters will send packages.
That said, if you're searching for a new release, it's unlikely that you'll find it on FragranceX.com.
What Types of Fragrances are Sold on FragranceX.com?
You can find over 10,000 fragrances through this online outlet. If your favorite celebrity has released a fragrance, you can probably find it on FragranceX along with many name brand classics, like Christian Dior's Poison.
But I think it's a stretch for the company to state, "[O]ur selection contains the newest releases." You won't find scents like Henry Rose's Char, Oud Nude by Guerlain, or Lancôme's Idôle L'Eau de Parfum Nectar. These fragrances haven't been on the market long enough.
Usually, you won't find newer fragrances on discount sites, like FragranceX because it takes a while for new scents to cycle through the retail chain before they're purchased at wholesale rates by discount websites.
For example, "Hello" by Lionel Ritchie is categorized as a "New Arrival" on FragranceX. The scent was released in 2019, though. Therefore, it took about three years for it to be made available.
So, if you want to try Dior's J'adore Parfum D'eau that's solely made with water and highly concentrated floral essence, you'll either have to purchase it at full price or wait a couple years or so for it to appear on a wholesale website like FragranceX.
Does FragranceX Sell Fake Perfume?
Whenever a person comes across a discounted designer product, it's hard not to question its authenticity.
There are a number of companies that exist to create and sell knockoffs of popular designer fragrances. For instance, this Paris for Her eau de parfum was created to look and smell like Coco Chanel Mademoiselle.
The perfume bottle and cap are shaped the same; and the perfume itself has that same light pink hue. Even the packing is similar – minimal white box with black text and gold trim.
And then there are the horror stories of people who've purchased fragrances from websites like Ebay or Alibaba, thinking that they're getting a deal, only to receive a fragrance that looks like the real thing but smells nothing like the original.
What makes FragranceX different from many online fragrance outlets is that they purchase directly from the manufacturers and fragrance brands. They also make purchases from "industry veterans."
Another indication that they are selling authentic products is the fact that many of their fragrances will be sent to you in their original packaging. This might mean that there's shrink wrap that's been applied by the fragrance company, not FragranceX.
FragranceX has a sophisticated authentication process and is able to purchase large quantities of fragrances at lower rates, and then pass the savings on to you.
But if you're still leery, you can always compare the batch code on the fragrance bottle purchased from FragranceX with that on the original company's website to verify authenticity.
How are FragranceX Prices So Low?
You have to also consider the fact that this company is maintaining one, at most two warehouses. They aren't juggling rents or mortgages for multiple department stores along with all the associated costs.
There also aren't as many employees needed to process orders and offer customer service as with brick-and-mortar stores. Many more people are involved in the process of selling fragrances in a physical store – delivery drivers, stockpersons, salespeople on the floor, advertising materials, and so forth.
While I'm sure that managing the operations of a company like FragranceX is no small feat, there are definitely fewer balls in the air for them to have to juggle and make budgeting accommodations.

Lastly, FragranceX also sells testers and sample bottles of perfume. As I wrote previously these fragrances are authentic, they simply arrive without all the frills. There might not be many words on the outer packaging. The bottle cap might be very basic and less appealing. And you might even find a sticker on the bottle indicating that it's a tester.
All this means is that it was a bottle of the original scent created to be used by a salesperson in a retail setting. These are the bottles used to literally allow customers to try out the fragrance either on tester strips or on their own skin.
FragranceX can get a great deal for testers because they cost fragrance houses less to produce and FraganceX's source companies can't sell them directly to customers because they aren't properly packaged for retail.
All of these factors considered, FragranceX is positioned to sell products at a lower cost while still making a profit.
The FragranceX Return Policy
You have thirty days from the time that your order was shipped to return it to FragranceX.
While you'd be responsible for return shipping costs, refunds are processed within one billing cycle of receiving the unopened product. If you've tried the fragrance and used a significant amount of it, then you'll receive a partial refund.
You don't even have to contact them for a return order authorization. Simply mail the product to the address on their website.
If you have questions, there are a number of ways to get in touch with FragranceX customer service: phone, email, snail mail, fax, and even an international customer service phone number.
Illegitimate companies aren't this transparent.
FragranceX Customer Feedback
Categorized as "Great," the company's Trustpilot score has decreased some since I last wrote about them.
Feedback is still mostly positive. From what I read, complaints were largely due to misunderstandings about expected delivery dates. Packages repeatedly arrived late this holiday season.
Otherwise, many customers have been pleased with shipping times, product quality, and the customer service they received.
Should You Buy from FragranceX.com?
This leading online fragrance retailer has existed for over 20 years and according to their website, FragranceX has shipped over 20 million orders since 2001.
For a company to have lasted this long and shipped out so many orders, it has to be legitimate. Customers wouldn't repeatedly return to a company that's shipping out fake products. And shipping out inauthentic products would be bad for business.
FragranceX is a reliable company that sells designer and vintage fragrances at reasonable rates.
Read more: