Lancôme is one of those brands that's synonymous with luxurious fragrance. It's a company that's repeatedly released exquisite scents for sophisticated women. But are there some Lancôme fragrances that are better than others?
I would venture to say that while I have a few favorites, there isn't one Lancôme perfume that I would consider to be the best. From La Vie Est Belle to Trésor, and even the newest fragrance, Idôle, they're all made with the best ingredients for lasting performance. You are bound to find more than one Lancôme perfume that you consider to be exceptional.
Keep reading to learn more about individual scents that I'm sure you'll enjoy wearing for different occasions in your life. 
Top 5 Lancôme Paris Perfumes
Depending on your scent preferences, you can't really go wrong with any Lancôme fragrance. Though you will want to pay attention to its dominant notes and veer away from those that don't seem appealing to you. 
Below I'm sharing my top selections with you, beginning with their two top-selling fragrances. I covered a number of scent combinations, like sweet floral notes, spicy floral notes, and fresh floral notes.
1. Lancôme Paris La Vie Est Belle Eau de Parfum Spray 3.4 fl oz (100 mL)
Lancôme La Vie Est Belle Eau de Parfum - Floral & Sweet Women's Perfume​ - With Iris, Patchouli & Vanilla - 3.4 Fl Oz
ENERGIZING WOMEN'S FRAGRANCE: "La Vie Est Belle," a French expression meaning "life is beautiful," is about choosing your own path to happiness and inspiring others. Joyous femininity is expressed through this energizing women's perfume
FEMININE SCENT: With notes of iris spring flowers and the intoxicating earthiness of patchouli. These are layered alongside perfume notes of delicious spun sugar and sensual warm vanilla. Plus, like a bright blooming bouquet, it also has other flowery hints of exotic Arabian jasmine sambac and sparkling Tunisian orange
COMPLEX & MODERN: It is a unique take on a warm and spicy fragrance with a twist of florals, and sweet gourmand
HOW TO APPLY: Apply parfum on your neck and wrist, as well as in the creases of your knees and elbows for a long-lasting, strong scent
FRANCE HAS A WORD FOR BEAUTY: LANCÔME. Since its founding in 1935 by visionary parfumeur Armand Petitjean, the luxury brand has been synonymous with efficacy, innovation, and French elegance
For those who choose to believe and nurture the concept that life is beautiful, La Vie Est Belle, is a floral fragrance that inspires joy. Since its launch in 2012, Julia Roberts has been the La Vie Est Belle ambassadress.
Although floral notes are initially dominant, you'll experience spicy and gourmand notes as well. 
Iris is the sole top note with earthy patchouli as the heart of the fragrance. It then transitions into the warmth of spun sugar and vanilla as it mellows out. Since we know that base notes last the longest, La Vie Est Belle could be considered a gourmand floral perfume. 
In spite of the fact that there's a singular floral top note, hints of jasmine sambac and orange blossom enhance the spicy sweet warmth of this chic yet subdued fragrance.
Its bottle, called "The Crystal Smile," was originally designed in 1949 by French artist and designer Georges Delhomme. Still alluring, this container has a timeless appeal. With the addition of a shimmery chiffon scarf tied around the neck of the bottle, this container embodies the essence of Lancôme femininity. 
Additional bottle sizes include: 1.7 fl oz (50 mL), 2.5 fl oz (75 mL), and 5.0 fl oz (148 mL).
With the help of patchouli and vanilla, La Vie Est Belle holds its own day or night. It projects best during fall and winter but can also be worn during the start of spring.  
2. Lancôme Paris Idôle Eau de Parfum Spray 2.5 fl oz (75 mL)
Lancôme's second best-seller is definitely not second-rate. In keeping with its female empowerment theme, three female perfumers formulated this fragrance for the modern millennial woman. Launched in 2019, Zendaya is Lancôme's Idôle ambassadress.
Unlike La Vie Est Belle, Idôle is more flowery and fresh than sweet. Top notes combine bergamot and pear with pink peppercorn. The heart of this fragrance is rose and jasmine, with rose being dominant. Idôle dries down to white musk, vanilla, patchouli, and cedarwood.
Although it's marketed to young adult women, this fragrance combination might seem slightly more mature than a young woman might be expecting. There are some sweet notes in the middle (jasmine) and as it dries down, but if you prefer floral fragrances to be more sweet than floral, then you might want to try La Vie Est Belle or Idôle Nectar over Idôle.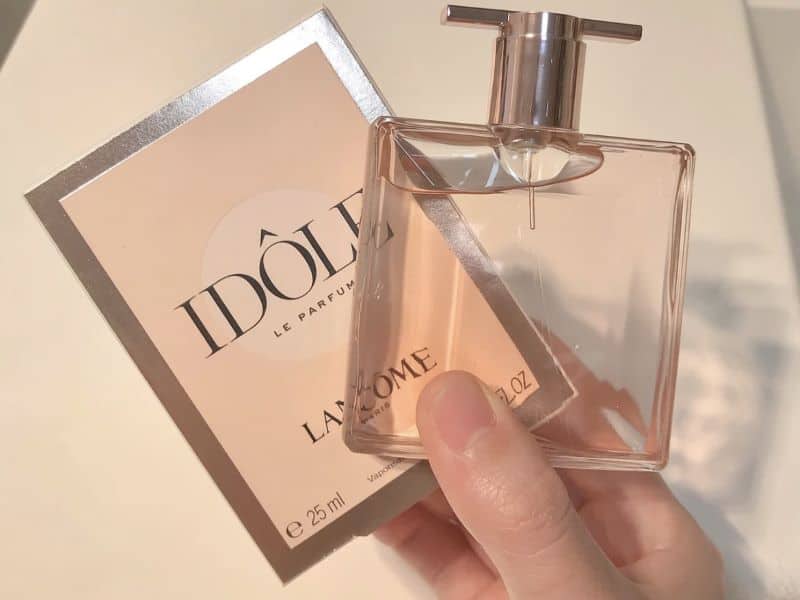 The first of its kind, Idôle is housed in a glass bottle that's as thin as a mobile phone. Framed and crowned with gold, this innovative container lays flat in between use. This design was intended to exemplify the astute and balanced characteristics of our new generation of determined world leaders.  
Additional bottle sizes include: 0.34 fl oz (10 mL), 0.85 fl oz (25 mL), 1.7 fl oz (50 mL), 3.4 fl oz (100 mL). The smaller vials are ideal for travel. 
You can expect a full day's wear from this perfume. While it can be worn in early winter and early fall, it projects best during spring and summer. 
3. Lancôme Paris Trésor Eau de Parfum Spray 3.4 fl oz (100 mL)
Lancôme Trésor Eau de Parfum - Women's Perfume​ - With Rose, Lilac and Apricot Blossom - 3.4 Fl Oz
LOVE. ROMANCE. ELEGANCE. Trésor is for women who understand that time is precious and moments in this fast-paced world are to be treasured.
A DELICATE & LIGHT SCENT. With top floral notes of apricot blossom and rose and heart notes of lilac, iris, and peach
RADIANCE. This scent makes her as radiant and precious as the fragrance she wears
STRIKING CRYSTAL PYRAMID BOTTLE. The bottle is angled with rounded edges, representing the softness of the wearer. The juice is a golden peach, as radiant as the woman in love who wears it. The elegant bottle is topped with an iconic diamond-shaped cap
FRANCE HAS A WORD FOR BEAUTY: LANCÔME. Since its founding in 1935 by visionary parfumeur Armand Petitjean, the luxury brand has been synonymous with efficacy, innovation, and French elegance
Trésor Eau de Parfum is a timeless Lancôme treasure, initially launched in 1990. It may be the third best-selling Lancôme fragrance, but the fact that it's sustained a top three position for decades says a lot.
This fragrance continues to play the role of signature scent for many women worldwide. I recently met a South Korean woman in her 70's who mentioned that she continues to love and wear this perfume.
What's made it so alluring all these years? Trésor is a warm amber floral perfume that's truly a treasure – elegant and romantic.
Also formulated by a female perfumer, top notes include apricot blossom and rose. In the middle we have lilac, iris, and peach for powdery sweetness. And Trésor dries down into the sweet, powdery earthiness of amber, sandalwood, musk and vanilla.
Soft, yet powerful, it's a one of a kind fragrance combination that's a top gift set purchase every holiday season.
Made of multi-faceted glass, the Trésor container is wide at the top and narrows towards the base. Shaped similar to a crystal wine stopper, it's an inverted pyramid with rounded edges – powerful, yet refined.
Additional bottle sizes include: 1 fl oz (30 mL) and 1.7 fl oz (50 mL) 
Day and night throughout fall and winter, you can expect this fragrance to persist. In spring and summer you may want to apply less, or switch to a lighter scent.
4. Lancôme Paris Miracle Eau de Parfum 3.4 fl oz (100 mL)
Once part of a larger collection, Miracle now stands on its own. This is a bright, spicy floral perfume with a gentle sillage that helps you leave a lasting impression. Initially launched in 2000, Miracle is another Lancôme fragrance that many women have happily worn for decades. 
A celebration of life, your initial top note impressions include freesia with sweet and fresh lychee fruit. At the heart of Miracle, is an interesting combination of sweet magnolia blossoms, spicy ginger and even spicier pepper notes. As it dries down, your base notes are composed of amber, jasmine, and musk for a sweet, floral, and powdery finish.
It's a lovely, lasting fragrance that's also dewy, fresh and energizing – leaving wearers with a sense of hopefulness.
Housed in a sleek, modern bottle; its clean lines are simple yet elegant, and was originally designed in the 1930s.
Additional bottle size includes: 1.7 fl oz (50 mL).
As a lighter fragrance, Miracle is stronger during the day and begins to wane in the evening. As a spring and summer fragrance, it performs well. But it's unlikely to project well during the fall or winter. 
5. Lancôme Paris Idôle Eau de Parfum Nectar 3.4 fl oz (100 mL)
Lancôme​ Idôle Nectar Eau de Parfum - Floral & Sweet Women's Perfume - With Sustainably Sourced Isparta Rose & Bourbon Vanilla - 3.4 Fl Oz
SWEET & FLORAL FRAGRANCE: A mouth-watering women's scent with sustainably sourced ingredients including vanilla, rose, and popcorn.
STAND OUT: This unique perfume is an avante-garde scent. Idôle Nectar cannot be ignored, and rather is meant to stand out. An Eaude Parfum for those with magnetic energy who feel like the life of the party wherever they are.
SUSTAINABLY SOURCED INGREDIENTS: With sustainably sourced ingredients like the Isparta Rose and Bourbon Vanilla, this attention-grabbing fragrance stands for the future of perfumery and of our planet.
BOLD PEACHY BOTTLE: With its bold design, peachy color and holographic effect, it perfectly encapsulates Idôle's mission to empower and inspire those who wear it. With a bottle made of recycled glass the perfume serves as a part of Lancôme's commitments to care for our planet and allows you to feel empowered in your purchase.
FRANCE HAS A WORD FOR BEAUTY: LANCÔME. Since its founding in 1935 by visionary parfumeur Armand Petitjean, the luxury brand has been synonymous with efficacy, innovation, and French elegance.
One of Lancôme's newest releases for 2022, Idôle Eau de Parfum Nectar seems to be inching its way up to become one of their bestsellers. 
A sweet alternative to Idôle, rose notes remain but the dry down is all vanilla. More specifically, the initial impression is a bouquet of roses from Turkey and Grasse along with rose absolute and rose water. These floral accords transition into caramel popcorn fragrance notes, and then the base note is velvety bourbon vanilla.
It's a playful perfume that some customers describe as edible.
Still housed in the iconic narrow vessel with gold cap, the body of the Idôle Nectar bottle is iridescent peach with a holographic effect radiating from the center. Made of recycled glass, you can feel more empowered and socially responsible when purchasing this fragrance.
Additional bottle sizes include: 0.34 fl oz (10 mL), 0.85 fl oz (25 mL), 1.7 fl oz (50 mL). The smaller vials are perfect when traveling and for those who're uncomfortable handling the larger bottle. 
This scent will last all day and for most of the evening. You can wear it year-round, though it might not smell as strong on the coldest days of winter. 
All About Lancôme Paris
Lancôme Paris is an iconic French luxury brand that has dominated the beauty sector for close to nine decades.  
They promote women's empowerment and encourage responsible consumption to help sustain the futures of younger female generations.
The Lancôme Brand Story
Original founders Guillaume D'Ornano and Armand Petitjean launched Lancôme in 1935 with five fragrances. The scents aren't available any longer, but they included:
Tendre Nuit
Bocages
Conquete
Kypre
Tropiques
Named for the French forest Lancosme, a region known for its roses, the Lancôme brand mark and fragrance notes have both been reflective of this legacy.
A year later, in 1936, Petitjean launched a luxury skincare line called Nutrix. It was eventually merged into Lancôme's full product line.
In 1964, Lancôme was acquired by French personal care company, L'Oréal. It's the world's most dominant personal care company with divisions in hair care, skincare, makeup, perfume, hair color, and sun protection. 
Lancôme has held its position as one of L'Oréal's premier luxury fragrance and cosmetic brands as part of their Luxe division.
There are four main divisions:
Professional Products
Consumer Products
Active Cosmetics
L'Oréal Luxe
The company's growing portfolio currently holds 36 brands, including companies like Carol's Daughter, The Body Shop, and Youth to the People.
The Lancôme Paris Product Line
Lancôme's current beauty roster includes makeup, skincare, and of course fragrances. 
You can find Lancôme makeup for the face, eyes, and lips. Foundations are available for a range of age groups and skin complexions. And there are of course concealers, primers, finishing powders, creams, moisturizers, and more. 
Eye makeup includes eye shadows, liners, and eyebrow tools. Versatile lip color is available in stick form, liquid lipstick, and gloss. Plumpers and liner pencils are also available.
Recent marketing efforts have been geared towards women ages 40 and under, and their product lines have evolved in a way that's reflective of this new demographic.
Lancôme Paris Fragrance Collection
There are eight Lancôme fragrance collections available with scent combinations belonging to five fragrance families.
The eight fragrance collections include:
La Vie Est Belle
Idôle
Trésor
Miracle
Hypnôse
Poême
Magie Noire
Maison Lancôme
And their five fragrance families are:
Fresh
Floral
Warm
Spicy
Fruity
Fresh and floral families dominate Lancôme fragrance collections and in some cases are combined with spicy, fruity, or warm, which can be typical of complex fragrances.  
The number of fragrances available within each collection varies. Fragrance families can be seen in parentheses: 
La Vie Est Belle Collection
La Vie Est Belle Eau de Parfum (floral)
Oui La Vie Est Belle Eau de Parfum (floral)
La Vie Est Belle Intensément Eau de Parfum (floral; warm)
La Vie Est Belle Soleil Cristal Eau de Parfum (warm; fresh)
La Vie Est Belle L'Eclat Eau de Parfum (floral; fresh)
La Vie Est Belle Domaine de la Rose Extrait Eau de Parfum (floral)
La Vie Est Holiday Limited Edition Eau de Parfum (floral; warm)
La Vie Est Belle en Rose Eau de Toilette (floral)
Body lotion, shower gel, and numerous holiday and gift sets
Idôle Collection
Idôle Eau de Parfum (fresh; floral)
Idôle Eau de Parfum Nectar (floral)
Idôle Aura Eau de Parfum (floral; fresh)
Idôle L'Intense Eau de Parfum (floral; warm)
Idôle Eau de Parfum Holiday Limited Edition (fresh; clean)
Hair and body mist, body lotion, gift and holiday sets
Trésor Collection
Trésor Eau de Parfum (floral; warm)
La Nuit Trésor Eau de Parfum (floral; warm)
Trésor Midnight Rose Eau de Parfum (floral; fruity)
Trésor In Love Eau de Parfum (floral; fruity)
La Nuit Trésor Nude Eau de Parfum (floral; fresh)
La Nuit Trésor a la Folie Eau de Parfum (floral)
Body lotion, gift, and holiday sets
Miracle Collection
Miracle Eau de Parfum (floral; spicy)
Holiday and gift sets
Hypnôse Collection
Hypnôse Eau de Parfum (spicy)
Poême Collection
Poême Eau de Parfum (floral)
Magie Noire Collection
Magie Noire Eau de Toilette (warm)
Maison Lancôme Collection
Oud Bouquet Eau de Parfum (floral)
L'Autre Oud Eau de Parfum (warm)
Pivoines Printemps Eau de Parfum (floral)
Mille et une Roses Eau de Parfum (floral)
Jasmins Marzipane Eau de Parfum (floral)
Magnolia Rosae Eau de Parfum (floral)
The original La Vie Est Belle Eau de Parfum is Lancôme's best selling fragrance; Idôle Eau de Parfum is a close second. Both Miracle and Hypnôse were once larger collections, but only their original scents remain.
You'll notice that there's only one eau de toilette available (Magie Noire). Being a luxury beauty brand, it stands to reason that their fragrance collections would primarily offer more lasting and concentrated eau de parfum scents.
Additional Company Fact
In keeping with the more sustainable approach corporations have been initiating in recent years, La Vie Est Belle and Idôle bottles are now refillable and recyclable. Some Idôle bottles are even made with recycled material. Lancôme aims to reduce their environmental impact for future generations. 
Customer Opinions about Lancôme Perfumes
Many Lancôme customers have been purchasing these perfumes for decades. Younger women are discovering Lancôme through scents like Idôle. Feedback about Lancôme perfumes is overwhelmingly positive.
What Customers Enjoy about Lancôme Perfumes
From complex scent combinations to their timeless bottles, Lancôme customers have a lot of positive things to say about their purchases. 
Lancôme's highly feminine containers and packaging are a strong selling point. It makes them an easy choice for gift-giving as well.
Empowering messages connected to fragrances like Idôle help women stand strong while embracing their feminine side. 
Lancôme fragrances are balanced yet noticeable.
Because the formulas are more concentrated, they last all day long, which makes customers feel as though they're getting a lot of value for the amount of their purchase. 
A lot of these fragrances can be used as daily scents, which also adds value to the purchase because they won't be sitting on the vanity collecting dust; you can actually wear Lancôme perfumes regularly.
You can spray on a small amount, and these fragrances can still last throughout the day.
If you enjoy receiving compliments on the fragrances you wear, then you'll want to add Lancôme to your perfume collection.
What Customers Dislike about Lancôme Perfumes
But no brand can appeal to every customer. Here's some feedback from the opposite end of the spectrum.
Not all millennials enjoy the Idôle Eau de Parfum bottle design. In some cases it was found to be too slippery, leaking to breakage. For others, it simply felt too awkward to handle. Those who preferred that it stand instead of laying on their vanity were disappointed to find out that there was an additional fee for a standing case.
Another downfall to a perfume bottle that lays flat is that it begins to leak, which wastes such an expensive item. 
The intensity of Lancôme fragrances can be too strong for some buyers. 
Final Thoughts
Lancôme perfumes are lasting, innovative, and made from high quality ingredients. Quintessentially feminine, floral accords are dominant across all of their fragrance collections.
One of the most universally loved Lancôme perfumes is La Vie Est Belle. It's a cheerfully beautiful fruity, floral, and sweet fragrance that reminds you that life can be beautiful. 
For a less conventional scent, you may want to try Miracle a distinct spicy floral perfume. 
With such an array of options, I'm sure you'll find the perfect fragrance to add to your fragrance collection.