Fragrances can smell nice individually but then come off as offensive if they aren't paired well together. Another consideration is the use of plant extracts. You don't want to blend scents that work against each other. 
For instance, lavender and peppermint can smell fine together, but their botanical benefits can work against each other. One is relaxing and the other is invigorating. Sometimes this is preferred, but it just helps to gain an understanding of the effect each one might have on you. 
Let's look at what scents would actually work well with lavender herbs.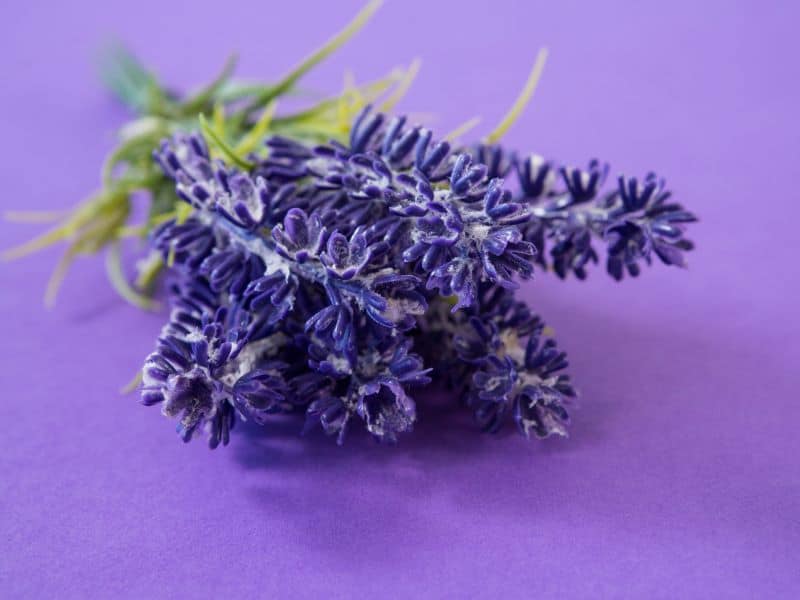 15 Scents That You Can Pair With Lavender
Lavender has a sometimes sweet but often aromatic herbal scent. It also gives off powdery, woody, and floral fragrance notes. Some species of lavender can even smell resinous. 
If you're layering fragrances or creating your own perfume, it helps to understand the type of lavender extract you have and the fragrance notes you sense when smelling it.
Generally, you want to pair lavender with herbal or fresh scents, floral scents, and maybe even spicy ones.
Since fragrance combinations are subjective, this numbered list is alphabetical, not in order of preference.
1. Amber
This resin pulls out the sweetness of lavender. It also adds subtle citrus fragrance notes. Amber is even more complex as it offers powdery or musk-like hints as well. It's a gentle warmth that can add sensuality to a fragrance including lavender.
Jo Malone makes an Amber & Lavender Cologne that's both fresh and grounded.
2. Basil
Another herb, basil combines well with lavender because their herbaceousness is amplified. Yet basil has sweetness to it as well, so the amplification won't be overwhelming. Another note basil brings is spiciness or pepperiness.
Adding basil and lavender to floral scents can make for a nice spring or summer fragrance.
The Little Book Eater on Etsy sells a perfume blend of lavender, sage, and basil.
3. Cedarwood
A good base note for a fragrance that includes lavender is cedarwood. It brings groundedness, mossiness, and warmth to the fragrance combination. Cedarwood is a good addition to a masculine or unisex fragrance. 
Here's an example of an eau de parfum that combines lavender and cedarwood. It's a simple formula for those who prefer to apply the fewest number of ingredients to their skin.
The top note is bergamot. Lavender is the singular middle note. Cedarwood and neroli are the two basenotes. It's a citrus floral blend that's fresh and clean. 
4. Chamomile
Very sweet but also straw-like with fruity undertones, chamomile would definitely not drown out any lavender fragrance notes. But it adds subtlety and nuance to the blend. It's also quite relaxing so adding it to lavender would make for a wonderful evening fragrance.
Vitabath sells a Lavender Chamomile Fragrance Mist. It's designed to be a calming fragrance to use for evening relaxation.
For a more concentrated fragrance you might try Wicked Good's Lavender Chamomile Perfume. A sample is only $8 USD, which is a nice introductory price. 
Their perfumes are made in small batches and the company is owned and operated by women. Wicked Good's Lavender Chamomile perfume is fresh, yet peaceful, and clean with floral notes. Those notes include: Roman chamomile, Spanish lavender, pineapple weed, rose absolute, violet leaf, and Madagascar vanilla.
It's offered in a number of forms. There's a roll-on, elixir oil, sampler size, perfume mist, and then bottles of perfume in 1.0, 1.7, and 3.4 oz. 
5. Cinnamon
This wouldn't be my first guess but somehow the spiciness of cinnamon and floral essence of lavender make for a good combination of scents. It turns out, when combined, they make for a wonderfully romantic fragrance blend.
There's an organic unisex perfume made with lavender and cinnamon by Amrita. It's an essential oil perfume that only has five ingredients:
Jojoba oil
Lavender essential oil
Cinnamon essential oil
Ylang ylang complete essential oil
Non-GMO Vitamin E
This warm and calming blend is romantically seductive, especially with the addition of ylang ylang oil. Another positive of this essential oil blend is that it offers the aromatherapy benefit of helping to reduce anxiety.
I even found a recipe for lavender cinnamon rolls that I plan to soon test out in my kitchen. Just as lavender can be added to sweet or savory recipes, its fragrance can be combined with either as well.
6. Cloves
More pungent than cinnamon, cloves have a spicy, sweet, and woodsy fragrance that can balance out the floral, herbaceousness of lavender. Clove also adds warmth to cool and calming lavender. And the lavender also pulls some of the punchiness out of the sharpness of cloves.
Another Wicked Good fragrance suggestion is Amber & Lavender. It incorporates lavender, petitgrain, mint, clove, lily-of-the-valley, cinnamon, amber, patchouli, and myrrh. It's described as a more masculine scent that's also spicy. All of the herbs help make it aromatic as well.
Wicked Good's Amber & Lavender is their interpretation of Jo Malone's fragrance of the same name. If you're looking for a more accessible price point than Jo Maline, then Wicked Good offers Amber & Lavender in multiple sizes and a range of prices.
7. Coumarin
Tom Ford blends lavender and coumarin in scents like Fougère d'Argent, which translates into Silver Fern.  Lavender is one of the top notes and coumarin is the only base note.
Coumarin brings a creamy nuttiness to the table. It can also resemble sweet vanilla beans. My impression is that it can mellow out lavender.
I found a handcrafted perfume oil made with lavender and coumarin by Lurker and Strange. Additional aromatics include oak moss, bergamot, jasmine, and ylang ylang.
8. Frankincense
Earthy, woody, sweet, balsamic, and somewhat citrusy, Frankincense plays up the earthiness of lavender. Both are calming aromas but frankincense adds a tinge of mystery. These two combined can smell like a walk through the woods after a fresh rain. 
Some people prefer to use this combination to aid with sleeping. Inner Sunrise makes a lavender, frankincense, and coconut oil roll-on for this purpose.
9. Geranium
Also green and herbaceous, geraniums would compliment lavender fragrances. Additional notes that geraniums bring to the table are: spicy ginger, strawberry and lemon with hints of rose. These scents are subtle, though, so they won't drown out lavender notes.
Chanel's PLATINUM ÉGOÏSTE for men is a superb example of combining lavender with geranium. It's a fresh green scent with robust and earthy notes at the end. Fragrance layers are as follows:
Lavender, rosemary, neroli and petitgrain top notes
Geranium, jasmine, clary sage, and galbanum middle notes
Cedar, sandalwood, oak moss, vetiver, and amber base notes
It's a refined fragrance accord that's both gentle and powerful. You'll probably notice that it also includes many of the scents listed in this post.
10. Lily of the Valley
This bell-shaped bloom adds complexity to lavender. Lily of the valley has a dewy freshness that's airy and crisp. There are also floral notes similar to jasmine blooms. Combining lily of the valley with lavender is rather common with fragrances for her.
Perfume house Demeter Fragrance is based in Pennsylvania and makes all natural personal fragrances.
Their scents aren't created in layers, so the scent doesn't unfold throughout the day. One of their single scent offerings is Lily of the Valley cologne spray  – a fresh, clean white floral fragrance. You have the option of layering it with their Lavender cologne spray.
11. Orange Blossom
Fresh and floral, orange blossom also has sweet citrusy notes; it's almost like a perfume all on its own. Combined with lavender, the result is a mellow and sweet fragrance with an emphasis on freshness. 
This combination can also help improve your mood. 
L'Artisan Parfumeur Séville à l'Aube combines lavender as one of the top notes and orange blossom as one of the heart notes with petitgrain, petitgrain citronnier, beeswax, incense resinoid, and benzoin resin.
12. Peppermint
As mentioned before, peppermint is refreshing and lavender is soothing. Sometimes this can be a good combination. If blending scents for a bath soak, for instance, you might want to feel refreshed and calm.
Broken Top Brands creates a natural roll-on perfume made with mint, lavender, lemon, eucalyptus, and bergamot oils. Jojoba is used as the carrier oil.
This perfume is perfectly-sized for pockets, purses, or bags for you to carry it with you wherever you go. Since essential oils don't have the longevity of perfumes, it's helpful to have this in a portable container.
Mind Over Lather sells a solid perfume that incorporates peppermint, lavender, and tea tree oil. It's a relaxing blend that's an alternative to spray-on perfumes because it's more subtle than overwhelming.
13. Rosemary
This herb is fresh, earthy, and sometimes balsamic. It's more pungent than lavender and can smell like fresh cut greens. 
Its aromatic nature makes it a good partner for lavender. Combined, they can both add crisp freshness to a room spray or perfume.
Demeter Fragrance Provence Meadow is a soft herbal fragrance made of fennel, basil, rosemary, thyme, and lavender. They offer a wide range of cologne bottle sizes and various personal care items with this scent combination.
14. Sage
Even sweeter than lavender, sage is herbaceous and adds an earthy greenness to the mix. Equally soothing as lavender, sage adds balance to lavender and helps uplift the mood without being overbearing. 
Gucci released a fragrance collection called The Alchemist's Garden. Moonlight Serenade, Lavender is available as a scented water or eau de parfum.
Sage and tonka beans accompany light airy lavender. It's described as a romantic, vintage-style fragrance. All of the scents in this collection can be combined with one another in order to create your own unique personal fragrance.
15. Vanilla
Gentle, yet rich, vanilla brings additional sweetness when blended with lavender. These go really well together because the vanilla can mellow out the lavender herb. Vanilla adds warmth and richness. Combining vanilla with lavender would make a great bath oil, or evening fragrance.
Lavender and vanilla is a really common feminine fragrance combination. Wicked Good has a natural perfume made with these two ingredients.
Additional scents in this blend include rose absolute, violet leaf, white amber, and blonde woods. It's a serene and mysterious combination.
Conclusion
Lavender is an herbal fragrance that's mostly universally well-liked. It's known for its calming effects and anti-fungal properties.
It's also quite versatile and can combine well with many different fragrances. The ones listed here are an introduction to the many fragrance combinations that can be made using lavender. 
Perfumers often add lavender to top and/or middle fragrance layers, but it's also used as a singular fragrance.
Hopefully this post gave you some ideas about which scents you can blend with lavender.
Read more: