Tom Ford fragrances make a statement. Aromatic and industry dominance is undeniable but in this Tom Ford cologne review, we'll consider if they're any good.
As with most luxury brands, there's rarely a lukewarm position about Tom Ford colognes. Ford's fragrance prices reflect their high fragrance oil concentrations, quality ingredients, and the brand name that's become synonymous with elegance and sensuality.
You might be surprised to learn about Tom Ford's rise to prominence. Keep reading to learn what makes his scents any good.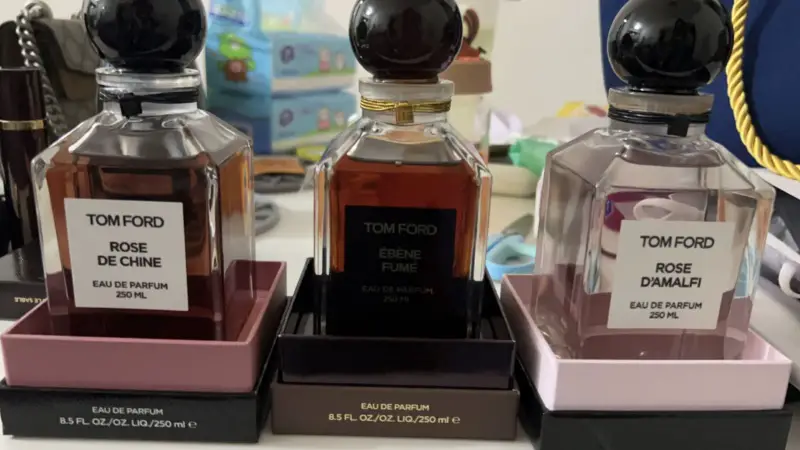 Top 7 Tom Ford Fragrances
Most frequently available in 50 mL or 250 mL glass bottles, you can sometimes find certain scents in 30 mL or 100 mL quantities as well.
Although there's slight variance from scent to scent, most Tom Ford fragrances are recognizable by their minimalist design. Stately rectangular shapes that are taller than they are wide, large 250 mL bottles don spherical caps while smaller ones have square caps reminiscent of Doric or Tuscan order columns.
Bottle shapes might be reflective of Ford's architecture background and time spent around architectural marvels in Italy.
Here are some of his fragrances that I'd like to highlight:
1. Tom Ford Black Orchid Eau de Parfum Spray
Sale
Tom Ford Black Orchid By Tom Ford For Women. Eau De Parfum Spray 3.4-Ounces
Tom ford black orchid
Eau de parfum spray 3.4 oz/100 ml
A luxurious and sensual fragrance of rich, dark accords and an alluring potion of black orchids, and spice, Tom Ford's Black Orchid is both modern and timeless. Bottled in fluted, black-glass, Black Orchid makes an unforgettable statement of iconic style and worldly glamour
Packaging for this product may vary from that shown in the image above
This item is not for sale in Catalina Island
Seems fitting to begin with Tom Ford's first fragrance release, Black Orchid.
Its all black, fluted rectangular body is topped with an oblong cap with a flat base. Tom Ford's minimal square logo sits bottom center in gold.
This bottle holds 100 mL (3.4 fl oz) of fragrant liquid and its design is reflective of architecture from the 1920s and 1930s.
Categorized as an amber chypre fragrance, key notes include black truffle, black orchid, and patchouli. It's a rich and spicy fragrance blend inspired by the rarity of black orchid flowers.
If you smell this fragrance and notice multiple notes that you recognize but can't fully identify, you're not the only one.
Top notes can include: black truffle, ylang-ylang, gardenia, jasmine, bergamot, black currant, mandarin orange, and amalfi lemon.
Heart notes can include: spices, fruit notes, orchids, lotus, and more gardenia, ylang-ylang, and jasmine.
As it dries down, you might smell hints of patchouli, Mexican chocolate, vanilla, incense, amber, sandalwood, vetiver, and white musk.
The complexity of this fragrance might cause you to reserve it for special occasions.
2. Tom Ford Oud Wood Eau de Parfum Spray
Sale
One of the most popular Tom Ford scents, Oud Wood, was released in 2007. This glass bottle is smoke gray in color, shaped like a domineering chess piece.
The most dominant fragrance notes include oud wood, pepper, and sandalwood. Spicy and luxurious, you only have to apply one or two sprays to make an impact.
Oud Wood might remind you of walking in or around religious temples during your travels.
In addition to oud wood and sandalwood, you'll encounter Brazilian rosewood, vanilla, cardamom, vetiver, Sichuan pepper, vetiver, amber, and Tonka bean.
Voluminous, yet elegant, you might want to reserve this fragrance for a special night out or a formal evening event.
Oud Wood isn't a layered fragrance, so you'll experience the same scent when you spray it on as when the day comes to a close.
This is a 50 mL (1.7 fl oz bottle).
3. Tom Ford Tobacco Vanille Eau de Parfum Spray
Sale
Remaining in the warm and spicy realm a bit longer, we have another popular scent, Tobacco Vanille. This 100 mL (3.4 fl oz) bottle is also a private blend with the same ornamental chess piece/architectural column shape but with a chocolate brown hue.
Smoky, sweet, and spicy, Tobacco Vanille is a formidable fragrance with even more longevity and more prominent sillage than the previous fragrances.
The initial spray might be off-putting, but as Tobacco Vanille settles on your skin, you'll experience its creaminess, warmth, and smoky notes.
Tobacco Vanille opens up with spices and tobacco leaf. You'll smell tobacco blossoms, vanilla, cacao, and tonka beans at the heart. As it dries down syrupy dried fruits and woody notes dominate.
This is another scent that might be reserved for special occasions. It's one that you'd avoid wearing during warmer months. Day use can be okay, but Tobacco Vanille is more of an evening fragrance.
Earthy and sensual, this is a mature, masculine scent, but Tobacco Vanille can also be carried well by women who dislike floral or fruity fragrances.
4. Tom Ford Noir de Noir Eau de Parfum Spray
Sale
Considered more of a unisex fragrance, this private blend can be found in a matte black flacon with a centered gold Tom Ford logo. Holding 100 mL (3.4 fl oz) of fragrance, some who find Tobacco Vanille to be a little too intense, prefer to wear Noir de Noir instead. Belonging to the floral family, Noir de Noir is warmer and more indulgent.
Spicy, earthy saffron is its singular top note. At the heart of Noir de Noir, you'll encounter black rose, additional floral notes, and black truffle.
Oud, patchouli, oak moss, and vanilla make up the base layer. Although it was released in 2007, this scent is still very much in demand.
Best worn on cool or cold evenings, this scent will last you throughout the night into the early morning hours. It's a stunning scent that's ideal for date night.
5. Tom Ford Ombre Leather Parfum Spray
Available in 10 mL, 50 mL, and 100 mL bottle sizes, this intense parfum is categorized as a floral leather fragrance.
This matte black, 100 mL (3.4 fl oz) spray bottle has a sunken white plaque printed with black text. More intense than the eau de parfum version, Ombre Leather parfum is described by Ford as a heightened expression of unbridled sensuality.
The most dominant scent notes are black leather, cedarwood, and violet leaves. Released in 2018, this is a long lasting, very masculine fragrance that leaves a noticeable trail.
One whiff of Ombre Leather will transport you to the American West. Spicy sweet cardamom is the singular top note. Leather and jasmine sambac fill the heart layer. It dries down to amber, moss, and patchouli.
Ombre Leather is best worn day or evening during fall and winter, although cooler spring days and nights are also acceptable.
6. Tom Ford Lost Cherry Eau de Parfum Spray
Sale
Tom Ford Lost Cherry Unisex EDP Spray 1.7 oz
Launched by design house of tom ford in year 2018
This has sour cherry, almond and liquor
This has rose, jasmine sambac, tonka bean and vanilla
This has peru balsam, cedar, cloves, vetiver and patchouli
This is a amber floral fragrance.
Another 2018 release, Lost Cherry is an exotic, fruity gourmand housed in a deep red glass bottle holding 50 mL (1.7 fl oz) of fragrance. Its label is soft pink with red lettering.
Like sharp cherry liqueur, Lost Cherry is fruity, syrupy, and indulgent. Black cherries, bitter almond notes, and aromatic alcohol introduce you to the fragrance.
Sugary plum, bitter cherry, Turkish rose and jasmine sambac make up the syrupy sweet and slightly floral middle layer.
Base notes are woody and balsamic. They include tonka beans, vanilla, vetiver, cinnamon, Peru balsam, sandalwood, cedarwood, cloves, benzoin, and patchouli.
All in all it's sweet and spicy with a touch of warmth. This lovely fragrance is more versatile in that you can wear it most of the year and it can be worn during the day or in the evening.
7. Tom Ford Mandarino Di Amalfi Eau de Parfum Spray
Sale
Ending on a fresh note, we have the citrus aromatic, Mandarino Di Amalfi. This scent best projects during spring or summer days. Its longevity is moderate and this scent leaves a subtle but noticeable trail.
Released in 2014, this 50 mL (1.7 fl oz) fragrance is housed in a turquoise blue glass bottle with matching cap. Its gold square label is printed with black text. It will immediately remind you of the clear blue waters along the Amalfi coast.
This uplifting fragrance first unfolds with grapefruit, lemon, mint, tarragon, basil, and black currant as the top notes. Its spicy, floral, aromatic heart notes include clary sage, coriander, black pepper, shiso, orange blossom, and jasmine. A sweet, earthy dry down of vetiver, civet, musk, amber, and labdanum close out the scent experience.
It's light enough to wear in an office or while vacationing.
All about the Tom Ford Brand
Tom Ford is a luxury fashion and beauty brand announced in April 2005 in New York, New York.
The sometimes controversial designer is also a film director. His film production company, Fade to Black, was launched a month before his luxury brand. Its first movie release was the film, A Single Man, premiering in 2009 – co-wrote, produced, and directed by Ford.
This multi-awarded designer and film director began his career in Milan, Italy in 1990 as a womenswear designer at Gucci. Within two years he became the design director, and then creative director two years after that.
His time at Gucci created a firm foundation for Tom to oversee fashion design, fragrance development, public relations, store design, and marketing.
Gucci acquired Yves Saint Laurent in 2000 and Ford continued to climb upwards, being appointed as creative director of the Rive Gauche and Beauty branches while maintaining his creative director responsibilities at Gucci.
He served as creative director of Gucci Group and ended up becoming the vice chairman of its management board by 2002. He resigned within two years. Under Ford's tenure at the company, Gucci grew into the world's top selling and largest luxury brand. From 1994 to 2003, company sales rose from 230 million to nearly 3 billion dollars.
The Tom Ford International Story
With all of his knowledge and experience acquired while at Gucci, Tom Ford was able to seamlessly transition into his own luxury brand.
Joined by Domenico De Sole, former Gucci Group president and CEO, they laid out a plan for the company, which was multi-layered from the start.
In addition to his fashion line, he released eyewear and beauty collections early on. The Marcolin Group produces and distributes Tom Ford eyewear. He partners with Estée Lauder for Tom Ford beauty products.
Internationally, there are a total of 98 freestanding and store-in-store Tom Ford locations.
Ford has dominated the fashion, beauty, and film industries for over three decades but he and Domenico De Sole are transitioning away from Tom Ford International. By the end of 2023, both men will relinquish their duties, but it's unknown whether or not they'll remain involved with Tom Ford International in some capacity.
Towards the end of 2022, Estée Lauder purchased the Tom Ford fashion house for $2.8 billion dollars. His current eyewear producer and distributor, Marcolin purchased the eyewear division of Tom Ford for $250 million dollars.
Tom Ford Product Lines
In all, Tom Ford sells apparel, intimates, shoes, and accessories for men and women, and timepieces and eyewear for men and women. Beauty collections include face, lip, and eye products for women, men's grooming accessories, and fragrances for both.
As a luxury brand, apparel options are both couture and ready to wear. They also offer personal style consultation services.
Tom Ford designs are often described as sleek and sexy. Time Magazine describes it as opulent sensuality. Ford's often been criticized for releasing racy advertisements and products.
Tom Ford Cologne
Ford's sensual nature carries over into his fragrance collections. In 2006, he released his first fragrance, Black Orchid. It's a weighty fragrance that's much more complex than one might assume based on its name alone.
As if his baseline collections aren't opulent enough, a year later Tom Ford released his Private Blend collection. Purple Patchouli being its inaugural fragrance. Ford released his private blends for fragrance savants as they can be worn singularly or layered with one another.
Some Tom Ford fragrance collections include:
Black Orchid
The scent that started it all – sophisticated, timeless, tantalizing.
Black Orchid Eau de Parfum
Black Orchid Parfum
The Cherry Collection
A set of playful, seductive, and addictive fruity fragrances.
Electric Cherry
Lost Cherry
Cherry Smoke
Enigmatic Fragrances
A collection of rare sensual, stimulating, and meditative woody eau de parfums.
Oud Wood
Santal Blush
Bois Marocain
Ébène Fumé
Noir Extreme
This collection "expresses the dramatic duality of a refined man"
Noir Extreme
Noir Extreme Parfum
The Costa Azzurra Collection
A collection of scents that send you on a Mediterranean escapade.
Costa Azzurra Eau de Parfum
Costa Azzurra Parfum
Ombre Leather Fragrances
These scents capture the olfactory essence of Ford's Santa Fe, New Mexico upbringing, but with heightened seductiveness.
Ombre Leather Eau de Parfum
Ombre Leather Parfum
The Private Blend
This collection also includes the Cherry and Enigmatic selections but there are many more:
Bitter Peach
Soleil Brûlant
Tubéreuse Nue
Rose Prick
Soleil Neige
Soleil Blanc
Jasmin Rouge
F*cking Fabulous
Mandarino Di Amalfi
Neroli Portofino
Tobacco Vanille
Vanille Fatale
Noir de Noir
Tuscan Leather
Champaca Absolute
Fleur de Portofino
Fougère D'Argent
All of Tom Ford's fragrances are referred to as being exquisitely formulated with high fragrance oil concentration levels, causing the scents to last almost indefinitely.
Customer Opinions about Tom Ford Fragrances
Years ago I recall reading an article about consumer spending and their resulting product reviews. I was unable to find the study to link to for this article, but I recall reading that when customers purchase products at a higher price, they have higher expectations about product performance.
These customers are more likely to leave polarizing reviews describing how the product wholly met their expectations or completely fell short.
Here's some feedback I found about Tom Ford colognes.
What Customers Enjoy about Tom Ford Fragrances
Wearers adore Tom Ford fragrances for their uniqueness and the way that the scent makes them feel.
Customers also enjoy the fact that even with just one squirt of the cologne, they know the scent will last for the whole day.
Considering the longevity of Tom Ford fragrances along with the care that goes into making these scents and the amount of compliments they receive, many customers feel as though the price is worth it even though it's high.
Many customers feel that Tom Ford fragrances are a masterpiece – artfully formulated.
What Customers Dislike about Tom Ford Fragrances
There are also a number of customers that feel that Tom Ford colognes are overpriced and underwhelming.
These customers have various complaints ranging from the scent not lasting as long as expected or the fragrance notes not working well with their body chemistry.
One thing that might help prevent you from experiencing grave disappointment could be purchasing fragrance samples. Tom Ford fragrance samples are only available in a limited quantity in stores.
If you'd like to try a specific fragrance without investing in a full bottle, you can try finding and purchasing a decant from a fragrance discounter like Microperfumes.com.
Final Thoughts
Tom Ford fragrances can be rich, velvety, timeless, and as warm as a cashmere blanket. Whether you prefer fruity, fresh, or woody fragrances, there's at least one Tom Ford cologne for you to try.
Ideal as signature scents, you will need high disposable income to invest in these fragrances, but they last long, project well, and leave lasting impressions.
If I had to select just one Tom Ford fragrance from this list, it would be Noir de Noir. It's unique enough to get noticed but not so strong that it becomes overwhelming.
But you should choose one you believe to reflect your sense of self.