Tom Ford fragrances are lucious and long-lasting, but let's face it, sometimes they simply aren't in the budget. Other times, you might like the scent but prefer that some of the accords be changed or moved around.
This is where very similar replacements come into play. So if you've been searching for Tom Ford Lost Cherry dupes, then you're in the right place because in this article, I'm giving you the best suggestions.
Top 5 Tom Ford Lost Cherry Dupes
While lots of dupes can exist out there in the fragrance world, not all of them are good replicas of Tom Ford's fragrance.
The dupes I chose for this list not only smell similar to Lost Cherry, but they're also made using high quality ingredients, and in some cases, offer more value for your dollar.
1. Closest Match: Fructus Virginis Parfum by Alexandria Fragrances
Alexandria Fragrances | Fructus Virginis | Inspired By Tom Ford's Lost Cherry | Eau de Parfum | 55ml | Black Cherry, Bitter Almond, Cherry Liqueur, Tonka Bean, and Cedar Scent
INDULGE IN TEMPTATION: Immerse yourself in the allure of Fructus Virginis Eau de Parfum by Alexandria Fragrances. A sweet symphony of seduction and satisfaction, encapsulated in a luxurious bottle.
CHERRY EUPHORIA: Three cherry-centered accords intertwine to create a juicy masterpiece: black cherry, cherry syrup, and cherry liqueur come together in a magic cocktail that tantalizes your senses.
SENSORY DELIGHT: Allow the notes of bitter almond and jasmine sambac to entwine, adding an illusion of an indulgent after-dinner drink. Tonka bean lends a hint of vanilla-like creaminess, completing this captivating blend.
BOTTLE OF JOY: Life's joys are captured in Fructus Virginis. Experience the aroma of black cherry, griotte syrup, and a touch of Peru balsam, wrapped in the warmth of cedar and sandalwood
ANYTIME INDULGENCE: Weather and time of day are no barriers. Experience the sweet seduction of Fructus Virginis, a fragrant celebration of cherries and luxurious notes that evoke satisfaction
Year Released: 2018
Fragrance concentration: Parfum
Fragrance family: Fruity floral gourmand
Best seasons: Winter, fall, spring, summer
Ideal occasion: Day or night
Longevity: 8+ hours
Bottle size: 55 mL (1.8 fl oz)
Approximate price: 💲💲
I was hard pressed to find a scent more closely aligned with Lost Cherry than this one. Fructus Virginis, translated Virgin's Fruit, is a seductive fragrance that offers more cherry accords than Tom Ford, but is still well-balanced.
You'll notice three cherry accords in this fragrance, black cherry, Griotte syrup, and cherry liqueur. Similar to Lost Cherry, you'll also experience bitter almond, Turkish rose, and jasmine sambac – all on the top two layers.
Fructus Virginis dry down incorporates Peruvian tonka bean, balsam cedar, sandalwood, and vetiver. This base layer has fewer notes than Tom Ford's Lost Cherry but it's still complexly spicy, woody, earthy, and sweet.
It's more concentrated, so that also adds to its value because it extends the length of use without having to spray on as much.
Ideal for: Someone who wants an affordable Lost Cherry replica.
2. Closest Feminine Match: Very Good Girl Glam EDP by Carolina Herrera
Sale
Carolina Herrera Very Good Girl Glam Eau de Parfum 30ml
Launched by the design house of Carolina Herrera in the year 2022
This floral fragrance has a blend of Bisch, louise turner, bitter almond, sour cherry, rose, lily, bourbon, vanilla, and vetiver notes
It is recommended for daytime wear
Year Released: 2022
Fragrance concentration: Eau de parfum
Fragrance family: Floral woody amber
Best seasons: Fall, spring, summer, early winter
Ideal occasion: All day
Longevity: 7+ hours
Bottle size: 30 mL (1 fl oz)
Approximate price: 💲💲
Although Lost Cherry is a unisex fragrance, one of the closest matches that I found has fragrance accords that lean more feminine than unisex.
This dark cherry red shoe-shaped flacon is dusted with a glittery ombre from its base to mid-shoe, and then finished with a gold fluted heel.
Part of Carolina Herrera's Good Girl collection, Very Good Girl Glam is an intense floral, woody, amber fragrance that can be worn day or night all year long. You can expect it to last at least 7 hours on your skin.
Similar to Lost Cherry, you're introduced to Very Good Girl Glam with cherry and bitter almond. But this fragrance excludes the liqueur notes.
As you transition to the heart of this fragrance, the scent of rose and ambrette seeds rise to the fore. Ambrette is subtle and earthy, lending additional floral and sweet notes to the fragrance.
Very Good Girl Glam mellows out to more rose and ambrette seeds with the addition of tonka bean. It's the tonka bean that adds the vanilla, spice and earthiness experienced in Lost Cherry's dry down.
In terms of value, you'll only receive 30 mL (1.01 fl oz) for a moderately priced bottle but it's still more accessible than Lost Cherry.
Ideal for: Those who can do without fruity liqueur top notes and enjoy more of the rose notes.
3. Amber Gourmand Alternative: Dark Cherry & Amber EDP by Banana Republic
Sale
Year Released: 2019
Fragrance concentration: Eau de parfum
Fragrance family: Floral fruity gourmand
Best seasons: Fall, winter, spring, early summer
Ideal occasion: All day; casual or formal; special occasions
Longevity: 6+ hours
Bottle size: 75 mL (2.5 fl oz)
Approximate price: 💲💲
Dark Cherry & Amber opens up to sour cherry and pink freesia notes. Lost Cherry doesn't add any floral notes this early on, and its top cherry note is sweet, not sour.
But implementing this note at the top of Dark Cherry & Amber also brings the nuttiness that's present at the start of Lost Cherry. Pink freesia also adds spiciness and powder notes right at the start.
Transitioning to the heart of the fragrance, cherry blossom and praline dominate. The scent of cherry blossom is airier than rose, so floral notes in this fragrance are less dense.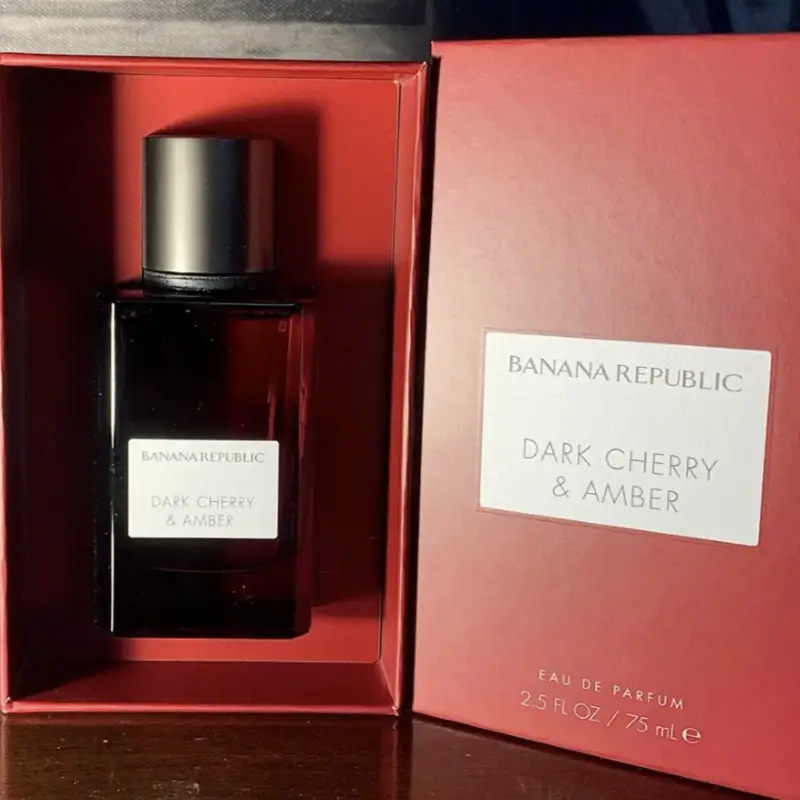 In addition to adding sweetness, praline notes are also balsamic, which hints to the balsam base notes found in Lost Cherry.
At the dry down, you'll find red amber and cedarwood. Cedarwood is one of the softer-smelling woods. Red amber brings additional sweet and balsamic notes along with spiciness, rich vanilla, and powdery notes that are almost musk-like.
Even though fewer accords are used on this base layer, these two ingredients create a dry down that closely resembles Lost Cherry.
Dark Cherry & Amber can be worn all day, but seasonal use is limited to cooler months.
Ideal for: Those who prefer not to smell boozy notes and are looking for something a bit sweeter and less floral heavy than Lost Cherry.
4. Fruity Alternative: La Petit Robe Noire EDT by House of Guerlain
Year Released: 2012
Fragrance concentration: Eau de toilette
Fragrance family: Floral fruity
Best seasons: Spring, early summer, early fall, early winter
Ideal occasion: More day than night
Longevity: 5+ hours
Bottle size: 100 mL (3.4 fl oz)
Approximate price: 💲💲
Similar to Very Good Girl Glam, this eau de toilette leans more towards feminine. Its scent notes are primarily floral, fruity, and fresh making this scent light, airy, and sweet.
Le Petit Robe Noire is elegant and alluring, but with a few gentle twists. You're first greeted with rose, green notes, and jasmine. This is an interesting change from Lost Cherry, which puts these two floral notes in the middle. As top notes, and blended with fresh greens, they tend not to dominate the scent, keeping it airy.
Sour cherry, orange blossom, apple, and black currant comprise the fruity floral middle layer. Black currant is comparable to the plum heart notes found in Lost Cherry. The difference here being orange blossom and apple – sweet floral and tart green.
This scent's dry down includes white amber, patchouli, and musk. Combined, you still get the spicy, sweet, powdery, and earthy close to this scent as you'll experience with Lost Cherry.
On every layer, though the scent is milder, less intense because this is an eau de toilette. This lower fragrance concentration also means that this scent won't last as long on the skin. It won't project as well either, so you're limited to wearing it during warmer months.
But, this fragrance bottle is larger than the previous ones mentioned and they're all in the same price range, so you won't lose a significant amount of value.
Although you might have to reapply this fragrance, it may not matter as much because you'll have more of it to spray on in the first place.
Ideal for: Those who prefer less intense fragrances but with similar notes to Lost Cherry.
5. Budget Alternative: Love Cherry Eau de Parfum by FAKE Brand Fragrances
Get Lost in the Sensual Greatness of Love Cherry, Unisex Eau De Parfum 1.7 oz Almost an Exact Clone | Explosive Cherry Liqueur, Almond, and Vanilla Powerfully Insatiable | Unisex Fragrance is Addictive!
[No-hassle 100% Money Back Guarantee] We promise / guarantee that you will love our Inspired Designer Unisex fragrance, Get Lost in Love Cherry. For any reason, if you are not 100% satisfied with our product or service, we will joyfully refund your payment 100% without a hassle.
[Powerfully Insatiable Unisex] Reverse engineered to be as close to a perfect clone as possible. Just like our inspiration from the brilliant perfumer, we've designed a truly Powerfully Insatiable Scent. With top Notes of Sour Cherry Liqueur, and Almond Middle Notes of Jasmine, Rose, and Vanilla; and Base Notes of Cedar, Cloves, & Patchouli overtones. It's a beautiful Amber Floral Fruity Fragrance.
[Long Lasting Premium Ingredients] Our GMP & ISO 9001 Certified, Lab-Grade Manufacturing Facility uses only the highest-grade fragrance ingredients. Modeled by our in-house fragrance chemists to be as molecularly identical to the "real thing" as possible with the belief that our versions "can often fool 99 out of 100 of the best noses" (perfumers) if tested head-to-head. Smelling Great All-Day Long + Saving a ton $ = You Feeling Great! Eau de Parfum = 15-20% Concentration lasting ~8 - 12 hours.
[Affordable Luxury Fragrances] We don't have to spend multiple millions of dollars every year like the big brands do so we can bring the prices for our versions of the inspiration down to a fraction of the cost (7-10%). No-one can see the brand you wear and if the scent is almost molecularly equivalent, they won't be able to tell the difference. Please check out our entire line of masculine and feminine Affordable Luxury Scents.
[A Better Fragrance Alternative] We carry only top-quality fragrances made in our USA facility of the same quality as the expensive designer brands, at a fraction of their cost. We do NOT use their fragrances and are NOT associated in any way with the designer brands or their manufacturers. We truly believe that imitation (turned to Inspiration) is the sincerest form of flattery and are proud of what we've created for You. Please honor us today by giving us a shot at making you a raving fan.
Year Released: 2018
Fragrance concentration: Eau de parfum
Fragrance family: Floral fruity amber
Best seasons: Winter, fall, spring, early summer
Ideal occasion: All day; casual or formal; special occasions
Longevity: 8-12 hours
Bottle size: 50 mL (1.7 fl oz)
Approximate price: 💲
Also a unisex fragrance, FAKE Fragrances describes Love Cherry as an almost exact clone to Lost Cherry by Tom Ford.
Love Cherry is described by them as a "full-bodied floral scent." And its primary accords are black cherry, almond, rose, and jasmine, which is on par with Lost Cherry's most dominant notes.
Additional notes include sour cherry liqueur, cedarwood, cloves, patchouli, and vanilla. They're so confident in their reverse engineering abilities that they claim to fool 99% perfumers who conduct scent tests between Lost Cherry and Love Cherry.
FAKE Brand Fragrances are made in laboratories on par with designer brands while using high quality ingredients. This scent can last on your skin up to 12 hours, which is exceptional for a budget-priced fragrance. There's value in that when considering that you'll be paying a small fraction of the asking price for Lost Cherry.
Ideal for: Those looking for the least expensive Lost Cherry alternative.
Conclusion
Of course, anyone can wear any fragrance, so if you're a guy who likes the softer scents, then go for it. This list is simply a guide to give you an idea of what to expect scent-wise.
Some scents smell sweeter and lighter, and others smell heavier and more dominant, unisex scents are in the middle of that range.
The best Lost Cherry dupe on this list is definitely Fructus Virginis parfum. I'm pretty sure it's the closest you're going to get to an exact match.
But if you want to experience Lost Cherry sans boozy notes, then you have to try Dark Cherry & Amber.
And you can find more Tom Ford Fragrance here.