The House of Versace has been releasing fragrances to accompany its fashion lines since 1981. In keeping with the company's Grecian theme, Eros fragrances were inspired by the Greek god of love.
Released eight years apart, there's significant overlap between the two fragrances. But if you're trying to decide between Versace Eros EDP vs EDT, keep reading to determine which one is better for you.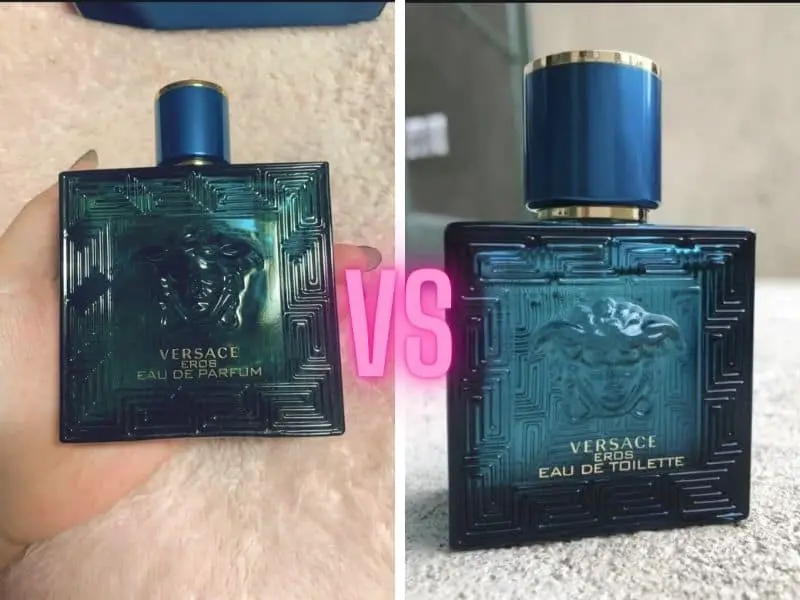 Versace Eros EDP vs EDT: Product Comparison
From the very beginning, in 1978, the luxurious Versace fashion brand has symbolized boldness and distinction.
Medusa is a character in Greek mythology who lured in subjects, and then turned them to stone. In the same vein, Gianni Versace has been said to explain that he chose the Medusa logo to represent his company because he wanted people to be so captivated by it that they wouldn't be able to turn away.
Although Versace is now wholly owned by the Group Michael Kors Limited, the Versace family is still very much involved in product development.
Donatella was the driving force behind the development of Versace Eros, which she describes as the DNA of the Versace brand.
The Eros scent profile definitely captivates others and when wearing either of these fragrances you very well might cause others to stop in their tracks.
Versace Eros Eau de Parfum Spray
Sale
Versace Versace Eros EDP Spray Men 3.4 oz
Launched by the design house of Versace
This masculine fragrance has a blend of mint oil, italian lemon, green apple, tonka bean, geranium flower, vanilla, vetiver, moss, and cedarwood
It is recommended for daily use
It is recommended for casual wear
Increase attraction and skin friendly fregrance.
This version of Eros was released in 2020 – eight years after the original. Its thick glass bottle has the stateliness of Greek architecture and would look nice on display.
It holds 100 mL (3.4 fl oz) of an amber and woody masculine eau de parfum. Donatella Versace has stated on her website, "I created my new fragrance Eros for a man who is both heroic and passionate, like a Greek god."
This seductive fragrance starts off strong with energizing mint and Italian lemon sweetened by candy apple and mandarin orange oil. Below is the full fragrance profile.
Top notes:
Mint oil
Candy apple
Italian lemon
Mandarin orange
Middle notes:
Ambroxan
Geranium flower
Clary sage
Base notes:
Vanilla
Sandalwood
Virginian cedarwood
Atlas cedarwood
Vetiver
Patchouli
For those who want to get noticed, Eros EDP has strong sillage and the fragrance lasts well into the night. For some, the scent continues to linger into the next day.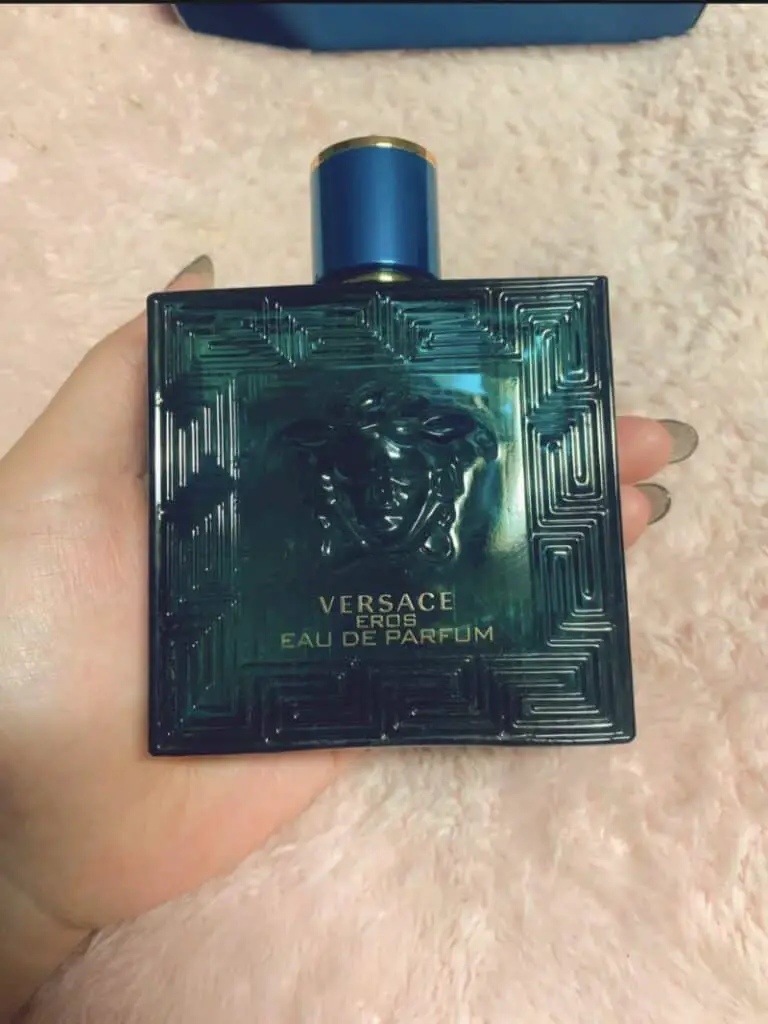 Heart notes are aromatic, herbal, and sweet while base notes are mostly woody, which contributes to this fragrance's lasting power.
This is a highly masculine fragrance but women enjoy smelling it on their partners. Eros EDP can be worn all year.
Pros
Long lasting fragrance
Leaves a strong trail but doesn't overwhelm most people
Reasonably priced for an EDP
Can be worn year-round
Cons
Still might be too strong for some people
Heavy apple introduction
Versace Eros Eau de Toilette Spray
Sale
After a five-year hiatus, Eros was the first Versace fragrance released for men; the year was 2012.
This 100 mL (3.4 fl oz) tinted turquoise glass bottle is carved with classical Grecian patterns and the Versace Medusa logo. Its luxurious matte turquoise cap also had a gold Medusa medallion on its top surface.
Described as the "DNA of the House of Versace," the Eros man is a determined warrior, who intensely upholds his convictions and pursues his goals.
This fragrance is fresh, invigorating, and woody with a hint of spice. Below are the fragrance accords.
Top notes:
Mint
Green apple
Italian lemon
Middle notes:
Clary sage
Amber max
Geranium flower
Base notes:
Madagascar vanilla
Virginian cedar
Atlas cedar
Vetiver
Patchouli
Sandalwood
Lemon and mint both add an initial kick, which is sweetened up a bit by tangy sweet green apple notes. Musky sweet amber and aromatic geranium floral notes introduce you to the heart of this fragrance. Clary sage is somewhat sweet with fresh, grassy notes. This is also where you'll first notice hints of spice.
As the fragrance dries down, warm Madagascar vanilla brings spicy sweetness to the mix. Two types of cedar notes add a hint of woodiness while vetiver carries those wood notes further, along with added freshness. Patchouli adds spice, earthiness, woodiness, and also sweet musk notes.
Aromatic sandalwood can also be sweet and velvety adding earthy warmth, and even hints of floral notes.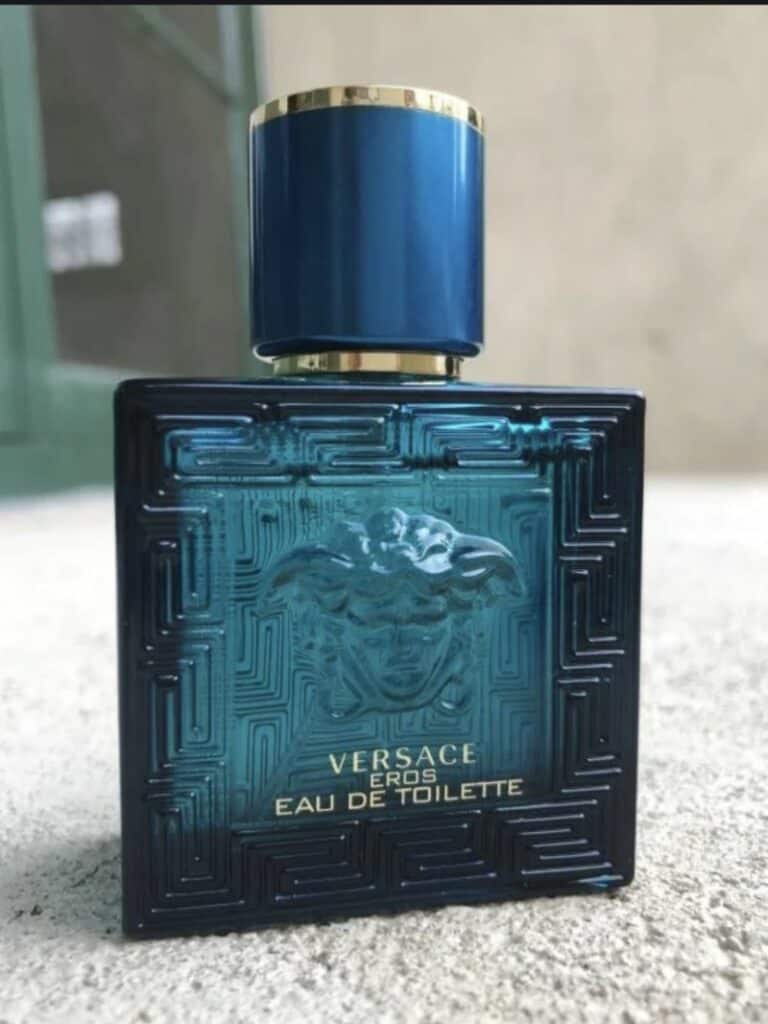 Versace Eros EDT is a year-round fragrance that can also be worn in the day or evening, but it really shines at night.
Because it's an eau de toilette, it won't last a full day as the EDP version would, but this fragrance still gives you a solid number of hours before you feel the need for any reapplication. Its sillage is also pretty strong for an EDT.
Pros
Mostly a fresh and woody fragrance
More affordable than EDP
Actually good value for an EDT
Strong sillage for an EDT
Cons
Won't last as long as EDP
Smells too sweet for some people
Versace Eros EDP vs EDT: Face to Face Comparison
Although these two versions of Versace Eros share many of the same fragrance notes, there are some subtle differences that I'll cover in this section.
Versace Eros EDP
Versace Eros EDT
Date Released
2020
2012
Bottle Size
100 mL (3.4 fl oz)
100 mL (3.4 fl oz)
Fragrance Concentration
eau de parfum
eau de toilette
Fragrance Profile
Amber, woody
Woody, oriental, fresh
Top Fragrance Notes
Mint oil
Candy apple
Italian lemon
Mandarin orange
Mint oil
Green apple
Italian lemon
Middle Fragrance Notes
Amber Max
Geranium flower
Clary sage
Amber Max
Geranium flower
Clary sage
Base Fragrance Notes
Vanilla
Virginian cedarwood
Atlas cedarwood
Vetiver
Patchouli
Sandalwood
Vanilla
Virginian cedarwood
Atlas cedarwood
Vetiver
Patchouli
Sandalwood
Expected Sillage
Strong
Moderately strong
Expected Longevity
Strong
Moderate
Retail Price
💲💲💲
💲💲
You'll notice that the top fragrance layers are slightly different. Sweet candy apple EDP notes replace sweet and tangy green apple EDT notes. Also, mandarin orange brings additional sweetness to the EDP top layer.
Considering the fact that heart and base notes last the longest, only the initial impression of each scent are nuanced.
Although it's over ten years old, this fragrance is becoming increasingly popular. Many people wear it as their signature scent.
Subtle Scent Profile Changes
The original eau de toilette included tonka bean as a middle note and oakmoss as one of the base notes. I'm not sure why tonka bean was eventually excluded, but oakmoss has been phased out by all or most fragrance houses.
Oakmoss has been found to be a skin irritant and thus its use has been restricted in the fragrance world
When the eau de parfum was first released, you would have smelled leather and bitter orange as base notes. Vetiver and a second form of cedarwood replaced those two ingredients.
Fragrance Concentration Differences
These changes have made the two scents nearly identical, thus the biggest difference between the two now is their top fragrance layer, and their fragrance concentration. And the concentration levels affect longevity, and the asking price. Sillage is about the same for both concentrations.
Due to the fact that less fragrance oil is used to make an eau de toilette, you'll find that this scent is less expensive than the EDP version. That makes Eros EDT a reasonably affordable introduction to Versace Eros EDP because they have identical heart and base notes, with only their top notes being slightly different.
As you know, a higher fragrance concentration yields a higher retail price, so if the EDP is outside of your budget, you can test out the scent on your body with the lower-costing EDT. It won't be as strong or last as long, but the essence of the fragrance will be the same.
But considering how potent the EDP is, the price is still relatively affordable, especially when compared to niche fragrances, like Creed.
Conclusion
Eros is a bold masculine fragrance that will attract people to you and hold their attention. Fragrance concentrations are different, but these fragrances have almost identical profiles.
Choose Versace Eros EDP if:
You're less price sensitive
You prefer a long lasting fragrance
You don't mind somewhat heavier top notes
Choose Versace Eros EDT if:
You're more price sensitive
You don't mind reapplying your fragrance
You want a high quality but more affordable fragrance
Although the EDT is more financially accessible, I would suggest ordering the EDP because you can apply less and have it last longer throughout the day. In the long-term, you'll get more value from the EDP than the EDT.
Versace doesn't ship fragrances to individual customers from every country, so if you live in the United States or another country that's far from Italy, then you'll have to either purchase these fragrances from a department store or click the links I provided so that you can order them online.