Stars have a way of capturing the hearts and minds of their fanbase and Taylor Swift is no different. She's had a growing influence on the dominant culture since her first music release in 2006. Beyond her music, fans are enamored by her fashion and fragrance sense.
Along with all other details of her life, fans can't help but inquire about such intimate matters as what perfume Taylor Swift wears. Top brands like Tom Ford and Viktor & Rolf make the list. She's even been reported to spray on her own fragrance, the eponymous Taylor.
If you're interested in wearing or gifting fragrances inspired by Taylor Swift, then keep reading to find the most appropriate fragrance for your needs.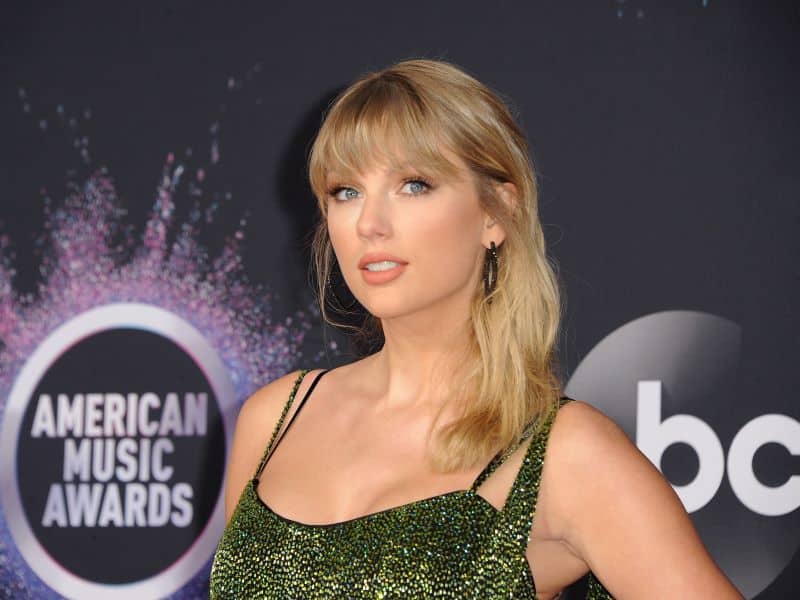 Taylor's Scent Influence
Taylor Swift has become a household name. Whether you've listened to her songs at the start of her country music career and transitioned to her current pop style, or you tend to only overhear her songs through mass media, in all likelihood you are somewhat familiar with her and her style.
So you can imagine the types of perfumes she might choose to wear. Sophisticated, classy, highly feminine, and pleasant while simultaneously down-to-earth, is the sentiment I pick up on. Let's take a look at some of her reported favorites.
Abercrombie's 8 Perfume
Apparently, Taylor's first boyfriend gifted her this perfume when she was a ninth-grader, and she'd wear it to relive those memories.
Artists are often a sentimental bunch. 
Launched in 2004, it's unfortunately sold out on the Abercrombie website. You may not be able to purchase it through online retailers because it's a rare find.
I'll point you to similar fragrances that are available today. 
Regarding 8, its top notes are light and citrusy: grapefruit, mandarin orange, and clementine. Once those notes disappear, you'll experience the heart of the fragrance, which is primarily floral: melon, freesia, lily, violet, and amaryllis. This scent dries down to musk, bourbon vanilla, amber, and vetiver.  
Scents similar to 8 by Abercrombie & Fitch:
It would be impossible to find an exact match to Taylor's sentimental favorite, 8, but there are some close runner-ups. 
The Coveted Duchess Rose by Penhaligon's Portraits
This pick is on the expensive side, but it mirrors 8 with its citrusy, floral, woody, and musky notes. It's a romantic scent.
As the first fragrance released by Jennifer Lopez around 2002, Glow was marketed to females in their late teens or early twenties. That makes it a more economical option, but it's also a less concentrated eau de toilette. But you will experience similar citrus, powder, flora, wood, and vanilla notes.
More moderately priced, this alternative might be closest to 8's fragrances of all the past suggestions.
Top notes: Bergamot, lychee, peach, mandarin
Middle notes: Madonna lily, Muguet, plum, and jasmine
Base notes: Vanilla, amber, musk
Lychee and peach incorporate the melon notes found in 8 by Abercrombie & Fitch. Floral elements are there in the middle, and then the base notes are almost exactly the same, minus vetiver.
This list of alternatives offers a good example of how fragrances might be inspired by one another. It also hints at the subtle nuances between scents. 
Wonderstruck & Taylor by Taylor Swift
Years ago Taylor Swift released her own fragrances in partnership with Elizabeth Arden. Surprisingly, reception was lukewarm and her fragrance lines were subsequently discontinued.
Although Swift's fragrances are no longer manufactured, you might find bottles from her collections if you're on the hunt for them. A couple links are provided below.
Introduced in 2011, Wonderstruck is a fruity, floral gourmand scent that acted as Taylor's inaugural fragrance. The name Wonderstruck was pulled from lyrics from the song Enchanted on Swift's "Speak Now" album. 
Her fragrance was designed to be equally magical. 
Top notes: Raspberry, blackberry, tea, apple blossom, freesia
Middle notes: Vanilla, honeysuckle, hibiscus
Base notes: Peach, sandalwood, amber, musk
It's primarily a day scent to be worn during warmer months. 
Taylor by Taylor Swift
Another day scent for warmer months, Taylor was first released in June 2013. This fragrance formula was more complex and reflective of the artists' more mature style.
Top notes: Lychee, magnolia petals, tangerine
Middle notes: Peony, hydrangea, vanilla orchid
Base notes: Apricot nectar, sandalwood, cashmere musk, soft wood
There are far more floral and wood notes, making this a more substantial and evolved than the first one.
Taylor is known for being highly tuned in to the likes and dislikes of her fan base. While these perfume lines didn't stand the test of time, it's not surprising that she would have worn her own fragrances. If nothing else, she's an authentic artist who aims to truly connect with her customers. 
Viktor & Rolf's Flowerbomb Eau de Parfum
First released in 2005, Flowerbomb is a flowery amber fragrance for women. Reminiscent of a lush floral bouquet, you'll smell hints of centifolia rose, sambac jasmine, cattleya orchid, freesia and India osmanthus. Patchouli and vanilla offer an alluring finish to this harmonious blend.
It's long-lasting and highly feminine. You'll feel lovely and powerful; strong and fragile.
Because this is primarily a floral fragrance, I think it'd be best worn during the day in warmer months of the year. Its sweetness lends to a younger customer base. But regardless of age bracket, this scent is just as popular today as it was back in 2005 – similar to Ms. Swift herself.
Tom Ford fragrances seem to be a staple in celebrity fragrance collections. The price point for these scents is higher than average, so that could be one contributing factor. 
Like most Tom Ford fragrances, Santal Blush is a unisex scent that can be layered. It was first released in 2011. This particular scent belongs to the exotic oriental fragrance family.
Earthy and sensual, top notes include fenugreek, carrot seed, spices, cinnamon, and carraway. Floral notes are at the heart of this fragrance: ylang ylang, jasmine, and rose. It dries down to sandalwood, benzoin, Virginia cedar, musk, and oud.
It's the heart notes especially that make this a seductive scent. The sweetness of benzoin balances out the woodiness of the other base notes.
I can see this as a fragrance that Taylor Swift may have grown into as she's transitioned from a teenage sensation to an young adult artist who's even more secure in her own skin.
Should You Wear Perfume Like Taylor Swift?
Testing out various fragrances to discover what you enjoy and what smells best on you is what's most important. 
Just as Taylor's fragrance preferences have evolved over time, yours will too as you try out different scents and get more specific about your likes and dislikes.
You may love all of the above fragrances, but you won't know how they'll smell on you until you try them on. There are different ways of going about trying a new fragrance. But I would suggest to always rely on your personal preferences instead of what's popular or trending.