Hey there sophisticated lady! Welcome to my best elegant perfume trays review for 2023.
I spent countless hours researching and testing five of the most elegant trays to organize your perfume bottles. Then I ranked them based on material, presentation, and value for your money.
These are by far the best looking perfume trays of the group.
Collecting perfume bottles on the top of your dresser is not a good look. Choose one of these trays, and you'll organize your space in style. No more perfume bottles nearly sliding off of the dresser or piling up, creating a cluttered mess.
Ready to give your beautiful perfume bottles the display that they deserve?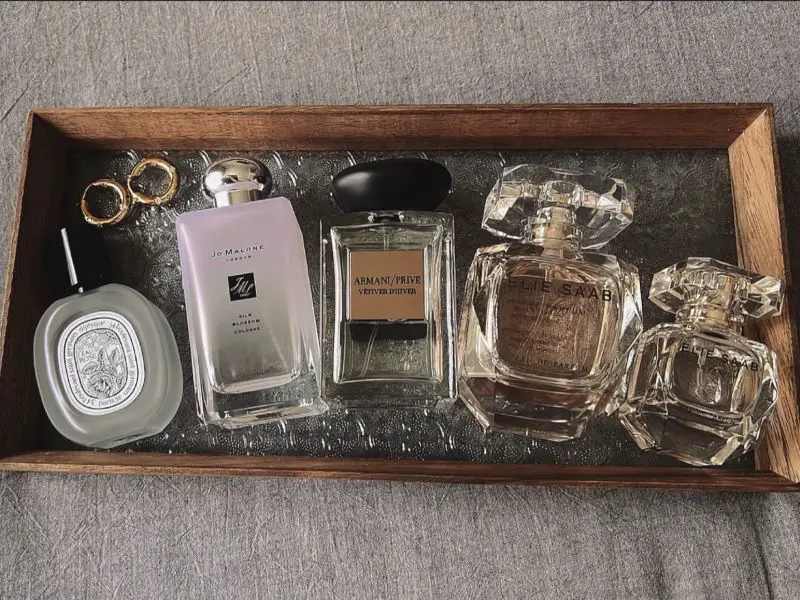 Let's take a look!
The 5 Best Elegant Perfume Trays
When it comes to organizing perfume bottles, any old tray will do…at first.
There comes a time when you'll want to properly organize your perfumes on an elegant tray that better reflects your sense of style as well as all the money you've invested in collecting these bottles in the first place.
Many companies pull out all the stops to put an eye-catching perfume bottle in your hand. By choosing one of the elegant perfume trays suggested below, you can meet those companies halfway by with a proper perfume bottle display.
1. Most Ornately Elegant Perfume Tray: Mirrored Gold Metal & Crystal Vanity
LINDLEMANN Decorative Tray - Metal Mirrored Ornate Crystal Vanity Tray - Elegant Design for Perfume Jewelry Makeup, Easter & Mothers' Day Gift (Rectangle, 12x9in, Gold)
Stunning Display of a Decorative Tray: The craftsmanship of this crystal mirror tray is way beyond your expectations. The effect of being beautifully crafted with a minimum of seams,this organizer tray is flanked by golden and silver showers,with sparkling crystals intricately woven into metal rings around a gorgeous acrylic mirrored base. Comes with a Free Ring and Trinkets Dish.
Large Capacity and Ideal Size: This vanity tray's dimensions are 12.48 x 9.49 x 2.64 inches.The height of mirrored trays have perfect size such as a drawer, saving you much more space. Very easy to maintain and offers a chic stylish way to keep your stuff organized while being a perfect choice for home decoration.
Multipurpose use: You can serve food and drinks, breakfast in bed, store and organize all of your daily essentials such as keys, daily mail, tv remotes, perfume & cologne, makeup, place on a bathroom vanity, store hand soap, and hand towels. It also allows you to have all jewelry, and trinkets within reach. Host your next party event, serve & display at weddings, baby showers, birthdays, and holidays, gift it, display flowers, pictures, and serve alcohol, the possibilities are endless!
Eye-Catching Sturdy Material Quality: Unlike the generic powder painted cheap plastic materials, Lindlemann Roman is made with 1st class Chrome Electro-Plated Finish, High Quality Metal,Sandblast Platform Top and Real Mineral Crystals.
Best Gift Idea: Exquisite shiny design makes it an ideal choice & gorgeous gift for the one who appreciates exclusive-looking home decor items as a gift for birthday, christmas, thanksgiving, wedding registry, housewarming or any special occasions. Nice way to compliment their personal dresser or nightstand in an exquisite and elegant way.
With the combination of gold and crystal, how much more ornate can you get?
The mirrored tray base is made of acrylic, which helps prevent breakage, but still makes for an elegant presentation.
All of the gold metal circles that line the edge of the tray in stacked rows are filled with crystal glass gems, adding more sparkle and shine to the vanity.
With its 9-inch by 12-inch inner capacity, you can fit a dozen or more bottles of perfume on this tray. Such a large capacity not only holds multiple bottles, but its edging (over 2 inches high) holds bottles in place, preventing them from falling off of your table.
Full dimensions are 12.48 x 9.49 x 2.64 inches.
Also, because it's an open space, you can combine perfume bottles with makeup or other personal use items for easy access.
If dust accumulates, you can simply use a microfiber cloth, or a wet cloth to clean it up in a short amount of time.
This particular tray has a gold finish, but silver is also an option.
Pros
Gold with crystal accent
Ample space to hold ten or more average-sized perfume bottles
Comes with a bonus trinket dish
Also available in silver finish
Cons
Base isn't made of real glass
Free gift is silver, not matching gold
2. Most Stunningly Elegant Perfume Tray: Quilted Mirrored Vanity
Sale
Quilted Mirror Vanity Tray – Decorative Cosmetics Organizer - Durable Resin - Best Bathroom Trays for Arranging Perfume/Jewelry/Makeup - Elegant Bathroom Accessories (White)
SPACE SAVING DESIGN: With a size of 10"(L) x 6" (W) x 0.9"(H), this vanity mirror tray is big enough to hold your items without taking up too much space on your dresser.
DESIGNED TO STUN: With silver mirrored accents in the middle and an elegant white quilted pattern, this vanity tray for dresser will inject total style to any décor.
ORGANIZE IN STYLE: This cosmetics organizer is perfect for neatly arranging your perfumes, jewelry, makeup and more on your dresser and vanity for quick access.
LASTS FOR AGES: Made using the highest-quality resin, the cosmetic tray organizer feels impressively sturdy and will never rust like metallic vanity accessories.
AMAZING GIFT IDEA: Bundle this bathroom vanity tray with other items from the quilted mirror collection to create the perfect vanity tray set. Click 'Add to Cart' now!
The quilted leather look of this tray is simply stunning. This white cosmetic organizer is made of sturdy resin; it's a rust-free surface, which adds value to this purchase. You can expect this vanity perfume tray to last for years.
Mirror-like striped gray accents line the center of this tray, adding an extra touch of elegance. And this design is part of a larger set. You can purchase whichever pieces you'd need for your dressing space.
Although this tray is somewhat small, that's its superpower because its size makes it more versatile. You can place this tray almost anywhere. If there's limited space on your dresser or shelf in your closet, this tray will likely fit there.
Perfect for tighter spaces, the true dimensions of this tray are 10 inches long x 6 inches wide x 0.9 inch high. You'll likely only be able to fit a handful of average-sized perfume bottles on this tray. This is ideal for smaller perfume collections with little table or counter space.
Pros
Looks gorgeous
Raised sides holds bottles in place
Works well in smaller spaces
Decent interior space
Cons
White might be harder to keep clean
Only fits a limited number of perfume bottles
3. Most Modern Elegant Perfume Tray: Silver Rectangular Organizer
Sale
Rectangle Silver Mirror Decorative Tray Size 11" Length x 14" Width x 2" Height, Mirrored Vanity Organizer with Hand, Markup Perfume Jewelry Tray for Bathroom Bedroom Dresser Coffee Table qmdecor
LARGE CAPACITY: Decorative mirror tray out size 11"Length x14"Width x2"Height. All covered by silver mirror. Black soft velvet bottom, not scratch table.
Elegant and Stylish design. Mirror is easy to clean and reflect light stunning beautiful, attractive and convenient way to hold markup, perfume creams serums lotions oils bottles ,jewelry and every daily essential accessories. Coffee table decorative tray, bathroom vanity tray, bed room dresser table jewelry organizer, candle holder in kitchen room, lovely storage .
Rectangle shape mirror tray features with hand. Exclusive looking, easy to draw everyone's attention, to hold key in hallway also for home decor accents decorative trays.
Fit well with dressing table, nightstand, coffee table, dining table, office desk, perfect home décor gift for wedding ceremony, birthday part, Christ mas ornament storage, thanksgiving décor , housewarming gift, festival greetings etc
After-sales service: If products received not satisfied, you can choose exchange or refund, welcome to contact us for any question. Hope you enjoy buying from us .
Simple modern elegance is what you'll be bringing into your home if you choose this rectangular perfume tray.
Its dimensions are 11 inches long x 14 inches wide x 2 inches high. That means that it can comfortably hold a dozen or more bottles of perfume. Or you can combine perfume bottles with scented candles or cosmetic products.
All four sides are mirrored, which not only gives this tray a more stately appearance, but also protects your perfume bottles. There are also side handles, making it easy to carefully relocate the tray, if needed.
The only downfall is that because it's made of glass, one misstep – or misplacement – can cause the tray to break. You'll also have to be careful when placing glass perfume bottles on the tray. Doing so with excessive force can also lead to breakage.
You can easily clean this tray with window cleaner and a microfiber cloth. Its base is covered with soft black velvet, which protects the surface beneath it and reduces sliding.
Pros
Velvet base protects the surface below
Simply beautiful addition to your decor
Holds a dozen or more perfume bottles, depending on their size
Blends in well with many decor types
Cons
For larger spaces
Increased potential for shattering if dropped
4. Most Dainty Elegant Perfume Tray: Intricate Vintage Inspired Silver Vanity
Sale
Bathroom Vanity Tray, Decorative Tray, Mirror Tray, Perfume Organizer Tray, Candle Tray
Decorative tray/vanity tray/jewelry tray/bathroom tray/makeup organizer/mirror tray/perfume tray. This mirror tray can be placed on counter, dresser, and nightstand desk to storing daily essentials, cosmetic, perfumes, jewelry accessories.
This vanity tray is made from iron metal frame and mirrored glass, sturdy and never get faded or deformed.
This mirror tray is 9.5"(L)*5"(W)*2"(H), perfect size for dresser,bathroom sink vanity trays.
Unique classical mirrored design, stylish and elegant. Perfect ornate glass tray to display jewelry/trinkets/cosmetics/necklaces/bridal rings sets/bracelets/earrings/cleansing brushes/skin care products. Great gift choice for Birthday, Thanksgiving, Christmas or Mother's Day etc.
Damage issue: Although we have done our best to pack it well, accidental damage is still possible. We hope you could kindly understand it, and we promise that every item we sold could be refund/replace freely. Please be free to contact with us directly, we will always be happy to assist you.
This intricate design reminds me of metal carvings from the Victorian era. Dainty, precise, and simply elegant.
If silver isn't your preference, this same design is available in rose gold, metal gun, white, black, and gold. With the metal gun or black, you can enhance a Gothic or contemporary decor theme. The white tray can complement a French provincial or similar decor style. These are only ideas; I'm sure you can pull it all together.
Evenly spaced small circles break up the intricate design on all four sides, giving your eyes a rest. On the smaller side, dimensions are 9.5 inches long by 5 inches wide by 2 inches high. Its mirrored base makes it appear larger, as if it has more depth.
But if this version is too small, there's a set of two available that includes this size and one that's larger. The larger tray dimensions are 12.5 inches long by 6.3 inches wide by 2 inches high.
To protect the surface beneath your tray and add some elevation to the design, there are ball feet placed in all four corners of the tray base. For further protection, the full base of the tray is covered in black velvet.

Made of real iron and glass, this vanity tray will hold up to prolonged use. There is potential for the glass to shatter, but with careful use, you'll have this tray for years to come.
Pros
Intricate, lovely design style
Holds a decent number of perfume bottles
Base protects the surface beneath the tray
Very well made; sturdy iron
Cons
Might be too small for some perfume collections
Must be careful with the glass base
5. Most Luxurious Elegant Perfume Tray: Natural Marble Vanity Tray
Sale
Real Luxurious Natural Marble Vanity Tray Genuine Marble/Stone Storage Tray for Home Decor Bathroom/Kitchen/Vanity/Dresser Non-Resin/Non-Ceramic
This natural marble vanity tray consists only of marbled.This decorative tray can easily shine your things, adding a classy and modern touch.
This fashionable and functional natural marble decorative tray can be used as jewelry tray, perfume tray, makeup tray, trinket tray, key tray or even coffee tray tea tray. The bottom of this natural marble vanity tray is equipped with a non-slip pad to prevent the tray from slipping or falling and protect your furniture and counter from being scratched
This makeup tray organizer tray is easy to maintain and can be wiped directly with a damp cloth or paper towel. The below of bathroom tray is hard, durable and easy to clean.it's also a reliable helper for different occasions like Christmas, birthday, wedding, baby shower, housewarming and other parties.
The dimension of this decorative tray is 11.8*7.9*0.65 inch (L*W*H of the whole marble tray), and weighs is 1600g. This vanity tray jewelry tray can be placed in the bathroom washstand, living room, coffee table, bedroom dressing table, etc., which reflects the taste of your life
This natural marble tray trinket tray is not only ideal to be used as a organizer tray, and it is also a perfect vintage ornament. This natural marble decorative tray is a perfect birthday gift, anniversary gift, Christmas gift, New Year gift, etc.
Little else is as elegant as marble. This tray is 100 percent authentic. It's made of natural marble stone. No two trays will be the same due to variance in natural stone striations. But this only adds to the beauty of marble.
Venation of this variation is purple and gold, but there are other options available. There's the traditional light gray, black with thin gold veins, lilac purple, dense blue, green and black, and natural pink.
As you know, marble is dense, and this tray is no exception. I think that the weight adds to the luxurious feel of this beautiful tray. It weighs 3.5 lbs (1600 g) and its dimensions are ample for a sizable perfume collection.
Dimensions are 12 inches long by 8 inches wide by 0.62 inches high. With its slightly raised edge, you can discreetly hold perfume bottles in place without fear of them sliding off of the tray.
On the bottom you'll find a translucent pad that both holds the tray in place and prevents it from scratching the surface beneath it. Corners have been slightly rounded to prevent injury.
Pros
Made of 100% natural marble
Non-slip base protects the surface below
More spacious sizing holds more bottles
Sturdy
Cons
More expensive than the others
Because it's natural, there's variance in design
How to Choose the Best Elegant Perfume Tray
We all have different style preferences, so selecting the best elegant perfume tray is a matter of individual taste.
While this is true, the trays listed above are so beautiful that you might be quick to order one so that you can display your perfumes in style. But before you choose a tray, there are a few things you'll want to gain clarity on first.
Design Aesthetic
Something that's elegant is refined and pleasing to the eye. But there are many different design styles that can be described as elegant.
If you're redesigning your space, then you'll want to choose a tray that goes well with your new color and design style. But if you're adding a tray to a predesigned space, then you already have style and color scheme to work with and can choose a tray based on these existing standards.
You'll want to choose a color and shape that works well for you. Should the tray be made of clear glass, marble, wood, metal, or some other material? Would a square, rectangle, round, or oval tray best fit the space you have in mind for the tray?
While mirrors and crystals are glamorous, they don't accompany all design aesthetics well. Marble veins are lovely and mesmerizing, but might clash with some design styles. So just keep your desired design aesthetic in mind as you choose an elegant perfume tray.
Tray Dimensions
Understanding what size tray you need is key. There's nothing worse than ordering a tray, and then discovering that it's way too small for your growing perfume collection. From the opposite perspective, if you're loyal to one or two fragrances, then a smaller try might work better for you.
Be sure to pay attention to tray dimensions. How long, wide and high is the tray? If it's round, what's its diameter?
In order to determine how much tray space you'll need, there are two things to consider: where you plan to place the tray and how many bottles of perfume you'll need the tray to hold.
Measure both. Take out your tape measure to determine the dimensions of the area you have in mind on your table, counter, or shelf. What about the space around it? You'll want to leave room or buffer space so that the tray can securely fit without potential for tipping over the edge of the table, counter, or shelf.
In order to measure the dimensions of your perfume bottles, you can use yarn or some other string. Start by arranging your perfume bottles as you envision them in your imagination.
Next, take some string and gently wrap it around the bottles. Cut or mark the string, and then line it up with a tape measure to determine your ideal tray dimensions.
Planning ahead in this way can prevent frustration and the time wasted having to return or exchange a tray that doesn't meet your needs.
Tray Affordability
Just how much elegance can you afford?
Perfume tray prices can vary by size and material. While you want to choose the right dimensions and aesthetics to your liking, you also want to do so within your means.
If you see a design style that you like but feel it's too expensive, keep searching. You'll likely find a version of it that's somewhat less expensive.
Just be sure to select one that's well-made even if it's less expensive. Sometimes paying less ends up costing you more in the long-term if the product isn't made well.
Conclusion
Elegant perfume trays are a nice design treat that also serve the function of organizing and displaying your perfume bottles.
Selecting one is a matter of preference, but I hope that this post helped narrow your options. If I were selecting a new tray, I'd choose the natural marble vanity tray due to its unique striations and deep hues.
But you have to choose what's best for you and what matches your decor. Consider the size and where you want to put the tray as well.
If you have dozens of perfume bottles, then you may want to consider one of these larger organizers instead of or in addition to a perfume tray.