Yves Saint Laurent fragrances are luxurious and lasting. Black Opium's addictive coffee gourmand blend keeps you wanting more but its price tag can cause you to search for perfume dupes similar to YSL Black Opium.
You can't always trust alternative luxury fragrances, but I can assure you that I scoured the Internet to find the best Black Opium dupes for you to enjoy without going broke.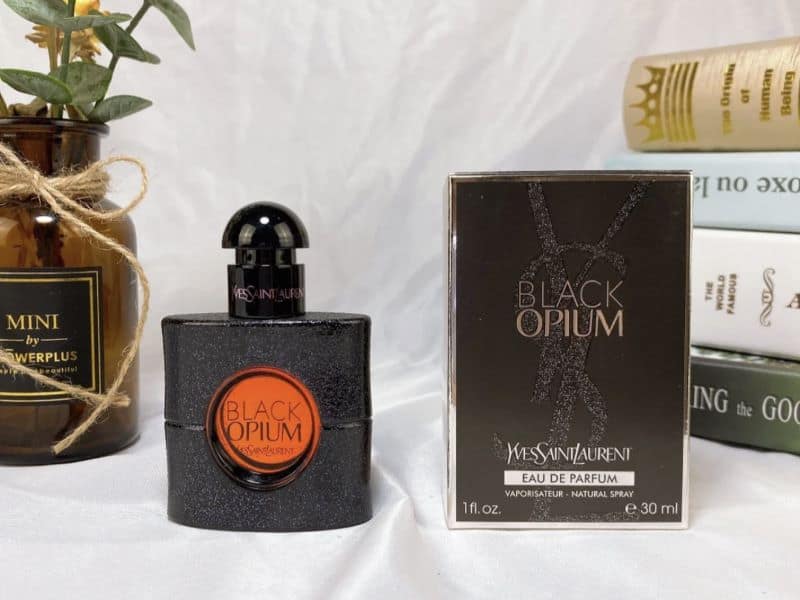 Top 7 YSL Black Opium Perfume Dupes
As of this posting, a 30 mL (1 fl oz) bottle of Black Opium will set you back $83 USD. Larger bottle prices soar up to $175 USD. Their least expensive bottle costs $30 USD, for less than half an ounce of fragrance (10 mL/0.33 fl oz). Current economic times make it hard to justify spending this much money on one bottle.
But Yves Saint Laurent (YSL) Black Opium's surprisingly attractive top coffee notes transition into white floral heart notes, ending on a base of warm woods and creamy vanilla. There are also hints of pepper, pear, patchouli, and woods. It's a spicy sweet gourmand perfume that pulls you in and doesn't loosen its grip.
So how can you top that? Popular since its 2014 launch, Black Opium is one of the most duplicated fragrances on the market. Believe it or not, there are a number of perfumes that are similar to Black Opium that you might consider purchasing as an alternative. Below are my seven best suggestions for you.
1. Closest Match: Alexandria Fragrances' London Destination Extrait de Parfum
Core scent notes are a blend of roasted coffee, vanilla, and pear, which mimics Black Opium well. Additional scent duplicates include pink peppercorn, patchouli, jasmine blossoms, orange blossom, licorice, and bitter almond.
Alexandria Fragrances didn't forget the smoky wood notes. Cedar and cashmere wood are the base of this fragrant combination. It's a perfect combination of sweet, spicy, and earthy notes.
There's likely a different amount of each fragrance that's combined to make London Destination a bona fide Black Opium duplicate, but it's one of the closest matches that I've come across.
Similar to the YSL original, it's best to wear London Destination during cooler months because it would project too far when it's warmer outside.
You can expect this scent to last you throughout the day without being too overpowering. London Destination is a high-quality Black Opium replica that you wouldn't regret purchasing because it smells authentic and isn't cheaply made.
At slightly over $30 USD for 55 mL (1.8 fl oz), this glass bottle would last you throughout the fall and winter. Depending on how often it's worn, it may last two years or more.
2. Budget Alternative: Vocal Performance Eau de Parfum Inspired by YSL Black Opium
A very similar budget alternative would be an eau de parfum by Vocal Performance. It's slightly less expensive than London Destination, with close to a full ounce more fragrance.
You can expect to pay about $25 USD for 2.5 oz (75 mL) of perfume. That's really reasonable for a scent that's an almost exact replica of the YSL original.
Equally important is that it also lasts a long time – 8 hours or more – so you won't have to reapply the perfume throughout the day. That means you're using the same amount of fragrance during the fall and winter, but it's going to last you a little longer.
Vocal Performance uses the same fragrance blend, though likely in different proportions:
Top notes: Pear, pink peppercorn, orange blossom
Middle notes: Coffee, jasmine, bitter almond, licorice
Base notes: Vanilla, patchouli, cedar, cashmere woods
Vocal Performance exists as a company to help make luxury fragrances more accessible. But their formula incorporates 15-20% fragrance oils, which is impressive for an eau de parfum at this price point.
3. Slightly Sweeter Dupe: Prerogative Eau de Parfum Spray by Britney Spears
Britney Spears Prerogative, Unisex Eau De Parfum EDP Spray for Women, Men and All, 3.3 Fl Oz
BRITNEY SPEARS PREROGATIVE The fragrance for all with no boundaries, created for anyone & everyone, regardless of your gender identity
YOUR PREROGATIVE This long-lasting Woody Amber fragrance is free from expectation, labels & judgements – it's perfume for women, perfume for men, perfume for all
PROVOCATIVE SCENT A bold mix of juicy Apricot Nectar, fresh Red Calla Lily & seductive Amberwood notes
STANDOUT APPEAL In Britney's favorite shade, this pink-colored fragrance lets you play it your way
INNOVATIVE PACKAGING As rule-breaking as the scent within, Britney inspires individuality with this modern, asymmetrical matte black bottle
Launched in 2018, four years after Black Opium, Britney Spears' Prerogative is another close replica of the YSL original. It just smells a little sweeter and is offered at a much lower price point.
A 3.3 oz (100 mL) bottle of Prerogative costs close to $30 USD. The same price category for Black Opium gives you only one-tenth of the amount of Prerogative EDP.
But don't let the low price fool you. This fragrance smells more expensive than it costs and can be worn as a daily signature scent.
Prerogative is marketed with the same sentiment as Black Opium. It's for the person who dares to be their true self – breaking the rules and mowing over boundaries. This is a gender-neutral scent that's an accurate dupe for YSL Black Opium.
Fragrance notes include a few variations:
Top: apricot, pink peppercorns, goji berries
Middle: coffee, white lily, saffron
Base: sandalwood, amberwood
Instead of pear and orange blossom, you'll find apricot and goji berries as the fruity and slightly more intense top notes.
Saffron is used in place of licorice and bitter almond middle notes. But saffron is still earthy and leathery, which pulls the sweet notes down a bit. Instead of jasmine, you'll notice that white lily blossoms are used, but both release a pleasant and fresh floral scent.
Spicy and warm sandalwood is combined with the sweet and musky woodiness of agarwood, which contributes to the sweeter tones of this fragrance.
Since it isn't as heavy as Black Opium, in addition to fall and winter, Prerogative can be worn during the spring and summer on cooler days. This scent lasts for hours – well into the night.
4. Most Economical: La Rive Touch of Woman Eau de Parfum
If you want even more liquid fragrance for the amount paid, then Touch of Woman by La Rive would offer you the most value for your dollar. Currently, you can find a 90 mL (3 fl oz) bottle for under $15 USD. There are some nuances in its fragrance notes:
Top: bergamot, peach
Middle: white flowers
Base: sandalwood, vanilla
Released in 2015, Touch of Woman is an energetic spicy vanilla fragrance with a more feminine spin on Black Opium than Britney Spears' Prerogative.
One downfall to this dupe is that the scent lasts about half as long – for 4 to 5 hours. If coffee and chocolate notes are what most draw you into Black Opium, then you wouldn't like this alternative. It's best to wear Touch of Woman during fall and winter months.
5. Best Fragrance Oil Alternative: Quality Fragrance Oils' Impression #138 YSL Black Opium
Quality Fragrance Oils' Impression #138, Inspired by Black Opim for Women (10ml Roll On)
PURE, UNCUT OIL: Enjoy all-day longevity with our alcohol-free fragrances. Traditional perfumes and colognes contain up to 80% alcohol, which quickly evaporates, taking the scent with it.
INSPIRED BY CLASSICS: Using advanced perfumery and technology, Quality Fragrance Oils creates renditions with a familiar scent while remaining affordable for all.
CONVENIENT: Our 10ml roll-ons are easy to take on the go, and TSA-friendly - ensuring you can smell great all the time, wherever life takes you.
NOTES: Coffee, Pink Pepper, Orange Blossom, Jasmine, Vanilla, Patchouli, Cedarwood
DISCLAIMER: Quality Fragrance Oils creates impressions of familiar scents. We are not associated with designer brands or their manufacturers. Names are provided for comparison purposes.
This is another scent that leans more towards vanilla. It's a decent replica of Black Opium, but it's not exact.
It arrives as a 10 mL rollerball applicator, making it highly portable, and it costs under $8 USD. Impression #138 is a great option for those with dry skin who can't use alcohol-laden spray-on perfumes. For the best projection, roll the oil onto your pulse points.
6. Unisex Floral Alternative: Lattafa Bade'e Al Oud Amethyst Eau de Parfum
Sale
You'll notice that this blend excludes coffee and bitter notes. The dominant fragrance here is rose, and then the earthy, smoky woodiness of oud. But there are still spicy and sweet notes that overlap with Black Opium.
Top: bergamot, pink peppercorn
Middle: jasmine, Bulgarian rose, Turkish rose
Base: oud, vanilla, amber
Amethyst is poured into a highly decorative bottle that holds 90 mL (3.4 oz) of fragrance for under $33 USD. Although there's no coffee, this is still a spicy, earthy, and sweet perfume that both men and women enjoy wearing in place of Black Opium.
7. Romantic Alternative: TokyoMilk Dead Sexy Eau de Parfum
At approximately $45 for 30 mL (1 oz), this is the most expensive fragrance on the list. But it's a romantic scent combination that I couldn't overlook. Dead Sexy was released prior to Black Opium but the notes are close enough for me to suggest it as an alternative.
Tokyo Milk Dead Sexy incorporates the vanilla, wood, and white floral notes from Black Opium with more nuanced coffee and chocolate notes through the addition of ebony wood.
Ebony wood is at once, rich, seductive, smoky, spicy, and leathery. Some people can identify coffee and chocolate notes as well. It's a more seductive alternative to Black Opium.
Dead Sexy is primarily an evening fragrance that's best worn during fall and winter.
Conclusion
There's no real match to the sultry beat-selling original scent of YSL Black Opium. It's a bold and warm fragrance for the uninhibited woman.
But the asking price for this fragrance can be beyond the reach of even the fieriest woman – and there's nothing wrong with that. Others like the original scent but would prefer for it to have a slightly different formula in order to enjoy wearing it.
This is where YSL Black Opium dupes come into play. Out of all the suggested fragrances, I think that Alexandria Fragrances' London Destination is the clear winner. It's the closest you can get to the original YSL Black Opium fragrance without the high price tag.
My second choice would be Tokyo Milk's Dead Sexy for its hint of coffee and chocolate with a smoky twist.