Polo Ralph Lauren has been a customer favorite for over four decades since its initial release. While this fragrance definitely has staying power, when you hear about what's often affectionately called, Polo Green Cologne, you might wonder, 'what does it smell like?'
Initially released in 1978, Polo was one of the first fragrances released by Ralph Lauren. The other fragrance was Lauren, a fragrance for women. It's been reported that this was the first time that a fashion house simultaneously released fragrances, one for a man and the other for a woman. They were solely introduced at Bloomingdales, where he had his own in-store boutique.
The Ralph Lauren company was launched in 1967, when he was permitted to introduce his own line of men's neckties while working for Beau Brummel. Apparel was introduced in 1971. After the fragrance line was launched in 1978, his home line was introduced in 1983.
Since 1997 Ralph Lauren has been publicly traded on the New York Stock Exchange. There are multiple lines and both mid-range and luxury products sold by the company. Many stand-alone store locations exist in major cities, like New York, London, and Chicago.
In keeping with Lauren's interest in sports, the polo theme is interwoven into the majority of Ralph Lauren product lines. But the founder summarizes his company this way, "What I do is about living the best life you can and enjoying the fullness of the life around you. From what you wear to the way you live to the way you love."
Now approaching its fifth decade, interest in Polo green cologne is starting to wane but still remains strong in comparison to similar fragrances. Let's try to understand why it's sticking around.
Things to Consider Before Buying Polo by Ralph Lauren
No products found.
Polo by Ralph Lauren is a woody chypre fragrance formulated as an eau de toilette. Chypre describes a group of fragrances with the same general fragrance categories on the top, middle, and base layers.
Chypre fragrances begin with citrus notes on the top, musky or resinous middle notes, and mossy base notes. There can be variation on all layers, but these three scent categories will appear in some way when you smell a chypre fragrance. So, this is something to keep in mind.
Additional points to consider involve the masculinity of this fragrance, its fragrance strength, pricing, and a possible shift in its scent formula.
Highly Masculine Scent
Polo would not be categorized as a unisex fragrance. It heavily leans towards the masculine end of the spectrum.
The ideal customer for this fragrance would be someone who's looking for a classic male fragrance – a scent that's unmistakably masculine.
Polo's woody and chypre notes are not softened with sweet or powdery scents nor made less intense in any way. This is a full force fragrance that exudes confidence and helps you feel refreshed.
Fragrance Strength
As an eau de toilette, it would be common for Polo Green to last minimally two hours and up to four hours total. This is due to the fact that there's typically 5% – 15% fragrance oil in eau de toilettes, making them less intense or lasting than an eau de parfum.
But Polo by Ralph Lauren lasts much longer than the typical eau de toilette. Its fragrance strength doesn't restrict its performance.
Pricing
Because this is a classic fragrance that's made by a company that's synonymous with luxury, you should also expect to be charged a moderately high price to obtain this fragrance.
Ralph Lauren fragrances aren't as expensive as a company like Creed or Tom Ford, but it's pricier than Nautica and Cremo.
Even though Ralph Lauren has multiple brand tiers, even their mid-range lines are more expensive than the average-priced fashion or fragrance house.
Possible Formulation Change
According to customer feedback, many of them feel that the scent has changed in recent years. Some of them report that the fragrance used to last for ten hours or more and now they'd be happy if it lasted for five hours.
There's a lot that can be said about this. First of all, fragrances that've been in existence for decades do change. Sometimes the ingredients that could be used in the 70s or 80s without a problem are no longer categorized as safe for cosmetic use by either the government or other regulatory agencies.
Oakmoss is one such ingredient. Current research indicates that oakmoss causes or triggers skin sensitivities, called contact dermatitis. A rash can form on your skin post-contact. In this case, the fragrance industry took precautionary action against its use.
Since 2009, use of oakmoss has been restricted for any perfumer associated with the International Fragrance Association – of which 90 percent of all fragrances are produced. Associated perfumers now use a synthetic version of the original fragrance oil.
Even though synthetic fragrance oils are inspired by botanical ingredients it's impossible for them to be exactly like the original.
Customers who are more sensitive to ingredient changes – those who can 'sniff it out', so to speak, might not be wrong about the change, but it's also possible that they don't understand that sometimes such changes are necessary and unpreventable.
Secondly, Polo is an eau de toilette, so if the scent is weaker and only lasts for five hours, it still has more longevity than most eau de toilette fragrances.
For every complaint that I read about changes to this fragrance, there were the same number of people or more who've been wearing the scent for decades and still love it, anyway.
Why Polo Green?
When it was initially launched in 1978, this fragrance was, and still is actually called Polo by Ralph Lauren. But over the years, Ralph Lauren released Polo Blue, Polo Red, Polo Red Extreme, and Polo Black and Double Black.
Each fragrance bottle color is the same as its name. Although Polo preceded these three colors, it's still a fresh, green fragrance that's always been presented in a green bottle, therefore, it's referred to as Polo Green even though that's not its official name.
Features & Benefits of Polo Green Cologne
No products found.
Polo Green is a timeless cologne that's endured the fragrance market for close to five decades. Its enduring presence is a huge benefit because if you try this fragrance and come to like it as your signature scent, you can be almost certain that you can continue to wear it for decades to come.
Fragrance Availability
The three most common bottle sizes that I found were:
59 mL (2 fl oz)
118 mL (4 fl oz)
237 mL (8 fl oz)
Smaller bottles are unavailable on the Ralph Lauren website, but various bottle sizes are still available in department stores and through online retailers. You can even still find gift sets that include two bottle sizes along with deodorant.
The smallest bottle is perfect for travel. The larger bottle is a great gift idea for someone who wears this scent religiously.
Polo Green Fragrance Profile
Earlier I mentioned that Polo is a woody chypre scent, but I didn't delve into which scents comprise each fragrance layer.
Ralph Lauren offers a general overview of Polo's scent profile. They describe it as a blend of "wood, leather, and other natural scents."
Key fragrance notes can be found in other places online. One such description is below:
Top Layer
Middle Layer
Leather Accord
Tobacco Leaf Absolute
Tarragon Accord
Base Layer
Patchouli
Oakmoss Accord
Incense Oil
While more detailed than the Ralph Lauren description, these layers are less detailed than another source I found, which includes:
Top Layer
Bergamot
Basil
Artemisia
Juniper berries
Caraway seeds
Coriander
Middle Layer
Pine tree needles
Leather
Chamomile
Pepper
Geranium
Jasmine
Carnation
Rose
Base Layer
Oak moss
Tobacco
Patchouli
Cedar
Vetiver
Musk
Amber
There is definitely overlap amongst these descriptions but also significant differences. This could be a matter of discretion on part of Ralph Lauren. Use of the phrase, "other natural scents" could describe any number of additional fragrance notes.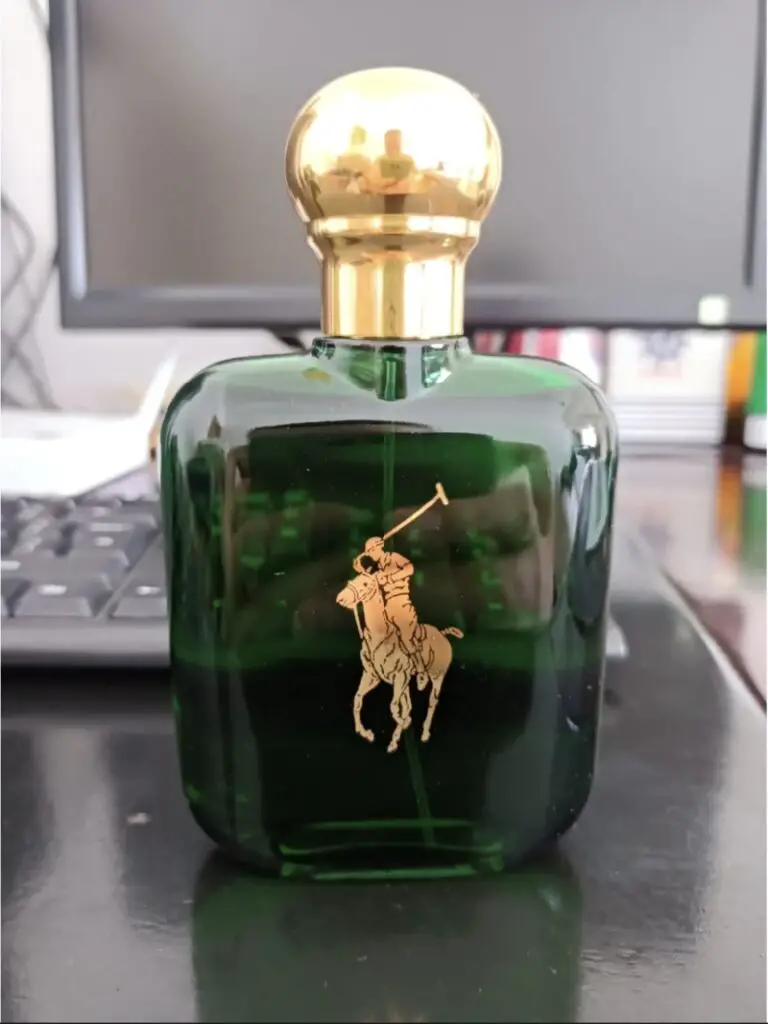 But these variations by source might also be reflective of customer complaints about Polo Green formula changes.
Regardless, it's clear that this is truly a woody chypre fragrance because bergamot is on the top layer, pine is a resinous fragrance in the middle layer, and oak moss is one of the base notes.
What you can be certain of is that Polo Green is woody, leathery, and has additional natural fragrances.
Polo Green Scent Performance
No products found.
Polo Green lasts long, even as an eau de toilette. If you apply it during the day, it will last well into the evening.
Projection can be strong, so you'll want to start by applying the spray to one or two pulse points in order to gauge how this scent projects off of your skin.
Best worn in winter or fall, you can get away with wearing Polo Green during spring, but I would avoid spraying it on during summer months. Too much heat can cause the spicy, leathery, and woody notes of this scent to become overwhelming.
Polo's sillage leaves a moderate to strong trail, depending on the weather and your body chemistry.
Benefits of Wearing this Fragrance
Polo Green is a conventional fragrance used by men around the world. Some of them begin using this fragrance as adolescents or teens as a sort of rite of passage.
It's simply a classic fragrance to keep in your collection. And its iconic green glass bottle with gold metal cap adds depth and variety to your fragrance display.
If you want to wear a unique fragrance that helps you stand out from the crowd, then Polo is not the scent for you. But if you want a refreshing manly fragrance that can be worn on most days, then Polo Green is the perfect solution.
Not only can Polo Green easily be worn as a signature scent, but it's also very accessible, meaning that you can replenish your supply without having to hunt or haggle for a new bottle.
Polo Green Cologne Social Proof
It's not difficult to find customers raving about Polo Green. Although it's an older scent, it's still a timeless classic that's purchased time and again – typically by individuals who've worn it for decades.
Favorable Feedback about Polo Green Cologne
This scent is ideal for daily use. Its projection is just right – not too subtle or too strong.
Polo Green is such a timeless fragrance that it's appropriate not only for older men but for young men as well. It can make a nice gift for teen and college aged males.
As such, some of the older men who wear this fragrance began wearing it as a teen and continue to use it to this very day.
Women have commented that they love how this fragrance smells on a man; it makes men who wear it even more attractive to them.
Polo is an all-time classic that men have stated garners many a compliment from women – even strangers.
Even men who've worn Polo for decades, and then try a new cologne always tend to return to Polo Green.
Another customer described this scent as what it must smell like to smoke a cigar while standing in the woods.
Polo Green is a strong fragrance that will last all day.
Polo Green is a go-to cologne that can make a great gift when you're unsure of what fragrance to get a man who likes woody fragrances.
Unfavorable Feedback about Polo Green Cologne
This scent is definitely not for those who dislike fresh, earthy fragrances. Some customers describe it as smelling like pine trees and dung. If you dislike the smell of a walk through the woods, you probably won't like Polo Green.
Some people smell this fragrance on others and get an instant headache. The scent combination simply isn't for everyone.
As one wearer mentioned, this is a scent that you either love or hate. There are few people who are on the fence about it.
Alternatives to Polo Green Cologne
Scent is highly subjective. Some people are drawn to traditionally male fragrances, and others are not. This short list will offer you alternative scents that are similar to and different from Polo Green.
Polo Intense by Ralph Lauren
No products found.
This fragrance is described as a "new classic for a new generation."
An even fresher version of Polo Green, Polo intense is housed in a bottle that's a darker shade of green, topped off with a gunmetal cap.
Per Ralph Lauren, top notes include basil, spearmint, and grapefruit oils. In the middle we have clary sage leaf, violet leaf absolute, and thyme oil. Base notes include patchouli, Ambroxan, and vetiver oil.
It's less woody than Polo Green and excludes smoky notes.
If you like Polo Green, but it reminds you of a fragrance your father or grandfather would wear, then try this fresher, less woody version.
Pricing and performance is the same between these two versions.
Cremo Company Bourbon & Oak Cologne
Cremo Bourbon & Oak Cologne Spray, A Sophisticated Blend of Distiller's Spice, Fine Bourbon and White Oak, 3.4 Fl Oz
A FRAGRANCE FOR TODAY'S MAN - A masculine scent with a tantalizing essence of lively distiller's spices, smoked bourbon and oak in a luxurious cologne
QUALITY - Thoughtfully designed to perfection by our team of world-class scent experts and produced using only the finest ingredients
GOOD UNCOMMON SCENTS - Our layered, long-lasting, and complex scents are a true sensory experience creating multiple levels of notes that provide a Cologne unlike any other
VALUE - A scent you'd expect to find in a high-end boutique without going to a high-end boutique
TRAVEL - At 3.4 fluid ounces, these colognes are considered TSA compliant and can safely pass the carry-on baggage screening process
If you like Polo Green's woody and spicy notes but prefer to tone down the freshness, then Cremo's Bourbon & Oak Cologne might be a good fit for you.
Cremo Company has been a quiet storm in the men's grooming category. Their colognes come in pleasing fragrances and perform well, but are also more affordable than you'd expect.
Bourbon & Oak is simply layered with spicy distiller's notes on top, single-cask bourbon in the middle, and white oak on the bottom. Although bourbon is at the heart of this fragrance, it doesn't smell overly boozy.
Performance is exceptional for a cologne with moderate to long lasting longevity and a moderately strong scent trail. It also performs for longer than four hours for most people.
Cremo colognes are solely available in 100 mL (3.4 fl oz) bottles. Seasonally, fall, winter, and early spring are the best months to wear this fragrance.
Polo Blue Eau de Toilette by Ralph Lauren
No products found.
Returning to Polo for the last alternative fragrance, Polo Blue captures the fresh, citrusy notes of Polo Green, but adds some sweetness to it and tones down the wood notes.
Common bottle sizes include:
40 mL (1.3 fl oz)
74 mL (2.5 fl oz)
125 mL (4.2 fl oz)
You might also come across a 200 mL (6.7 fl oz) bottle through online retailers. Pricing is on par with Polo Green but although its fragrance strength is the same (eau de toilette), Polo Blue does perform in the same way as Polo Green.
Polo Blue's longevity, projection, and sillage are all moderate, which is the norm for an eau de toilette, but subdued in comparison to Polo Green.
Scent notes also contribute to performance. Polo Blue is an aromatic and aquatic fragrance, so it's not going to perform in the same way as a scent like Polo Green.
Ralph Lauren lists these scents as Polo Blue's fragrance layers:
Top: cantaloupe melon, watery melon, cucumber, and bergamot
Middle: aquatic accord, clary sage, geranium, basil verbena oil
Base: patchouli, washed suede and sheer musk accords
First released in 2003, this is another Ralph Lauren fragrance that's worn as a casual signature scent, but with more subdued fragrance notes.
Polo Green Alternatives Comparison Chart
Polo Green*
Polo Intense
Cremo Bourbon & Oak
Polo Blue
Year Released
1978
2021
2017
2003
Fragrance Strength
Eau de toilette
Cologne Intense
Eau de toilette
Eau de toilette
Fragrance Category
Woody Chypre
Aromatic Fougere
Woody Oriental
Aromatic Aquatic
Top Notes
-Pine Accord
-Thyme
-Basil
-Basil
-Spearmint
-Grapefruit oils
-Spicy notes
-Cantaloupe
-Watery melon
-Cucumber
-Bergamot
Middle Notes
-Leather
-Tobacco Leaf
-Tarragon
-Clary sage leaf
-Violet leaf absolute
-Thyme oil
-Bourbon
-Aquatic accord
-Clary sage
-Geranium
-Basil verbena
Base Notes
-Patchouli
-Oakmoss
-Incense Oil
-Patchouli
-Ambroxan
-Vetiver oil
-White oak
-Patchouli
-Washed suede
-Sheer musk
Approximate Longevity
Strong
Strong
Moderately strong
Moderate
Approximate Projection
Strong
Strong
Moderate
Moderate
Approximate Sillage
Strong
Strong
Moderately strong
Moderate
Retail Price
💲💲💲💲
💲💲💲💲
💲
💲💲💲
*The middle version of Polo Green fragrance notes is listed here.
For a fresher, less woody version of Polo Green, try Polo Intense. For a scent that emphasizes Polo Green's spicy and woody notes, give Cremo Bourbon & Oak a try. And if you like Polo Green's citrusy notes, but want less prominent wood accords, then try Polo Blue.
Conclusion
Polo by Ralph Lauren is an iconic men's fragrance inspired by the thoroughbred sport of the same name. It calls to those who engage in activities in the great outdoors – the scent of piney woods, smokiness, and fresh citrus and herbal notes dominate.
Polo Green cologne is a good scent to have on hand even if you choose not to wear it daily. It's that scent that you can always resort to when others don't seem to be a good fit for a given occasion.
Although Polo can be a little pricey, it's less expensive than niche fragrance brands and is available in smaller bottles, making it more accessible.
For a timeless masculine fragrance that is almost always a good choice, try Polo Green Cologne.