There are a number of reasons why you might want to purchase alternatives to Creed Aventus. The most obvious reason is to pay a lower price. Another reason could be that you tire of the fragrance variation that occurs between batches due to Creed's infusion process.
Whatever the reason, I've researched tens of Creed Aventus clones in order to share the best alternatives that you must try.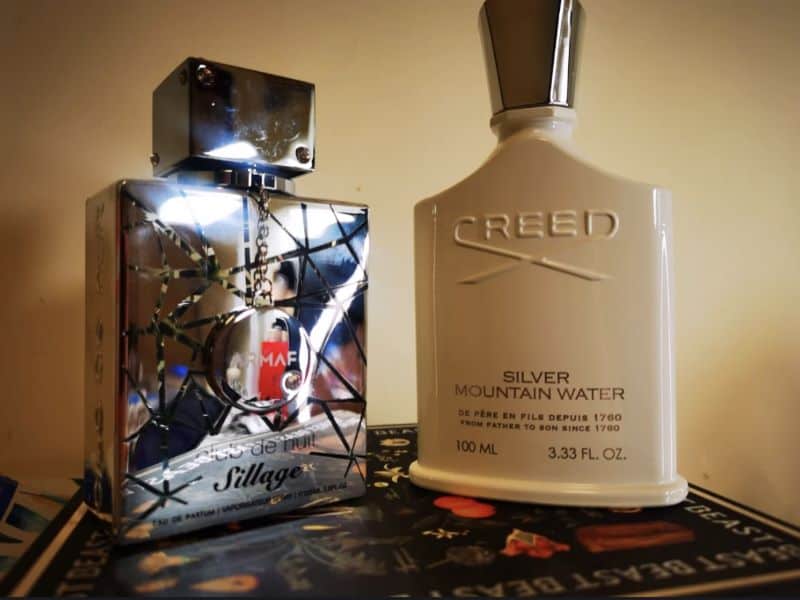 Top 7 Creed Aventus Alternatives
As a review Aventus has a strong pineapple opening that's accompanied by bergamot, apple, and black currant leaves. Next, you'll encounter birchwood, jasmine, patchouli, and pink peppercorns. Lastly, base notes include ambergris, musk, oakmoss, and vanilla.
Fragrances on this list of Aventus clones may not mirror the above fragrance accords exactly, but they share enough fragrance notes to mimic the Aventus original.
I suggest you narrow the list down to two or three, and then give them all a try to determine whether or not they sit well on your skin.
1. Closest Match: Club de Nuit Intense Man Eau de Parfum by Armaf
Sale
Armaf Club De Nuit Intense EDP Spray Men 6.8 oz
Launched by the design house of Armaf
Lemon, black currant, apple, bergamot, birch, pinapple, rose and jasmine.
It is long lasting fragrance
Keeps you refreshing all day
It's a recommended for casual wear.
Size: 200 mL (6.8 fl oz)
Approximate price: Just under $100 USD
Fragheads around the world agree that Club de Nuit Intense is the closest you're going to get to a Creed Aventus clone.
The price is about one-fifth of what you pay for 100 mL (3.4 fl oz) of the famous original. So, you'd be getting twice as much juice for a significantly lower price.
Apart from price, fragrance notes are quite close. But I must warn you that you might be taken aback with the initial opening. It's more pungent than Aventus and can even be described as unpleasant.
But as time passes, I promise you that it smells a lot like Creed Aventus. Here are the accords:
Top layer:
Lemon
Pineapple
Bergamot
Black currant
Apple
Middle layer:
Base layer:
Musk
Ambergris
Patchouli
Vanilla
Launched in 2015, you can read through these fragrance notes and see that Club de Nuit Intense was quite deliberately inspired by Creed Aventus.
Patchouli was placed on the base layer instead of in the middle and oakmoss was excluded altogether. There also aren't any peppery notes, but this fragrance performs fantastically, so it isn't simply a cheap knock-off.
2. Hard to Find Closest Match: Club de Nuit Intense Men Limited Edition Parfum by Armaf
ARMAF Club De Nuit Intense Men Limited Edition Pure Parfum, Black, Woody Spicy Masculine Scent, 3.6 Fl Oz
Top Note: Apple, Bergamot, Blackcurrant, Pineapple, Lemon
Middle Note: Rose, Birch, Jasmine
Base Note: Musk, Ambergris, Patchouli, Vanilla
Experience the re imagining of the luxury fragrance, bringing together all the best parts, creating a Legendary product. Deserving of the title of luxury.
Size: 105 mL (3.6 fl oz)
Approximate price: Under $75 USD
If this weren't a limited-edition fragrance, I would have labeled it the closest match hands down. It's smooth and sophisticated, and you're sure to be showered with compliments.
Top notes:
Pineapple
Lemon
Lime
Black pepper
Pink pepper
Bergamot
Middle notes:
Jasmine
Rose
Lily-of-the-Valley
Freesia
Base notes:
Ambergris
Ambroxan
White musk
Cedar
Patchouli
Leather
Again, it's the middle layer that's most different, but includes peppery notes along with cedar in lieu of oak moss.
This layer is more powdery with the addition of leather for the dry down. Still, I don't think you can get a more accurate clone than this one.
You can wear this one year-round. It has strong sillage and insane longevity.
Sale
Size: 50 mL (1.7 fl oz)
Approximate price: Slightly over $100 USD
Nishane is a unisex fragrance first released in 2017. It's another one that can be worn year-round, but this one may not project as well on the coldest of winter days.
Top notes:
Pineapple
Grapefruit
Bergamot
Middle Notes:
Base notes:
You won't find the birch notes here but its oakmoss and woody dry down compensate for that.
This fragrance also excludes peppercorn at the opening and vanilla at the close. So Nishane is less edgy and not as sweet, but it's still a lovely scent.
Nishane has exceptional longevity – even longer than Aventus – so you can apply it once and wear it well into the night. Sillage is very strong, so if you're looking to get noticed, then Nishane is the choice for you.
4. Freshest Most Simple Alternative: Vibrant Leather Eau de Parfum by Zara
Size: 100 mL (3.4 fl oz)
Approximate price: About $75 USD
A 2018 release, Vibrant Leather has one of the simplest layer accord arrangements in the entire list. The result is a clean fragrance that has moderate sillage and longevity.
Top note:
Middle note:
Base note:
Bergamot lends a fresh introduction and there's no doubt that bamboo extends the fresh and grassy notes. Birch notes are absent, but leather gives this fragrance an earthy, somewhat sweet, and smoky finish.
It's a good quality fragrance at a decent price.
5. More Mature, Less Fruity Clone: L'Aventure Eau de Parfum by Al Haramain
Size: 100 mL (3.4 fl oz)
Approximate price: Under $50 USD
L'Aventure can be worn during most months, but it might not smell as strong when it's really cold outside. You may have to reapply it if you intend to stay out late into the evening. Aside from that, it's a pretty versatile fragrance.
The asking price is significantly lower than Aventus, but this is a high-quality fragrance with fantastic longevity and better than good sillage.
Top notes:
Middle notes:
Jasmine
Lily-of-the-valley
Wood notes
Base notes:
Elemi offers a piney, balsamic, citrusy scent that supports the lemon and bergamot notes. It also lends spice notes in keeping with pink peppercorns found in Aventus. I'd say that this top layer smells slightly more complex than Aventus, though.
There are far fewer fruity notes, so if the fruitiness of Aventus was a turn off for you, then you may be drawn to L'Aventure.
Instead of birchwood, you'll smell a woody blend combined with sweet jasmine floral notes in the middle. Patchouli has been added to the base instead of the middle, making that fragrance last longer as the scent dries down.
Although there isn't any vanilla or oakmoss on the base level, the amber lends some sweet piney vanilla notes.
L'Aventure is more of a mature scent for middle-aged and older gentlemen.
6. Budget Alternative: Insurrection II Pure Eau de Toilette for Men by Reyane Tradition
Size: 89 mL (3 fl oz)
Approximate price: Under $25 USD
A 2013 launch, Insurrection II Pure is a very inexpensive clone with moderate longevity and sillage.
Looking at the fragrance layers, Insurrection II Pure is nearly an exact match to Creed Aventus and may have been one of the first clones, but Insurrection II Pure won't perform as well as Aventus.
The fragrance can be worn year-round, but you can expect less projection in fall and winter. Expecting the scent to last well into the evening would be a stretch. But for the price, Insurrection II Pure performs decently and has good value for the cost.
Top layer:
Pineapple
Apple
Bergamot
Cassis
Middle layer:
Base layer:
Musk
Vanilla
Oakmoss
Amber

Cassis is the same as black currant leaves found on the top layer of Aventus. The only ingredient lacking is pink peppercorns, so you can expect this fragrance to be less spicy.
That said, people who've smelled Creed Aventus before will wonder if you're wearing it when you spray on Insurrection II Pure. You'll definitely receive an abundance of compliments. The only drawback is that you'll likely have to reapply the fragrance sooner than you would if you were wearing Aventus.
7. Aquatic Alternative: Hawas for Him Eau de Parfum by Rasasi
Sale
RASASI Hawas EDP 100ml(3.4 oz) | Long-Lasting Pour Homme Spray, Aquatic Scent Designed to Embody Masculine Strength and Vigor (Hawas for Him)
ABOUT HAWAS: Blends cinnamon, bergamot, orange blossom, grey amber & sandalwood to create an aquatic scent designed to embody masculine strength and vigor. The fragrance captures the adventurous & evocative spirit of the modern man. The contemporary notes of this chic fragrance come with an attitude to match. The clear grey bottle has a python wrapped around the stopper while a textured python on the pack captures the sensuality of the species with aflamboyance redolent of haute couture
TOP NOTES: Apple, Bergamot, Lemon, Cinnamon
MIDDLE NOTES: Orange Blossom, Cardamom, Plum
BASE NOTES: Patchouli, Grey Amber, Drift Wood, Musk
Size: 100 mL (3.4 fl oz)
Approximate price: Under $75 USD
In addition to being an aquatic fragrance, Hawas for Him is slightly spicier than Aventus. It has strong sillage and longevity which means it offers good value for the price.
Top layer:
Apple
Lemon
Bergamot
Cinnamon
Middle layer:
Plum
Watery notes
Orange blossom
Cardamon
Base layer:
Musk
Ambergris
Driftwood
Patchouli
This is a strong fragrance that smells more masculine than feminine, but it can still be categorized as unisex.
There aren't any fresh leaf notes on the top layer nor is there pineapple, but I think plum offers some sweet notes in the middle layer.
All of the middle layer notes veer away from Aventus. Instead of birchwood, there's spicy-sweet cardamom. In lieu of jasmine, you have orange blossom. And patchouli has been shifted to the base instead of the middle.
But some Hawas for Men base notes overlap with Aventus. Driftwood is in place of oakmoss, and vanilla has been excluded, but there's musk and ambergris.
Hawas for Him is the only fragrance on this list with aquatic or plum notes.
Conclusion
Whether it's due to price or simply preference, you have a number of alternative Creed Aventus options to test out.
If you're looking to find the closest match, then you have to try Club de Nuit Intense Men Limited Edition Parfum by Armaf – if you can get your hands on it, that is. Otherwise, Club de Nuit Intense Man is the next best thing.
For a smoother, even more sophisticated fragrance than Aventus, try Nishane Extrait de Parfum as an alternative.
Read more: