Fragrances like Creed Aventus are pillar scents that any fragrance collector should have in their stockpile. Aventus is an exceptional fragrance that's meticulously formulated, filtered, and packaged for sale, but its asking price is far beyond the reach of most consumers.
After using a number of options, Zara Vibrant Leather Eau de Parfum is your best choice as an alternative to Creed Aventus.
One alternative to this expense is finding a Zara cologne that smells like Creed Aventus. This way, you can have a staple scent in your collection without the exorbitant expense.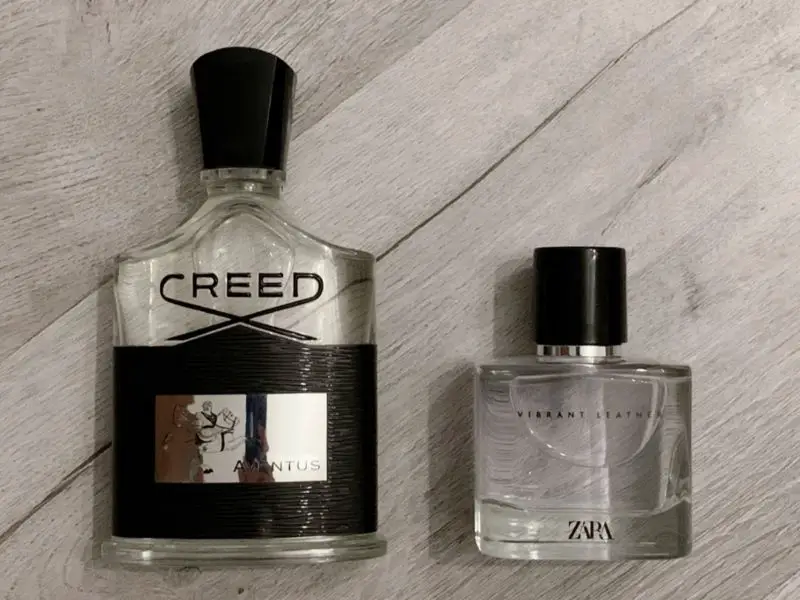 Introducing Vibrant Leather Eau de Parfum by Zara
Vibrant Leather is a well-known Creed Aventus dupe. This eau de parfum isn't an exact match to the refined liquid that we call Aventus, but it's in the ballpark, making it a close enough replica to have you smelling like Creed at a much lower price point.
Zara Fashion House
Zara is a fashion and accessories brand based in Spain. Founded in 1975, this company has a history of creating inexpensive versions of high end products.
Customers were highly receptive to Zara, which allowed the company to open multiple locations in Spain during the 1970's. By the following decade, the company had learned how to streamline their process.
Zara is known for spearheading instant fashion in the 1980's. This is a production process that significantly reduces the amount of time needed to create, produce, and release a trend-driven collection. A process that had taken design houses six months or more to complete was done within two weeks by Zara.
Using this streamlined process, they were able to churn out thousands of designs each year. To this day, customers are still drawn to their quick collection turnovers. They expect to see designs disappear, quickly being replaced with something new and fresh.
Since 1985, they've been part of the distribution company, Inditex, which makes this expedited process run smoothly.
Zara's Further Expansion
As you might have expected, it didn't take long for the company to continue to grow and embark on further expansions.
This process began in 1980 with expansion into Portugal. Nine years later they opened stores in the United States. Further Expansion into Europe began in 1990.
By the late 1990's Zara partnered with Puig to begin releasing fragrances. According to the brands listed on their complete portfolio, it appears as though they've since parted ways. Zara's newest fragrance ranges are reported to be made by Jo Malone.
Between 1999 and 2023, Zara has launched close to 800 fragrances.
Zara Home was launched in 2003. Also distributed by parent company, Inditex, Zara's over 400 home stores are available in over 44 countries.
Now one of the biggest international fashion companies, Zara shows no signs of slowing down.
Vibrant Leather Eau de Parfum by Zara
Released by Zara in 2018, Vibrant Leather is a refreshing fragrance with emphasis on wood and citrus notes.
Perfumer Jérôme Epinette was the nose behind Vibrant Leather. He said of this fragrance, "Vibrant Leather is the balance between the peaceful and romantic side of the woody notes and the vitality and intensity of leather."
Primary fragrance accords include bergamot on the top layer, bamboo in the middle, and leather as the base note.
Bergamot adds sharp citrus notes while bamboo enhances the freshness of this scent combination. Leather can all at once smell sweet, earthy, and smoky.
Also included but not always mentioned are hints of lemon, patchouli, and papyrus.
Papyrus is a grass-like plant that lends earthy, woody, and spicy fragrance notes. Lemon softens the blow of bergamot, adding citrusy sweetness. And patchouli lends its one-of-a-kind sweet and earthy fragrance notes. It also adds warmth, woodiness, and spiciness.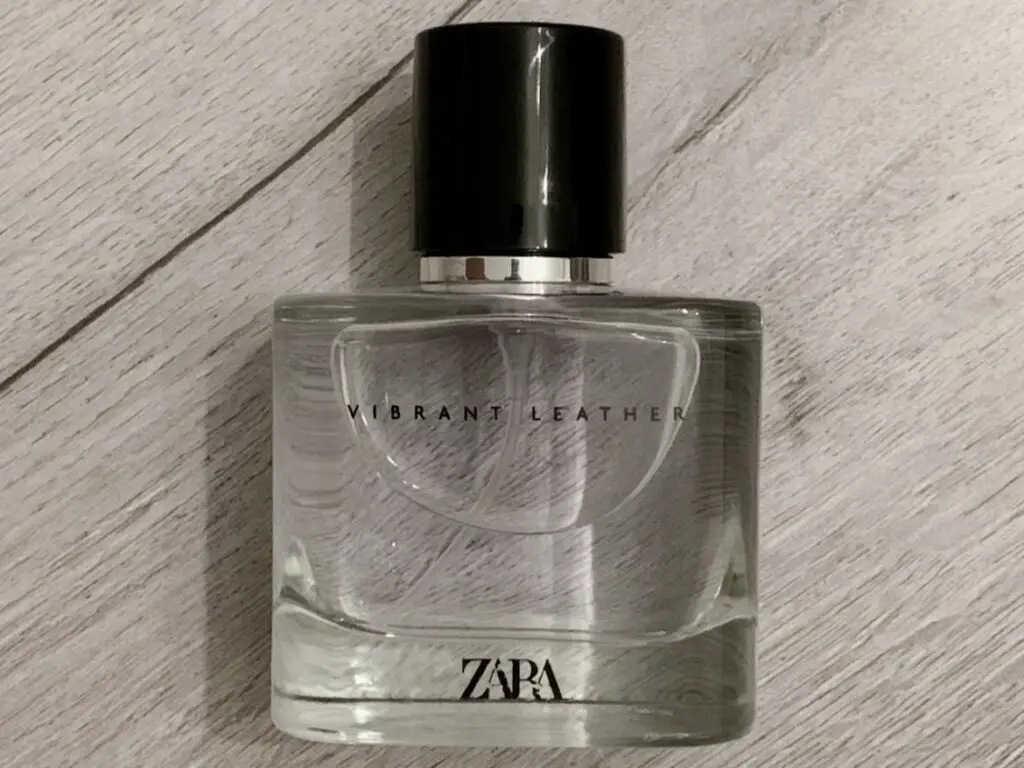 True to Zara labeling, Vibrant Leather comes in matte black packaging with sparse white text. The bottle is made of clear glass with a black atomizer and text. The larger bottle size is 100 mL (3.4 fl oz). A smaller bottle is available as well; it's 60 mL (2.03 fl oz).
Vibrant Leather may not perform as well during cooler months, but it's a good quality fragrance at a decent price that can be worn most of the year.
Pros
Similar enough to Creed Aventus
Inexpensive option
Moderate longevity
Pretty versatile
Cons
Not an exact match
Not as high quality as Creed Aventus
Zara Vibrant Leather & Creed Aventus Face to Face
Zara Vibrant Leather
Creed Aventus
When Launched
2018
2010
Bottle Size
100 mL (3.4 fl oz)
100 mL (3.3 fl oz)
Top Fragrance Layer
Bergamot
Apple
Bergamot
Blackcurrant leaves
Pineapple
Middle Fragrance Layer
Bamboo
Birch
Jasmine
Patchouli
Pink berries
Base Fragrance Layer
Leather
Ambergris
Musk
Oakmoss
Vanilla
Additional Scent Notes
Papyrus
Lemon
Patchouli
N/A
Approximate Longevity
Moderate
Long Lasting
Approximate Projection
Moderate
Moderate/Refined
Approximate Sillage
Close to Moderate
Moderate to Strong
Asking Retail Price
💲
💲💲💲💲💲
In some ways it's difficult to compare a fragrance like Creed Aventus to any other scent that isn't also a niche fragrance.
What Makes Creed Different?
Creed Aventus was created with meticulous attention to detail. What sets this fragrance house apart is that it employs a fragrance steeping method that is rarely used by designer fragrance houses.
An approach adopted from the wine industry, Creed fragrances are aged using the art of millésime, which means, 'a very good vintage' in French.
So, Creed fragrances are formulated, and then stored under optimal conditions in order to further enhance the fragrance.
This aging process also causes each batch of Creed Aventus to be slightly different from the last because even though the same ingredients and process are used, the way that the scent evolves can't be controlled.
Another aspect of this process that sets Creed apart is the craftsmanship that's involved with each bottle of Aventus.
Once the millésime process is complete, a singular human being filters the fragrance into a bottle. Either that same person or someone else then places the Aventus label on the bottle by hand. This hands-on process is practically extinct in the fragrance industry.
That is what makes it difficult to find an exact match for any Creed fragrance.
Nevertheless, Zara's Vibrant Leather is about as close as you'll get to finding a scent that's similar to Creed's woody and fresh Aventus fragrance.
Should You Choose Vibrant Leather or Aventus?
The process involved with creating Vibrant Leather isn't disclosed, which tells me that it isn't highly specialized because that would be a selling point.
Creating more accessible versions of high-priced goods has not only served Zara well, but also their customers. Why overextend yourself financially if there's a more reasonably priced alternative?
Conclusion
Aventus is truly "legendary and unpredictable" due to the specialized process involved with producing it.
But with that process comes a higher price, which is where Zara's Vibrant Leather comes into play. While not as exceptional as Aventus, Vibrant Leather is a reasonable replacement – at least in the short-term.
Choose Zara Vibrant Leather if:
You don't mind wearing an inauthentic fragrance
You're less concerned with the process of making the fragrance
You're cost-conscious
Choose Creed Aventus if:
You prefer authentic fragrances
You're keen on product development and handcrafted packaging
You're less concerned with cost
If purchasing a Creed fragrance is beyond your reach, then you might find it acceptable to wear this Zara fragrance that smells like Creed Aventus. Try Zara's Vibrant Leather for yourself.